'Below Deck': James Hough and Elizabeth Frankini's Relationship Bites the Dust – Has Any Boatmance Survived the Show?
Elizabeth Frankini from Below Deck all but confirmed that she and James Hough are no longer dating.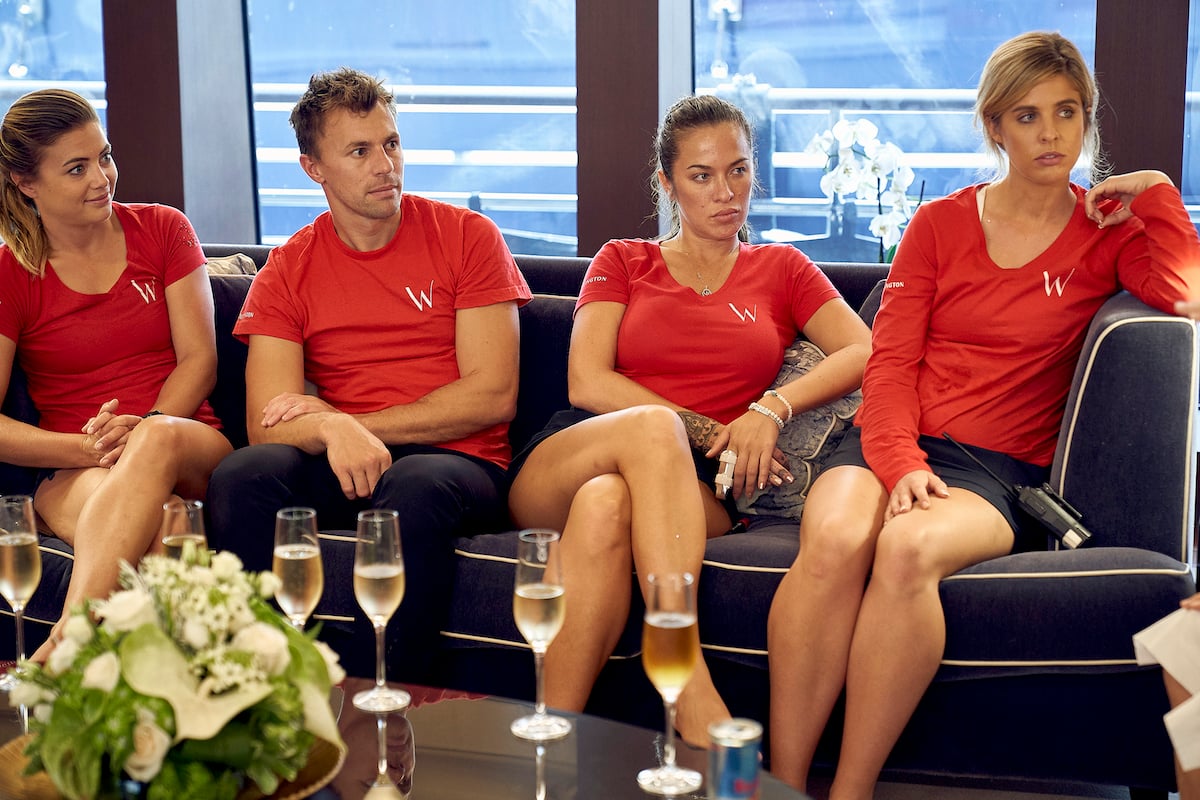 In addition to their fallout on the latest episode, Frankini dropped hints during her appearance on Watch What Happens Live with Andy Cohen that indicated she and Hough definitely won't be headed to the altar any time soon. Frankini played "Do You Regret It?" on WWHL and her answers were very telling.
She instantly regretted getting romantically involved with Hough. Frankini also insisted she stuck up for Hough when chef Rachel Hargrove was hammering away at his character during dinner.
She also laughed and said she regretted drunkenly telling Hough to propose to her and then telling the crew they were getting married. "Yes!" she laughed. "If you guys knew the context. He couldn't come to the U.S.! So I was saying it as a joke." Frankini later clarified what happened on Twitter. "Some legal issue unexplained on the show! But yeah he literally can't [come to the U.S.]."
No shade, just not dating
Unlike the last Below Deck boatmance, Frankini and Hough's relationship seemed to have possibly fizzled out. Jessica More and Rob Westergaard from Below Deck Mediterranean had a super passionate affair that ended as explosively as it began.
And while the two shaded each other during the episode, Frankini and Hough still follow each on Instagram. Neither has started battling each other on social media – yet. But Frankini seemed to regret several encounters with Hough.
She addressed a viewer question on the WWHL After Show about if she should have bunked with Hough. "I had that thought but it would have been a bad idea," she replied. "So, I'm glad it didn't happen." More and Westergaard bunked together, which ended up causing problems when they started fighting.
Can any boatmance survive 'Below Deck'?
While romance makes for great reality television, reality television doesn't make for a great romance. Thus far no Below Deck boatmances have made it on land. In fact, the show may have helped to drive a wedge in between Malia White and chef Tom Checketts' previously established relationship too.
White and Checketts appeared on Below Deck Med together. They had been dating for close to a year and seemed to be very happy and in love. But social media drama took over when White turned in chief stew Hannah Ferrier for having an unregistered vape pen and valium. White and Checketts were inundated with hateful remarks and anger. Only a few months later, the couple broke up. White said Checketts cheated on her.
Other boatmances experienced a similar fate. Chief stew Jenna MacGillivray and chef Adam Glick from Below Deck Sailing Yacht tried to maintain a casual romance on land. But MacGillivray broke off contact with Glick.  "I will say this," she said on Another Below Deck podcast. "Adam and I were on very friendly terms up until last week. Something happened and we are no longer friends."
Thus far, the only romance still going strong from the series is Paget Berry and Ciara Duggan from Below Deck Sailing Yacht. The couple appeared on the show but had been dating for several years. Since season 1 ended, Berry proposed to Duggan.