'Below Deck': James Hough Just Landed on Eddie Lucas' Radar
It's never a good thing when the bosun wakes up to a messy deck. But that's what happens on an upcoming episode of Below Deck. Bosun Eddie Lucas arrives on deck in the morning to find the area pretty trashed.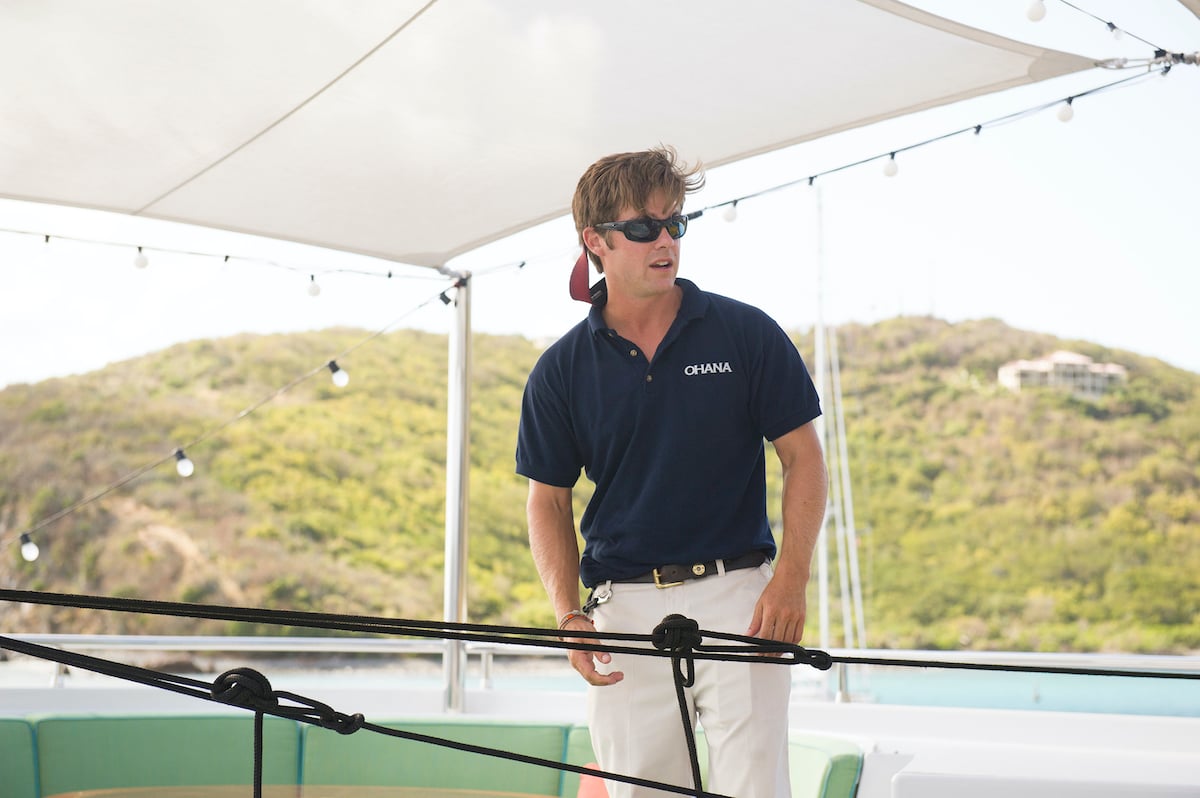 Deckhand James Hough was on the late-night shift and clearly, he missed the onions, grapes, and rubber bands strewn across the floor. "What the f**k is is this," Lucas asks himself in a preview clip.
"The deck is a mess!" Lucas exclaims in a confessional. "It's like a freaking Jackson Pollock painting. I'm really disappointed in James. This is just complete disrespect for anybody else on the crew."
Eddie Lucas has to scramble as the guests arrive on deck
Lucas looks exasperated as he chucks onions into the ocean. The guests start to arrive on deck, but the deck is clearly still too messy. "We're just cleaning up and we'll be finished in a minute and out of you guys' hair," he tells the couple who arrived on deck.
Deckhand Isabelle "Izzy" Wouters is cleaning in the background while Lucas directs the guests inside. "That's why," he tells Wouters as the guests leave the area. "That's why it ***** needs to be done at night."
Hough is still sleeping since he was scheduled to be on late at night. Deckhand Shane Coopersmith is nowhere to be seen either.
Is Izzy Wouters the new Connie Arias?
Lucas discovered some serious talent on deck during his last season. Deckhand Connie Arias from season 3 was a no drama, hard-working crew member, and was asked to remain on the boat after the crew departed. Lucas found Arias to be his most trustworthy deckhand and was extremely supportive of her success.
Now that Wouters is on deck, it appears perhaps Lucas has another deckhand who could be the new emerging star. Lucas pulls Wouters aside during an upcoming episode to tell her how happy he is that she joined the team.
"You have the biggest licenses out of any of these other deckhands," he tells her. She says she sometimes feels a little unsure of herself. But Lucas reassures her. "Be confident, let that confidence drive your energy, and you're gonna do great!"
Captain Lee shares Eddie Lucas' opinions about the deck team
Hough landed on Captain Lee Rosbach's radar, plus Rosbach is optimistic about Wouters. "James, James, James, is that really all you ever think about is having a shag, or a wank, or some other form of rule breaking fun as you put it," Rosbach wrote in his blog about last week's episode. "Deer in the head lights expression. But you still remain a mystery to me. You talk about being on holiday all the while you are still getting your work done. I like that, it's just hard to figure out."
Rosbach seemed happy that Wouters moved from the interior to the deck team. "Izzy, so glad that you are in an environment that I feel you can really shine in," he wrote. "Had you stayed in the interior dept. I feel it would not have worked out as well. That being said for your first outing on deck you did well, and I think you have found your spot. Now let's see how you progress, and I think you shall."
Below Deck is on every Monday at 9/8c on Bravo.