'Below Deck': Josiah Carter Reveals He Was Boarding a Plane to Join the Season 8 Crew
Josiah Carter from Below Deck revealed he was about to board a plane to Antigua to join the season 8 crew when he was told to turn around.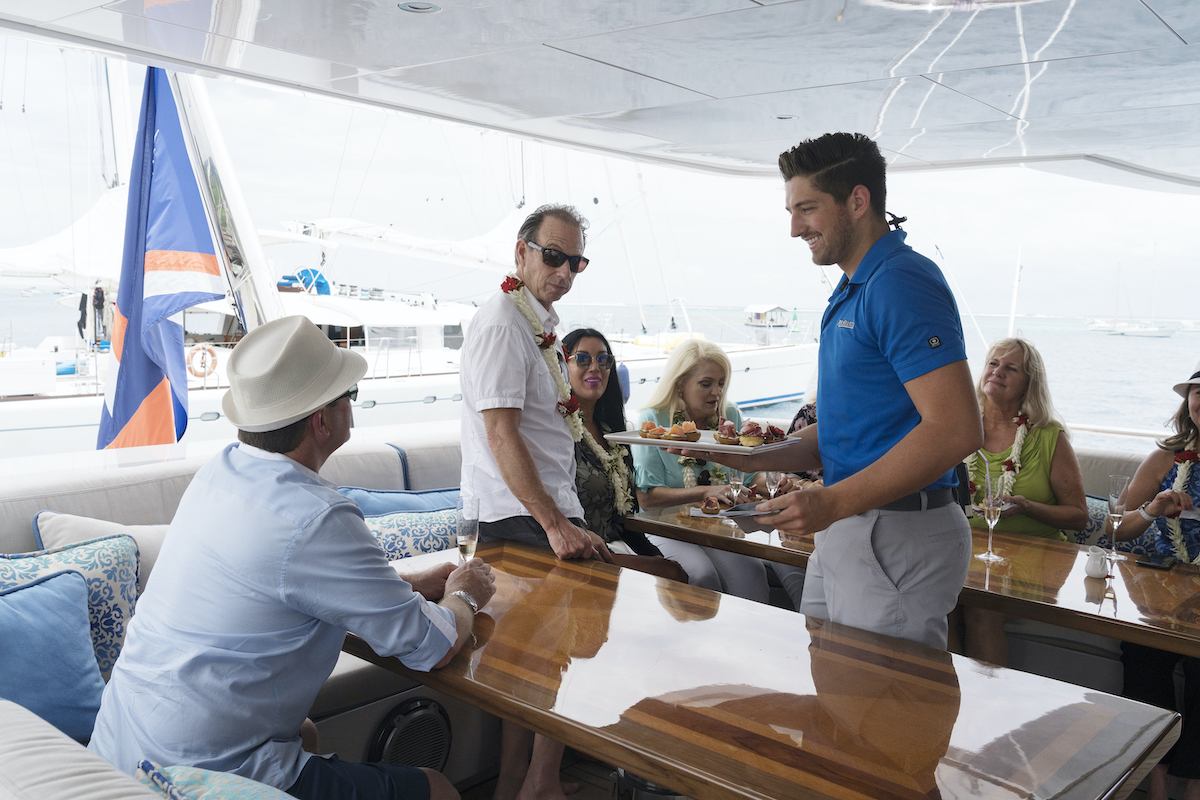 He shared with Julia d'Albert Pusey on an episode of Below Deck Galley Talk that he was the stew called to replaced Elizabeth Frankini. But during the season finale, he offered more about what happened when he embarked upon his trip to join the crew.
Captain Lee told Josiah Carter they were shutting down
During the Below Deck season finale, Captain Lee Rosbach gathered the crew in the main salon to tell them production was going to shut down. Below Deck was supposed to feature two more charters but ended abruptly. Rosbach seemed stunned and his speech to the crew was somber.
"So you know how Captain Lee was like, 'Oh yeah I got someone, I called them for the last two charters,'" Carter recounted to d'Albert Pusey. "And I was in the airport, phone in hand, passport, ready to go on my flight literally. Flight boarding in half an hour's time."
RELATED: 'Below Deck': James Hough Would Have Been in Serious Trouble if Kelley Johnson Was Bosun (Exclusive)
"Captain Lee calls and he basically gave me the speech he told them," Carter said, referencing the finale. "And I was like, 'Alright, okay.'" Then, d'Albert Pusey realized, "We would have been watching you on here?"
Carter sighed, "Yep."
Fans (and Captain Lee) want Josiah Carter to return to 'Below Deck'
Fans (and Rosbach) still hope Carter will return someday.  "Along those lines, I'd probably have Josiah back," Rosbach said when he was creating his dream team during a Stars Marketing Group event in 2019. "He's a classically trained butler which means he's probably overqualified, but he adapted really, really well."
"Josiah was going to take Elizabeth's place! Oh I hope he is on next season," a fan tweeted during the Galley Talk finale. Another fan suggested that half of the Galley Talk crew return to the show. "I would love to see @HargroveRachel and @WoutersIzzy on a future season of #BelowDeck along with Eddie, Kate or Josiah, and Colin. It's about who makes good tv."
Carter is also open to a return to the series. "I took a bit of a break from it," he told ET. "I've done a few kinda freelance things. I don't see myself going back full-time, traveling all the time, because you can't necessarily have a relationship. It's quite hard to have a normal life. But I'll go back and do a season here or season there for sure."
RELATED: 'Below Deck': Josiah Carter Was Supposed To Replace Elizabeth Frankini?
He is also open to doing Below Deck Med too. "I had so much fun doing all the aspects of the show," Carter told Showbiz Cheat Sheet in 2019. "It was another country to check off my list with Tahiti. But when I saw the adverts for the Med, it's interesting because I've done the Med loads of times." 
He added, "I've met Colin and I've met Captain Sandy," Carter said about the Below Deck Med crew. "And they're great and so much fun. I love them. I'd love to work for Captain Sandy."