'Below Deck': Kate Chastain Dishes About Her Favorite (and Least Favorite) Stews
Kate Chastain from Below Deck revealed who her favorite and least favorite stews were during Below Deck Galley Talk.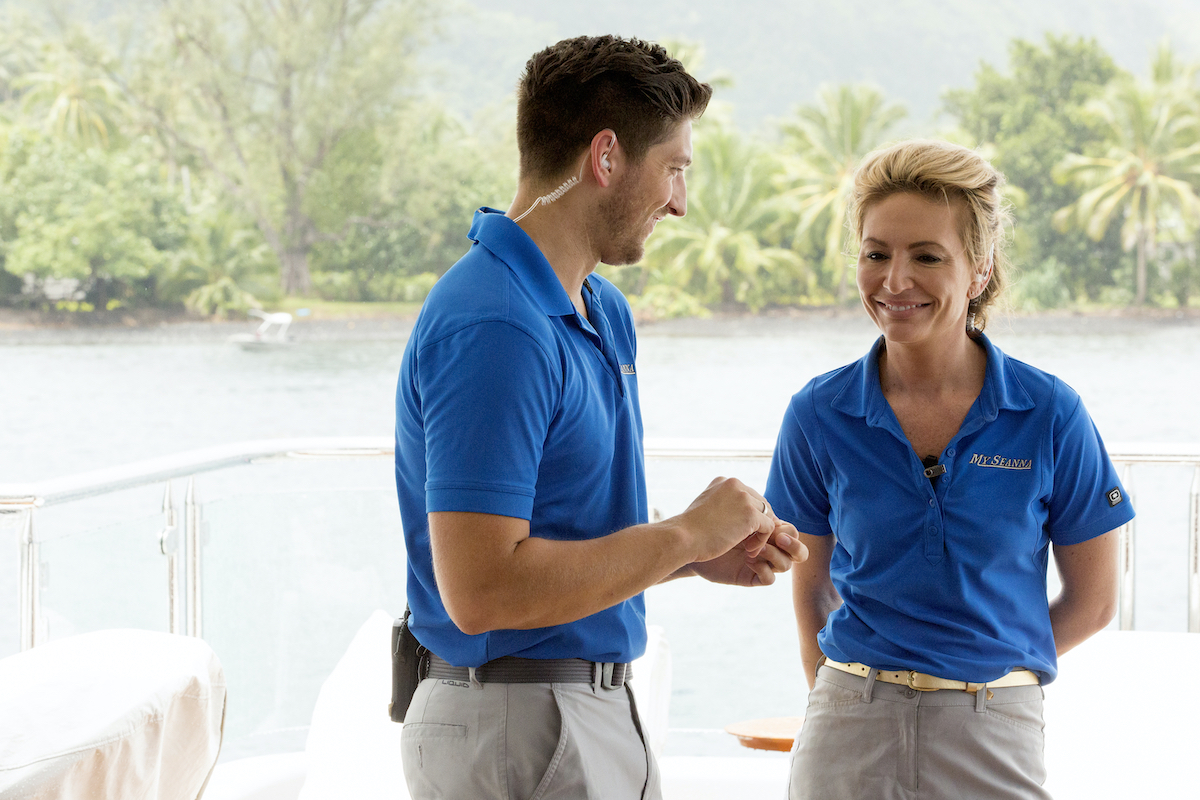 The crew watched as chief stew Francesca Rubi and stew Ashling Lorger discussed getting stew Elizabeth Frankini fired. "I am actually surprised she lasted this long," Josiah Carter admitted. "You get fired for so much less."
Who were Kate Chastain's top (and bottom) 'Below Deck' stews?
Deckhand Connie Arias asked Chastain to list her top stews. "Josiah was great," she said. "Courtney [Skippon] was great. Bri [Brianna Adekeye] caught up eventually. Amy [Johnson] was amazing. Even Kat (Held] was good."
"Kate and I, when we had Rocky [Dakota] on board it was just she and I doing everything," Johnson recalled.
But then Arias wanted to know who was Chastain's bottom-ranked stews. "Rocky was down there," Chastain recalled. "Rocky was in her mermaid tail or something, talking to the chef … problematic."
Dakota seemed scattered on the job and never vibed with Chastain. She also ended up having a secret romance with bosun Eddie Lucas, which Johnson said left the crew in shock.
At first, the crew didn't believe Dakota about the affair. "But so when she came out with this I was compassionate but I was almost like this girl has lost her rocker like she's making this up," Johnson told Showbiz Cheat Sheet. "And then come to find out it was true, it really actually hurt my heart for her because we had been denying it and called her a liar."
But who did Kate Chastain want to fire on 'Below Deck?'
While Chastain recalled Dakota being an absolute challenge she wasn't the stew who came closest to getting fired. "Laura [Betancourt], after she yelled at me to check myself, that was probably the closest I ever [got to firing someone]," Chastain told Bravo's The Daily Dish. "I'm glad that Captain Lee wouldn't let me because, actually, we're like friends now. It was just in that moment, I was so over it."
Betancourt came in during season 6 after third stew Caroline Bedol quit. Carter and Chastain thought they were getting someone who could handle the job, but Betancourt's third stew skills were a little rusty. Betancourt became frustrated when Chastain kept dogging her. She eventually confronted Chastain on charter, telling her to "check yourself."
"I think the fact that Laura told me to check myself, Captain Lee had a stern talking to with her, and then the next day I made her a checklist and told her to checklist herself, the fact that she laughed at that joke at her expense, my respect for her immediately skyrocketed," Chastain said. "We were kind of looking at each other like, OK, you yelled at me, I got you back, we're good now. Let's move forward."
"So I kind of feel like the yoga saying, 'the light in me honors the light within you,'" she added. "This is like the bitch version, like, 'the bitch in me honors and recognizes the bitch within you.'"