'Below Deck': Kate Chastain Hoped Chef Rachel Would Have Replaced Chef Leon and Chef Kevin
It is no secret that Kate Chastain from Below Deck didn't have the best relationship with chef Kevin Dobson (season 7) and chef Leon Walker (season 3).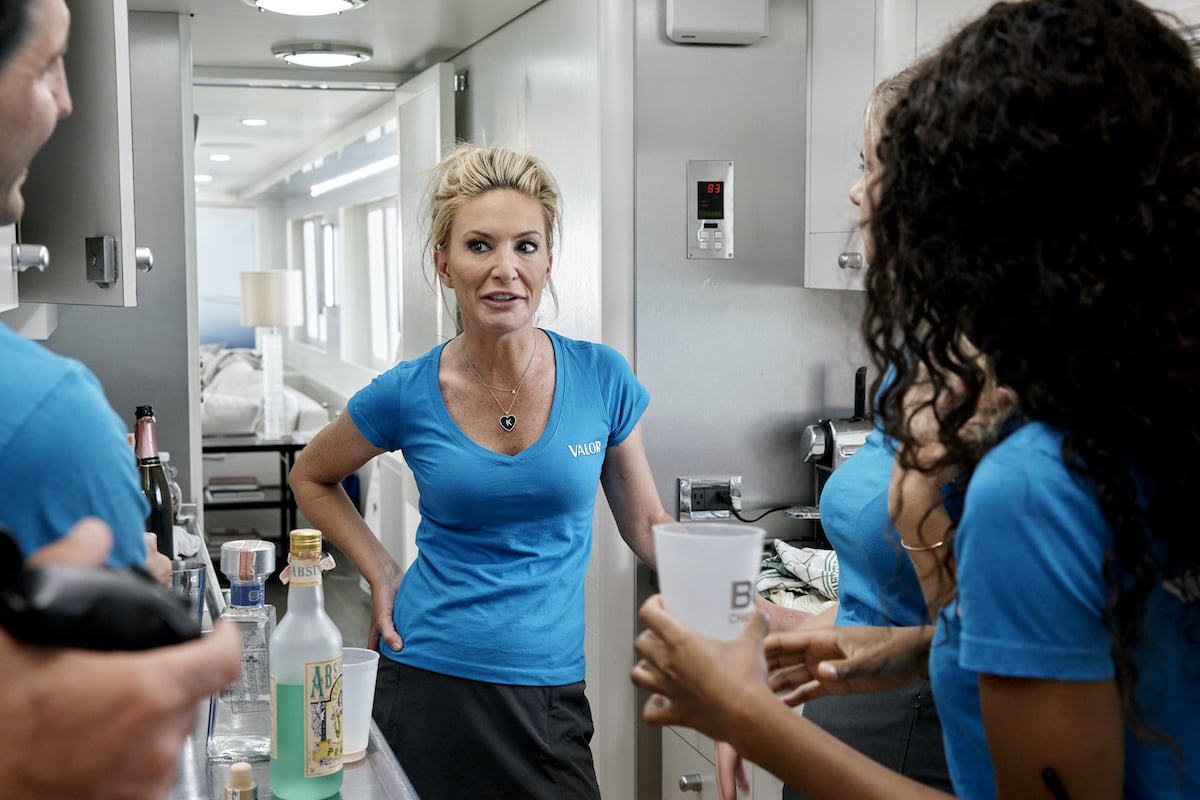 In fact, the more tension she experienced in the galley kitchen with the former chefs, the more she kept suggesting that producers consider her friend chef Rachel Hargrove. Now that Hargrove is on the series, but without Chastain, fans are wondering the same thing.
"Oh, I was trying [to get Rachel on Below Deck] from the first season I did before I even knew Ben [Robinson]," Chastain revealed in a Bravo Exclusive. "I was like, 'Oh, by the way, if you guys need a chef, I know a great one. She's incredibly talented and very funny. She's gorgeous. She was on America's Next Top Model. I think she's great.'"
"And then, my second season when there was Leon [Walker], I said, 'Hey, I know a great chef named Rachel if anybody — remember the Chef Rachel I recommended?' And then other seasons, you know, there was Chef Kevin [Dobson]," Chastain added. "I was like, 'What about Rachel? We can bring Rachel in. Anybody? Rachel?' So, yeah, for the last six years, I was trying to get Rachel." 
Kate Chastain and Chef Rachel would have brought the comedy to 'Below Deck'
Chastain and Hargrove's former employer ended up getting the show viewers really wanted. "We were working on this yacht," she recalled of the last job she had in 2013 before Below Deck. "The owners pretty much lived aboard, but they were so cool and so nice and treated us like family."
"I was the chief stewardess, she was the chef," she said. "We had so much fun together laughing that the owner would say, 'We love hearing all the laughter coming from the galley. We love that you guys have so much fun.'"
"One time, he peeked his head in while we were getting his dinner ready," she continued. "And we were, I think, we were making live lobsters. Rachel had one of these lobsters [the yacht owner] was about to have for dinner out of the pot, and we were doing like a puppet show with it singing. He popped his head in, caught us doing that and said, 'I think that yacht show needs the two of you.' And so, it turns out, he was right." 
Kate Chastain thinks Eddie Lucas would have a better view of Chef Rachel in a different environment
Chastain, who also worked on My Seanna, said the boat layout helped to create more frustration for Hargrove. In fact, she was both surprised and disapointed to see that bosun Eddie Lucas and Hargrove didn't vibe this season.
"I think this has a lot to do with the geography of the boat or the layout of the boat," she told Bravo. "That galley down there, if you watch when Adrian [Martin] was chef [in Season 6], we used that other side of the galley by the window as the stewardess pantry. And [Season 8 chief stew Francesca Rubi] didn't do that. It's Rachel down there by herself."
"When we used that part of the pantry, I'd be getting the placemats, getting ready for lunch, talking to chef," she continued. And so, I think another thing is because Rachel's been working down there by herself — you see her, she's hilarious, she loves to teach people, talk to people, we had a great time working together — and I think that Rachel's behavior on days off or her quitting is just her feeling or her being frustrated because she's just been working with no one interacting with her."
"And so, I feel like if maybe if Eddie had gotten to know Rachel in the way where she was not as frustrated, they would actually get along great," she said.