'Below Deck': Kate Chastain Softens the 'Cute Dumb Babies' Shade Toward James Hough and Elizabeth Frankini
Kate Chastain clarified the shade she threw toward James Hough and Elizabeth Frankini from Below Deck, referring to them as "dumb and dumber" during the latest episode of Below Deck Galley Talk.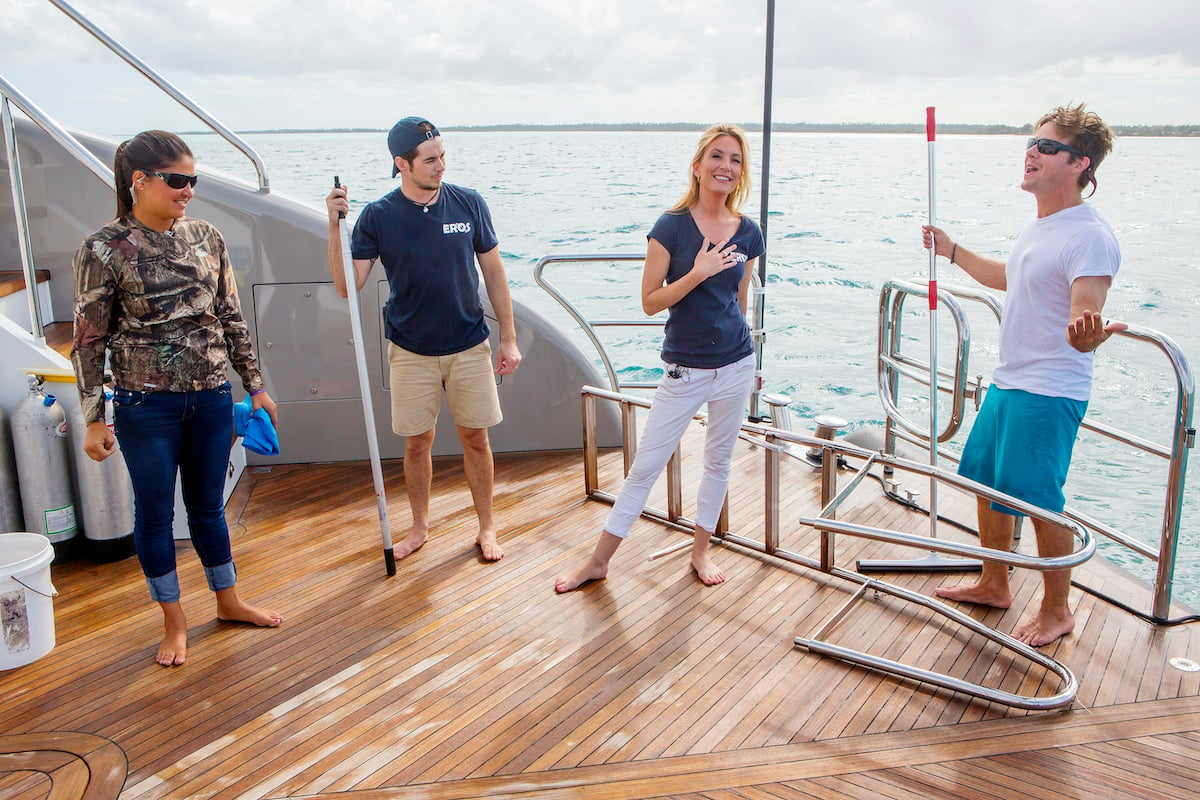 Chastain and deckhand Connie Arias viewed the episode and commented when Hough was trying to hide from Frankini. Frankini pushed to get an answer on their relationship and Hough thought she certainly could take a hint. "She's smart enough to know what's going on," Hough said in a confessional. "Surely."
Kate Chastain softens the 'cute dumb babies' shade
Chastain and Arias groaned when Hough made the remark that Frankini should pick up on how he truly feels. "Dumb and dumber," Arias said to Chastain. She parroted back the phrase but added, "Cute babies," she said. "Cute, dumb babies."
Later, Chastain took to her Instagram story to tone down her comment. "LOL [Connie Arias] I felt like we were talking about ourselves when we said, 'dumb and dumber.'"
Fans thought Chastain's remark was pretty funny. "That show is everything! You and Connie make me die laughing! Josiah is hilarious as well, nice to see him," a fan replied to Chastain's tweet.
Josiah Carter, who is also on Galley Talk loved Chastain's comment. "'Cute dumb babies' will probably be my favourite line from #galleytalk last night @Kate_Chastain," Carter tweeted.
Another fan favorite comment came from Kelley Johnson. He also shared his observation about Frankini and Hough's relationship. "Quote of the night comes from [Kelley Johnson]: '…He has a bulldozer and he's trying to push you away!'" someone tweeted.
Josiah Carter spilled some serious tea during the episode
Most of the Galley Talk crew were not shocked when Frankini was fired. But Chastain and Arias gasped. Arias yelled, "No!" at the television. Chastain said, "Elizabeth, I love you!"
But only moments before the show wrapped, Carter turned to Julia d'Albert Pusey to perhaps share a little gossip. "Do you know who Captain Lee called to finish the last two weeks in Antigua?" Carter said. "I'll give you one clue." He then gestured to himself.
A few fans caught the moment, now wondering if Carter was supposed to finish out the season. "Catching up on #belowdeck #GalleyTalk. Did Josiah say he was the stew captain Lee called to finish the charter season?! This is getting good!" one person tweeted. 
Carter's name has been floated by fans and Captain Lee Rosbach as a possible returning cast member. In fact, Isabelle "Izzy" Wouters suggested he return as chief stew next season. Carter is also ready to return, especially if he was supposed to fly in and finish season 8 with the crew. So will Carter dish about what was supposed to happen on next week's Galley Talk?
Below Deck Galley Talk is on Friday at 8/7c on Bravo.