'Below Deck': Kate Chastain Unmasks the 'Mythical' Crew Member Who Fixes Everything on Valor
Kate Chastain from Below Deck shared who is behind those impossible fixes on the yacht in a video with the crew member himself.
Below Deck viewers likely remember Valor's engineer, Darrian who skillfully repaired the broken kitchen fan amid a sweltering charter during season 7. He quietly appeared on the scene with his tools and eventually got the fan running, likely saving the crew from heatstroke. Chastain recently reconnected with Darrian and the two talked about another aspect of his job, which had Chastain pretty floored.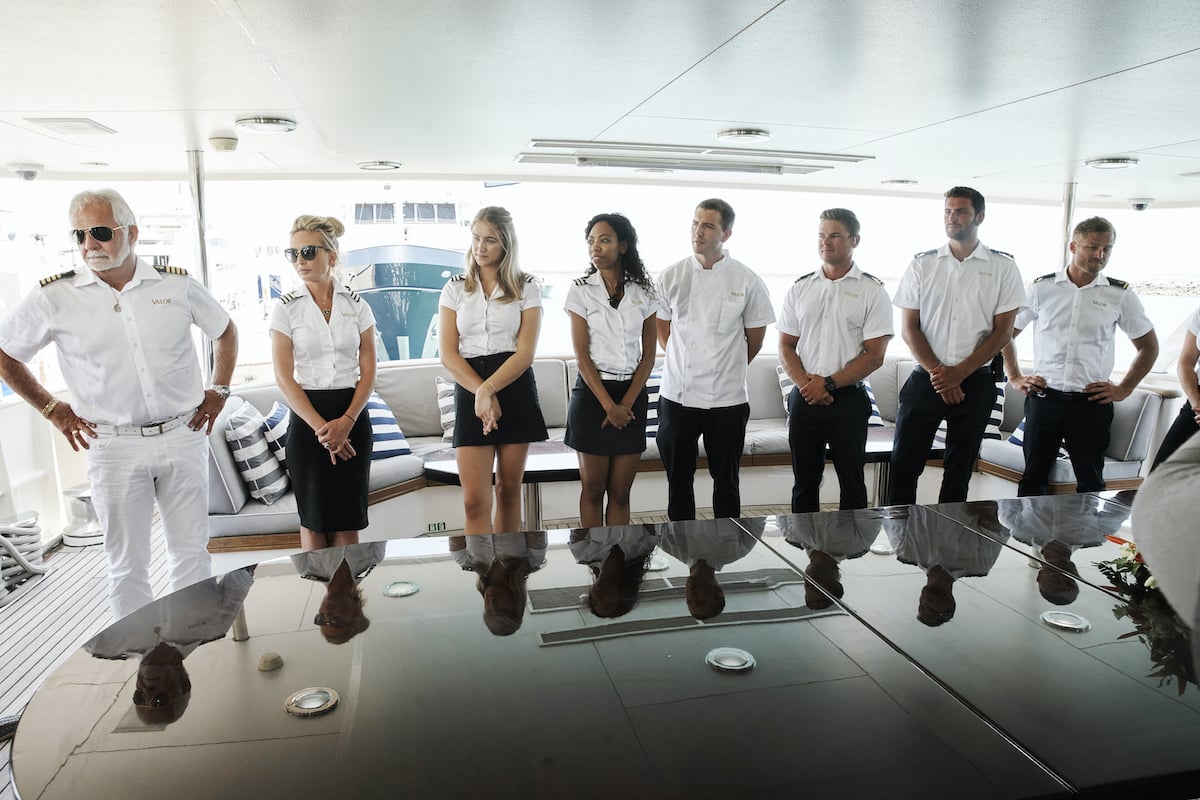 'Below Deck' Valor engineer Darrian used to wake up at 2 a.m. for ice
Chastain had to share a secret maintenance move Darrian made because she simply couldn't believe the effort. "'I woke up one night, in the middle of the night and it was 2 a.m…..'" Chastain shared on Instagram. "@darry_10 is a much better yacht engineer than I am a time/story teller. but for real M/y Valor would have completely sunk without him."
"The ice what about the ice," Darrian said on the video Chastain shared with the post. "Oh, how you're the best engineer. And I woke up one night, in the middle of the night and it was 2 a.m. I was like, 'Darrian, what are you doing up?' You're like, 'Um, I wake up, I set an alarm to refill the ice machine.'"
RELATED: 'Below Deck' Yacht Owners Reveal Jaw-Dropping Cash They Make From Producers – and Their Reaction to Crew Partying on Their Boat
That's when Chastain's jaw was on the floor. For as long as she's known Darrian and worked on yachts, she had no idea he had been quietly doing this for the crew.
Courtney Skippon who was the second stew on season 7 agreed. "The besttttt," she commented. Others wondered why Darrian wasn't included in the main cast or often seen on the show. While the engineer is not usually featured on Below Deck or Below Deck Mediterranean, Below Deck Sailing Yacht's chief engineer is included in the cast. However, the series has included 3 cast members who were engineers. C.J. LeBeau, Kelley Johnson, and Don Abenante from seasons 1 through 3 were second engineers.
Captain Lee was grateful to work with Darrian on 'Below Deck' Season 7
Viewers have wondered about Darrian in the past. Fans commented on a Reddit thread, referring to Darrian as "A mythical unseen crew member! Who is he? What does he do? Is he a Bruh?!" A fan included a photo with Darrian in the background. "Yep. Without a doubt, these are the guys whose competence keep the rest alive and the boat from capsizing while on fire," one person remarked.
Another person added, "Darrian is the man. Hands down the best non captain male crew member." A dialed in fan remembered that Darrian fixed the galley fan. "He fixed the galley fan! He is a hero!"
RELATED: Below Deck's Colin Macy-O'Toole, Bobby Giancola, Kelley Johnson and More Yachties Party as Casts Meet and Mingle
Captain Lee Rosbach revealed that the kitchen fan was not an easy fix. "What [Darrian] went through to fix that fan, you cannot imagine, that was a harness he was wearing that we used to lower him down in the access hole to get to the fan motor," he tweeted. "A remarkable piece of work. Kudos."