'Below Deck Med': Captain Sandy Reveals if Crew Often Sleep in Guest Cabins
After three seasons of crew members sleeping in a guest cabin, Below Deck fans wonder if this happens on yachts all the time.
The crew asked for permission to spend the night in a guest cabin during Below Deck Mediterranean Season 5. But crew members took it upon themselves to sneak into a guest cabin during both Below Deck Season 8 and Below Deck Sailing Yacht Season 2. What gives?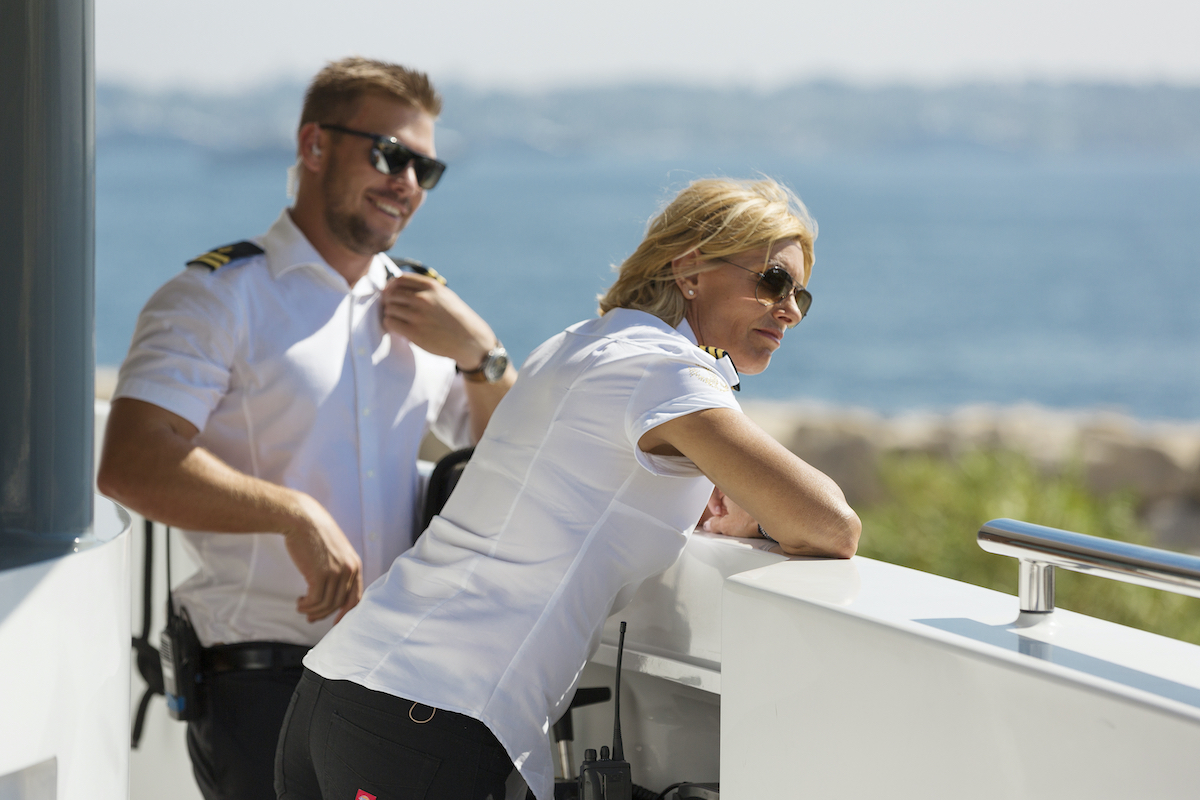 Captain Sandy says crew sleeping in guest cabins is not the norm
A fan asked Captain Sandy Yawn from Below Deck Med if crew often sleep in a guest cabin in between charters. She said crew usually keep to their own quarters in real yachting. "It's not normal on yachts," Yawn tweeted in response to a fan's question. "Yes crew can sometimes drink too much and forget they are at work. Filming a tv show also has to be considered. But generally, not a trend in the industry."
Thus far Yawn hasn't dealt with crew members helping themselves to a guest cabin without asking. But Captain Lee Rosbach had it happen twice during the latest season. Chief stew Francesca Rubi was furious and Rosbach wasn't pleased either. Deckhand James Hough and stew Elizabeth Frankini hooked up in a guest cabin without asking and Rosbach blogged about how it was a fireable offense.
"You knew that Liz was on thin ice when you took her to the guest cabin, and she could've declined, but put your own physical need ahead of what may have been good for Liz," he wrote. "Then when asked would you do it again, knowing both of you could be fired, you responded 'Of course.'"
Not every chief stew gets angry when crew sleeps in a guest cabin
Former chief stew Kate Chastain shared her thoughts about the Below Deck guest cabin drama. "I seriously can't even count how many times I've slept in a guest cabin," she tweeted. Also, chief stew Daisy Kelliher from Below Deck Sailing Yacht told Showbiz Cheat Sheet she wasn't overly bothered when crew members slept in a dirty guest cabin.
"For me, it was like, pick your battles," she said. "I mean, people have their thing, and that's Francesca's thing. And on most boats that absolutely is a rule. And it's very much frowned upon. But it actually happens. I mean, what are you gonna do? You're putting men and women on a boat, they're gonna find somewhere to go hookup." 
"I don't mind if they use the guest toilet, it's just they had used it after we had detailed it," Kelliher added. "That was the issue. So if they had used the guest cabin after we had made it up, then I would have been really upset. But it wasn't made up, we hadn't been in there."
"And same with the bathroom," she continued. "I don't mind, you can use the bathroom. But after somebody's taken an hour of of their day to clean it and they have to go back in and re-clean it, like that's not cool."