'Below Deck': My Seanna Wasn't Always an Easy Ride – 'She's an 'Unforgiving B****' to Drive,' Captain Sean Recalls
My Seanna is a tough boat to manage, according to Captain Sean Meagher from 'Below Deck.' Meagher said he's managed the boat enough to know it can be tricky to maneuver. .
Below Deck's three-season superyacht, My Seanna could be tricky to drive, Captain Sean Meagher recalled.
Wild weather often made conditions a challenge. Plus Meagher, who brokered My Seanna's sale said the boat could be unpredictable, especially for a captain who only commanded the yacht for a handful of weeks.
My Seanna isn't the easiest boat to handle
Meagher, who was the delivery captain of My Seanna, said boat crashes are not commonplace but are extremely costly. "A little ding is like $10,000," he told Showbiz Cheat Sheet. "It's tremendous damage. You know, I've been fortunate. But again, you get the right guy in the right spot with a fender. Or good communication on deck."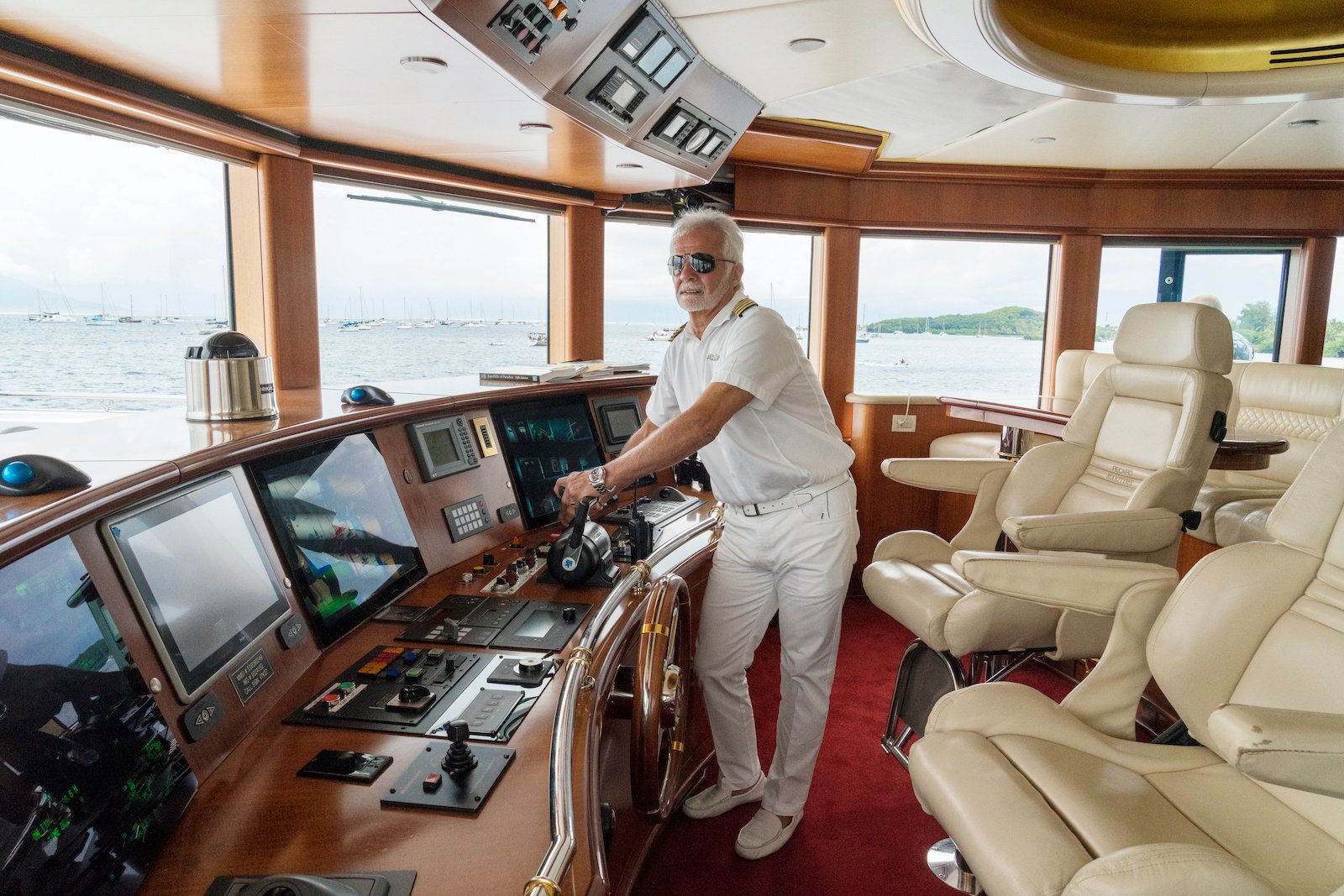 Captain Lee Rosbach, who drove My Seanna for seasons 6, 8, and 9 was at a disadvantage because he only had the vessel for about six weeks, Meagher said. "It's a little bit unfair," he added. "Lee's only onboard My Seanna like six weeks out of the year. And My Seanna is not an easy boat to handle. I handled that boat when she was Newvida. I have a lot of experience driving that boat and she's an unforgiving b****. [Rosbach] played it safe with regard to that boat. And again, it's not the easiest boat to handle. She's not a bad handling boat, she's just not a wonderfully handling boat."
Rosbach allowed first officer Eddie Lucas to drive My Seanna this season and even take the superyacht off the dock.
Captain Sean recalled the bow truster went dead on him
"Personality-wise, you get some boats that are like dogs," he described. "They're great. They're really good, they'll do exactly what you say. But My Seanna was a cat. You can pet that cat right, like 'Good kitty.' And all of a sudden, she'll whack you."
He recalled, "As I was docking her at Sea Haven, bringing her in perfect, and I'm like this is nice. And all of a sudden the bow thruster just dies on me. And I looked at the boat and was like, 'Really?' But again, I had handled the boat enough. I've been burnt by that boat enough to that I was able to maneuver the boat and do what I need to do."
"But if you were dependent upon that, you would be in a world of trouble," he added.
Captain Glenn Shephard from Below Deck Sailing Yacht experienced a mechanical failure while docking Parsifal III and crashed into the dock resulting in about $20,000 in damage.
My Seanna was on the market for $21.9 million
Below Deck cast and viewers got comfortable seeing the vessel on the show. But Below Deck Season 9 is likely the superyacht's swansong. Meagher listed My Seanna in May 2021. "The iconic MY Seanna is available for showings in Fort Lauderdale," Meagher shared on Instagram. "In 2020 she underwent an extensive $5,000,000.00 refit at LMC including new paint, engine, and generator rebuild." My Seanna was listed for $21.9 million.
The yacht remained on the market for only a few months. Boat International reported that it sold in July for an undisclosed amount. No word on if My Seanna will make a return to the show for another season.