'Below Deck': RHOC's Alexis Bellino Insists Producers Enhanced Her Makeout Scenes and She Was 'Upset'
When Alexis Bellino from The Real Housewives of Orange County appeared on Below Deck Season 7, she seemed to spend most of the trip making out with boyfriend Andy Bohn. The couple was in an infinite liplock, which opened the door for endless jokes from the crew. And while producers captured Bohn and Bellino kissing several different times on the boat, Bellino now insists the production used the same few kisses and replayed them over and over again. In fact, she was a little upset when she saw how her charter was portrayed.
Did 'Below Deck' producers play the same clips on a loop?
She hesitated to respond to Bravo's question about her Below Deck appearance. "Well …" Bellino said with a laugh on a Bravo Insider Life After Bravo video. "We don't mind PDA. I know people are totally against it. But we didn't kiss that much. I mean, we don't mind kissing and showing it, but it was the same kiss looped, like seven times. And then our second kiss looped seven times. So it made it look like we made out the entire trip."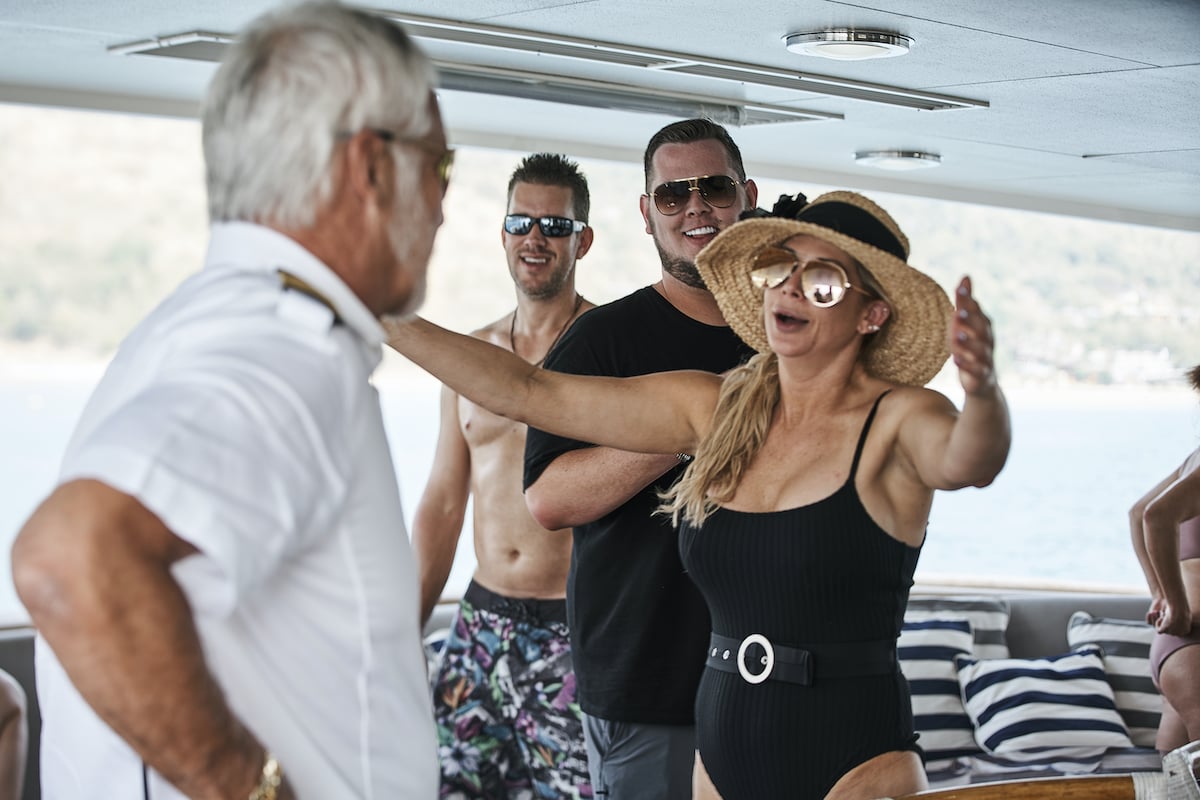 "We were rolling our eyes and just like, laughing," she recalled. "Like he laughed about it. I didn't at first. I was kinda upset about it at first." Bohn estimates that the couple may have made out like "25%" of the trip. "But we're water people, boat people," he continued. "So there was a lot of excitement and energy going into that trip. That was a really special opportunity." Bellino added that the vacation was the best trip she had ever taken in her entire life.
Alexis Bellino defended herself when 'Below Deck' Season 7 aired
Bellino likely didn't appreciate the crew's side comments about the amount of kissing she did on the trip. She even posted about kissing during the trip on Instagram during her season 7 episodes. "The REAL Stats: 72 total hours on the Valor yacht. 5 minutes total of airtime that you actually see on TV from that 72 hours. 7 seconds of that 72 hours total of kissing recorded. Several excursions and activities and meals and jet skis and naps and pools and FUN that you didn't see. I'll be showing THAT footage from the Yacht!!! It was a blast!!! Love the entire crew! #besttripever (but we are in love so no apologies for our smooches!!!!)."
Chief stew Kate Chastain joked about the voyage, revealing why she put Simone Mashile on service for that charter. "These guests are the perfect ones for Simone to do service with because they're easy-going," Chastain said on the Below Deck After Show. "Alexis is focused on making out with her new boyfriend. She's not focused on high service." 
RELATED: Below Deck Captains Reveal Their Wildest Charter Guests – With a Few Surprises
Adding, "Now she's here with her boyfriend and this felt like the publicity tour, Get it, Girl," Chastain said. "But it's a lot."
Was Alexis Bellino high maintenance on 'Below Deck'?
Stew Courtney Skippon had a different take on Bellino and said she was pretty demanding. "Like on the preference sheet, they were like, 'We're going to make you wish we never came on board,' and then they sort of lived up to that," she said on the After Show.
RELATED: 'Below Deck Mediterranean': How Much Do Charter Guests Pay on the Show Versus Real Life?
"I was truly like … "Skippon made a hand gesture that showed her running back and forth. "She was like, a mimosa with a shot of vodka in it. She'd take one sip and would be like, 'Just get me a Bloody Mary,'" she said. "She'd be like get me a vodka on the rocks, get me a margarita. I'm like you truly have a circle of drinks around you. And then there are eight other guests I have to accommodate as well."