'Below Deck': Rhylee Gerber Hikes Through Alaska With Her 50 Pound Pup on Her Back
Although Rhylee Gerber's dog is in her senior years, there's no way the Below Deck deckhand was leaving the pup behind during her Alaskan adventure.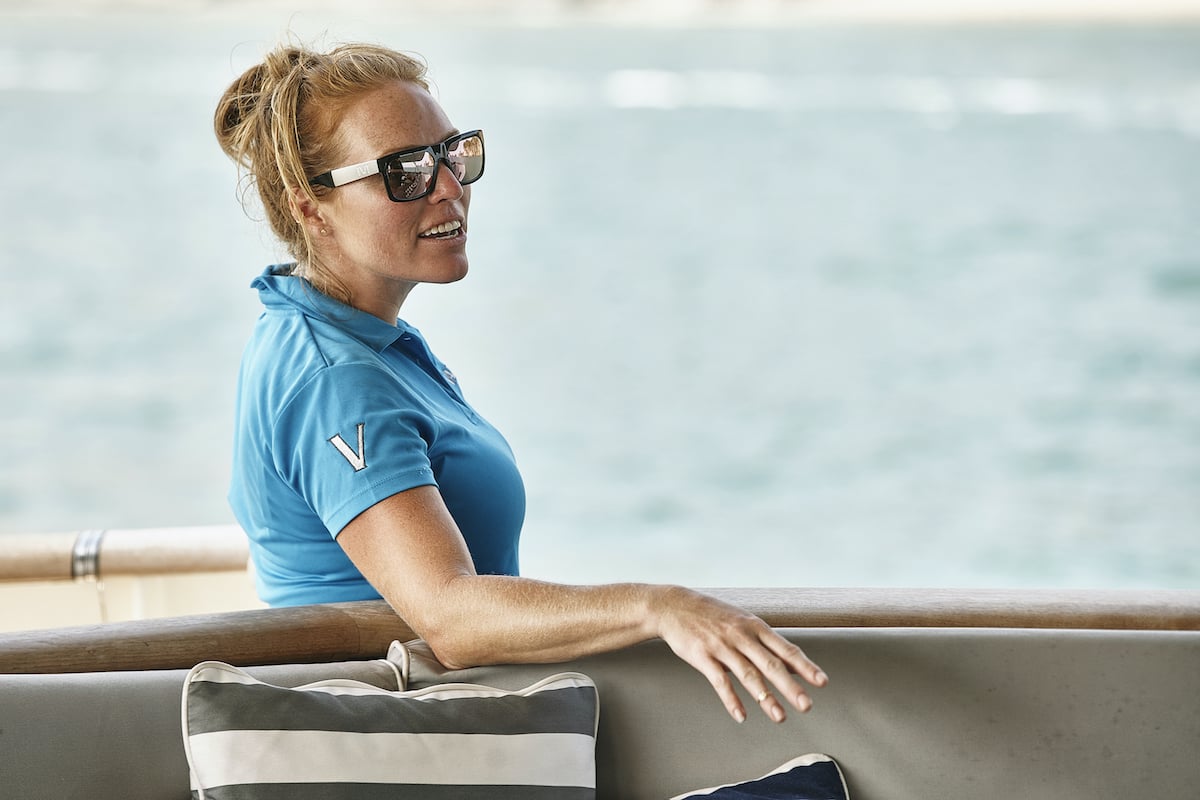 Gerber is exploring the breathtaking Alaskan landscape, going on fishing and hiking excursions. At the same time, she's making sure her senior pup Dolce is taking it all in too. Before leaving for Alaska, she worked with Tommy Camper Vans to transform a van shell into a cozy home. The van has a nook for sleeping, plenty of storage space, and a special area just for Dolce.
Thanks to the home on wheels, Gerber can camp next to a babbling brook or sit atop a mountain for her slumber, dreaming of what the next day's adventure will bring. She's used to hiking with Dolce but when she realized her favorite companion was slowing down, she found the perfect carrying pouch so Dolce doesn't have to miss a minute of fun.
Dolce is along for the ride
Gerber shares videos and photos of Dolce accompanying her on scenic hiking adventures. But Gerber knew Dolce needed to take breaks and couldn't keep up the pace required on some hikes. Rather than leaving Dolce behind, Gerber found a carrying pouch that could even accommodate a larger dog.
"I can't wait to get out there like we used to and hike with my love 🐾 Aging is a b**ch for any species and leaving her behind made me dread long excursions," Gerber shared in an Instagram post in May. "I'll be sure to post videos and more pics but I just wanted to say how incredibly thankful I am to the guys over at @k9sportsack for hooking my baby up in style with their new Rover pack able to hold dogs up to 80lbs!! Dolce is sitting pretty ay 50lbs so we fitted her in the XL with an added booster pad so she can remain upright and comfortable!"
Gerber shared a photo of Dolce who looks more like a baby giving her mother a hug. Dolce sits comfortably in the pack, able to observe the terrain from Gerber's perspective. After her first hike, Gerber offered a review of how the trip went with Dolce on her back. "Today was amazing! Hiked 3 miles up Crimson Trail in Logan Canyon and had spectacular views I was able to share with my little Dolce Bear," she wrote. "I take that back, she's hardly little. In fact, I'm feeling the extra 50lbs of her weight all over but, it was worth it!! Stoked on her new pack from @k9sportsack 🐾🧡🧗🏽‍♀️."
Rhylee Gerber's Instagram is instant eye candy
Unfortunately, the pandemic has put many people's summer travel plans on hold. But Gerber offers a slew of incredible photos from the Alaskan countryside to take viewers away at least momentarily. "Choose the amount of risk you're willing to accept with open eyes," she captioned a photo where she sits on a cliff above roaring waters.  
She's also encountered ice and snow. "Follow the river, at least it knows where it's going," Gerber wrote along with photos of snowcapped mountains.
Gerber has also done her share of fishing. She was recently in a tournament and earlier this summer she shared a stunning video of a killer whale swimming alongside her boat.