'Below Deck': Rhylee Gerber Shares the Backstory Behind Some of Her Tattoos
Rhylee Gerber from Below Deck recently provided a little backstory behind some of her tattoos. She has a vivid, colorful design on her thigh and also a dream catcher inked into the back of her arm.
She opened up on an Instagram story Q&A about her ink and also offered some insight into what it was like to be on the show. Fans asked her for opinions on the current season of Below Deck Mediterranean, but Gerber preferred to refrain from weighing in.
Gerber shared that she personally knows Captain Sandy Yawn but has never worked for her. "I've only known [Yawn] to be supportive, uplifting and thoughtful," Gerber shared. "Having never worked under her I cannot speak for her management style."
The tattoo on her thigh was 'brutal'
A fan wondered if the tattoo on Gerber's thigh hurt when she had it done. "Brutal," she shared. "In fact I had to take half a Xanax just to sit through the second session so that I didn't move."
She shared that taking any kind of medication should not be done lightly. "After which I was in no shape to drive or operate heavy machinery," she continued. "Drug use (prescription or not) can have a great impact on you and your potential surroundings. Side effects and legal ramifications can be far worse than the emotions we saw/felt with the latest episode [of] Below Deck Med."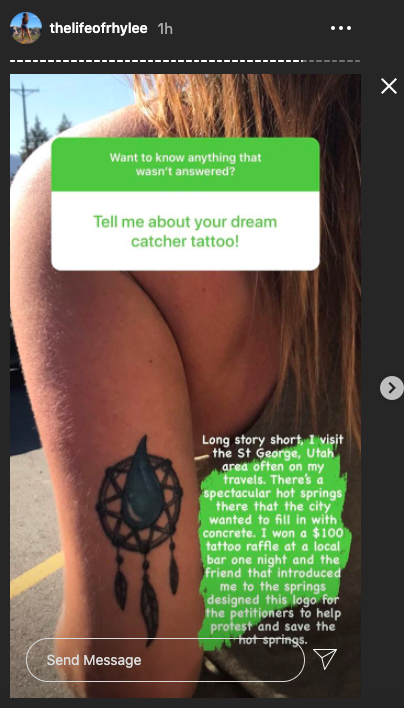 RELATED: 'Below Deck': Rhylee Gerber Hikes Through Alaska With Her 50 Pound Pup on Her Back
The dream catcher tattoo had a sweet story behind it. "Long story short," she wrote. "I visit the St. George, Utah area often on my travels. There's spectacular hot springs there that the city wanted to fill in with concrete. I won a $100 tattoo raffle at a local bar one night and the friend that introduced me to the springs designed this logo for the petitioners to help protest and save the hot springs."
She's staying creative during COVID
Gerber has shared her hikes and travels through the breathtaking Alaskan frontier. She's also still creating unique jewelry designs, Untamed by Rhylee, and plans to take more orders soon. "Soon I'll be taking more orders," she shared in her story. "COVID has thrown a wrench in a few details and I'm working diligently to sort them out so my last presales get to their owners ASAP."
RELATED: 'Below Deck': Rhylee Gerber's Popular Jewelry Line Is as Authentic as the Artist
She shared how she got into designing a jewelry line created from natural elements. "I was with a girlfriend of mine and we spotted a porcupine by the road," she told Showbiz Cheat Sheet in January. "And I'd always heard that you can get close to the porcupine just by tossing like a little hat at them or some little small piece of clothing or something that the clothes would stick to. It was so funny because there were a bunch of tourists on the road and they pulled over watching us basically chase after this porcupine. Long story short, I got some quills out of it."
"The porcupine lived!" she laughed. Gerber thoroughly cleaned the quills but carried them around for what seemed to be an eternity. "And then, of course, fishing, I was I collecting these little earbones. They're really cool and they look like little ivory feathers."