'Below Deck Sailing Yacht': Chef Marcos Shares Why You Won't See Him Having a Chef Tantrum – 'Just F***ing Do It' [Exclusive]
Tension is building between chef Marcos Spaziani and Gabriela Barragan on Below Deck Sailing Yacht, but Spaziani said viewers shouldn't plan on seeing him have a total chef meltdown any time soon on the show.
He sniped at Barragan when he didn't think she was clear about when the guests were ready for dinner. And while they both got a little spicy with one another he said there's no point in complaining or bemoaning every issue on charter.
"At the end of the day, what's the point?" he told Showbiz Cheat Sheet about why he doesn't have the typical chef tantrum. "It's only going to make you more stressed complaining. So just f***ing do it."
"Just do it," he added. "If you complain it's gonna take you maybe 20 more minutes. So swallow. Take it. Keep going."
Below Deck's chef Marcos reveals why he can move past the drama
Spaziani said staying professional is just part of the job. "I think because I've been dealing with so much stuff in the past, [had a] tough life. Tough guests. I've had some really tough guests in my life, so you kind of get used to it," he remarked. "So you kind of let it go."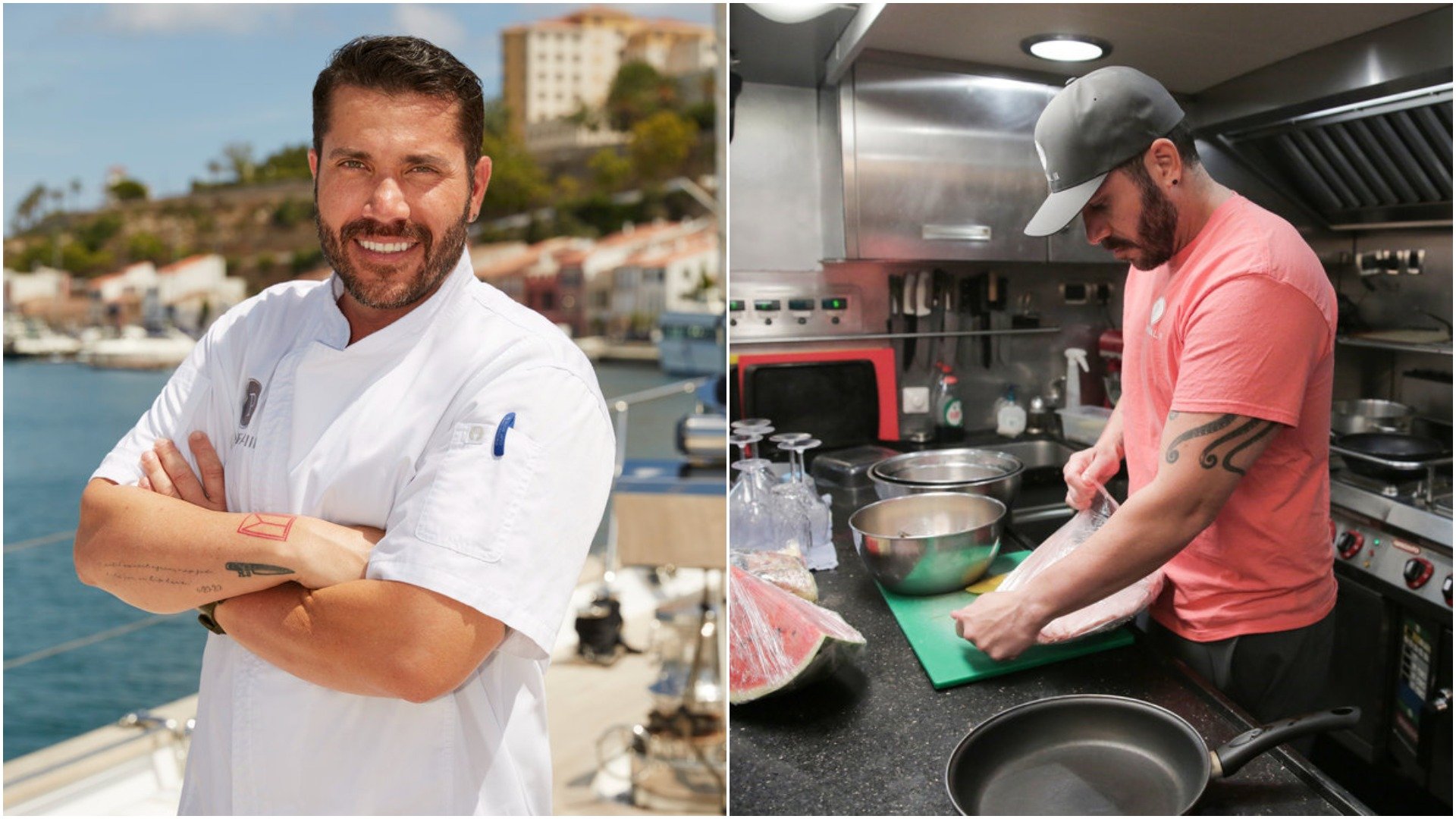 "And also when you are a private chef, you have to leave the ego out of there," he added. "That's the word 'private.' So pretty much you're selling your soul to somebody for a lot of money. So in that case, if you're not able to manage all that, you're pretty much in the wrong business." Before he got into yachting, Spaziani used to work for an exclusive, high-end catering company in Miami. His clientele list included A-List celebrities, politicians, and billionaires.
Chef Marcos is able to hide his anxiety on the boat
Even though he keeps the flow moving in the Below Deck Sailing Yacht kitchen, Spaziani does get stressed. "Don't get me wrong, I'm not a rock," he laughed. "I have feelings too, you know? I just know very well, how to hide it. Because I've been a chef for so many years and I've had 300 people under me. They depend on me. I've got stress or whatever. But [then] the whole team could crack."
Mentors in his past showed him how to avoid having a blowout at work. "So, yes, I'm not going to lie to you. Sometimes I am very stressed or worry about it," Spaziani shared. "I just know how to hide it. I have to say that I've had a few chefs that showed me how to do that. Because maybe 10, 15 years ago, I wouldn't be able to hide it. Whoever knows me well, they can see that I'm stressed."
He was also a mentor to the younger 'Below Deck Sailing Yacht' crew
Spaziani is now a mentor to younger crew members. Barragan and stew Ashley Marti were seen complaining about one another to him in the galley kitchen. He said some of the younger crew members often turn to him for advice because they see him as a senior crew member.
"First of all, they see me as older," he explained. "I'm 43. So maybe because they know I'm older. I have more experience. They feel more OK to get help with me, and I have a lot of experience. I've been around. I've been doing a lot of stuff. Trust me. Good and bad. And I just give them advice."
"That doesn't mean they have to take it," he continued. "But at least they have some advice from me. And I say at the end of the day, 'Well, I told you. Even if you don't want to take it.' Because I make mistakes. I'm not perfect. I just don't make mistakes twice."
Below Deck Sailing Yacht is on Monday at 8 pm ET on Bravo.