'Below Deck Sailing Yacht': Daisy Kelliher Shares Her Secret Behind a True Irish St. Patrick's Day Celebration
Daisy Kelliher from Below Deck Sailing Yacht revealed how to create an authentic Irish St. Patrick's Day celebration that goes beyond green beer and corned beef and cabbage.
Despite the holiday being a little lowkey this year due to Covid-19 (coronavirus), Kelliher, who is from Dublin, Ireland, told Showbiz Cheat Sheet revelers can still do the day justice with the right cocktails and authentic Irish fare.
Kelliher joked that although St. Patrick's Day is a big Irish holiday, Americans do a better job of celebrating it. Dubliners typically mark the day with a big parade, followed by loads of drinking, she said.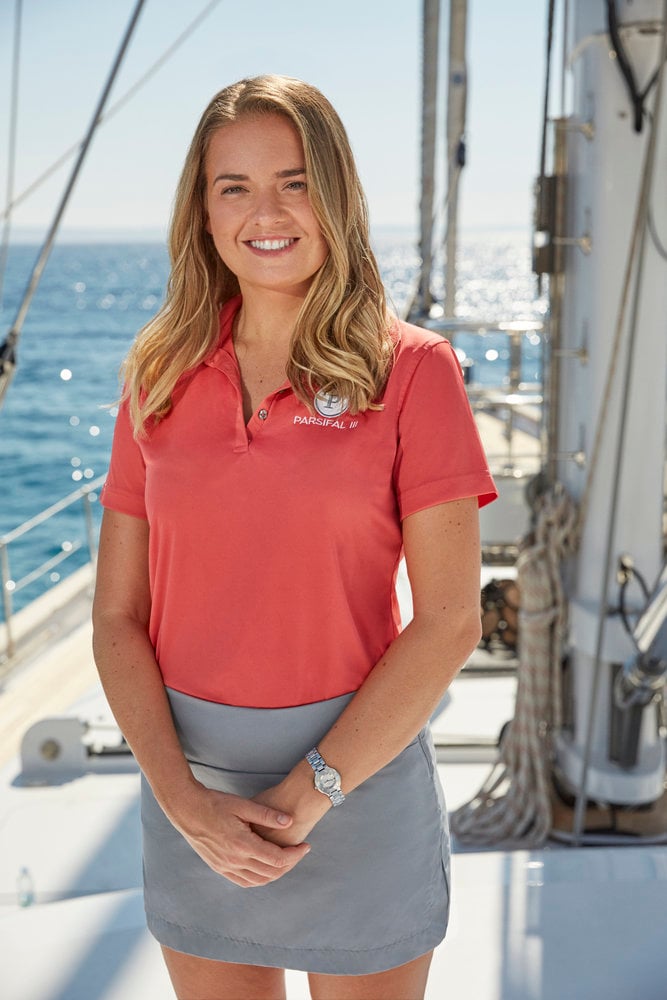 Daisy Kelliher offers an alternative to green beer on St. Patrick's Day
Unfortunately, Ireland went back into lockdown this year so the parade will be held virtually. But, Kelliher said partiers can kick off their celebrations with a few Irish drinks that don't involve green food coloring. Kelliher recalled throwing a St. Patrick's Day party while working on a charter. "We did an Irish theme," she said. "We made like baby Guinnesses and then we had a selection of Irish gin. Craft gin has gotten really, really big in Ireland."
"So like baby Guinness shots, which is Kahlua, and then it had some Baileys," she described. "And it's pretty good. They look like little mini Guinness." Tipsy Bartender offers a tutorial here.
RELATED: 'Below Deck Sailing Yacht' Producer Reveals if Any of the Show Is Scripted
"And then we had a selection of Irish gin and tonic," she recounted. "There aren't that many Irish cocktails but that was pretty cool." A few popular Irish craft gin brands include Dingle Original Gin, Bertha's Revenge Irish Milk Gin, and Glendalough Wild Botanical Gin to name a few.
Daisy Kelliher has a few food ideas beyond corned beef and cabbage
Many Americans turn to corned beef and cabbage for a traditional Irish meal. But Kelliher noted a few other dishes are viable, traditional options. "Shepherd's pie is pretty Irish," she said. Adding, "It's kind of hard with traditional Irish food. There are not that many. Obviously, anything with a potato is considered Irish."
"But also smoked salmon and Irish soda bread is pretty good," she remarked. Variations to the basic recipe for the dish include one with chive butter.
Food and Wine has some additional food ideas, which include Irish fish pie, soups, stews, plus a dessert idea.
RELATED: 'Below Deck Sailing Yacht': Captain Glenn Was 'Fearing the Worst' During Shocking Season 2 Accident (Exclusive)
Any games or activities? "No, definitely not," she laughed. "But drinking is pretty much a typical St. Patrick's Day." Kelliher added that keeping with the green theme is pretty common, which is what chief stew Kate Chastain from Below Deck incorporated into her decor during season 7. Chastain was tasked with throwing a St. Patrick's Day party for charter guest Alexis Bellino and her friends. Of course, Bellino may have been a little too busy kissing her boyfriend to really appreciate all of Chastain's hard work.
Below Deck Sailing Yacht is on Monday at 9/8c on Bravo.