Below Deck Sailing Yacht: Why Does Daisy Kelliher Think Alli Dore Is Gonna 'Lose Her Sh*t'?
Below Deck Sailing Yacht viewers know that Gary King and Sydney Zaruba did more than kiss after that first charter, but apparently, that's breaking news to the crew.
Chief stew Daisy Kelliher seems stunned when Zaruba reveals to a handful of crew members that she and King had sex. Zaruba asks the group if there is one thing they could change about the charter season what would it be? When it is her turn to respond, the crew's jaws are on the floor.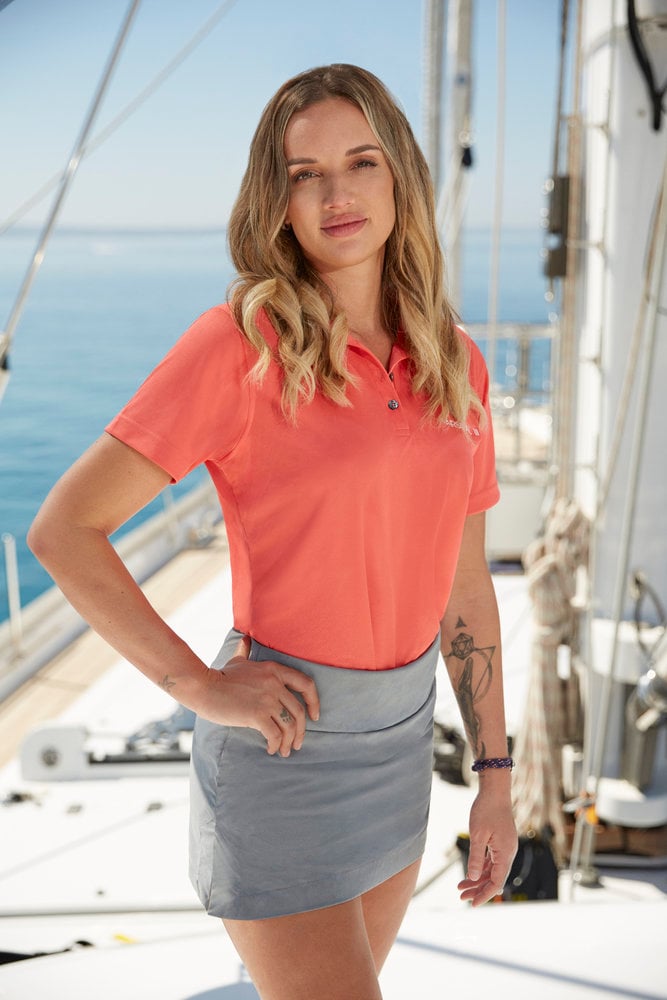 Sydney Zaruba's mom told her to avoid having sex with anyone on the boat
The group jokes about chief engineer Colin Macrae's job in a preview clip. But when it is Zaruba's turn to share, she refers to her one-night stand with King. "If I could change one thing, the decisions I make I never have any regrets," she says. Meanwhile, King and Alli Dore get cozy in a corner, far away from the rest of the crew.
"I may make different decisions in the future," she continues. "Like the one thing my mom said to me before I left, she was like don't have sex on the boat. Literally, my first chance I had, I blew that one."
RELATED: 'Below Deck Sailing Yacht': Captain Glenn Explains What Led to the Historic $20,000 Boat Crash
As she talks, the crew looks stunned. Zaruba had already told Dani Soares she and King had sex. But this is certainly news to Daisy Kelliher. Macrae sounds astonished, "Wait, so you did have sex?"
Sydney Zaruba tries to get Gary King in trouble with Daisy Kelliher
"Wait, what?" Kelliher says in a confessional looking shocked. "I thought they just kissed. Alli's gonna lose her sh*t when she finds out they had sex. They're such liars."
"Now I'm disappointed in my relationship with Gary," Macrae jokes to the rest of the crew. Zaruba tells Kelliher, "Please start some sh*t with Gary!" But Kelliher wonders, "How can I start sh*t with Gary?"
RELATED: 'Below Deck Sailing Yacht': Dani Soares Describes Near Misses With Production Crew During Filming (Exclusive)
Macrae suggests that Kelliher tells him he doesn't do enough dishes. "Well, I'm biting my f**king tongue on that," Kelliher replies. "Because you know it's on top of my list."
Then Zaruba says that she wants to say something that can't leave their small circle. "I have literally been told not to offer help to you guys," Zaruba tells Kelliher. A flashback clip shows King telling Zaruba she does not have to put in overtime even if there are dirty dishes.
"Now we got drama!" Macrae exclaims while smiling.
Gary King and Daisy Kelliher could do battle again this season of 'Below Deck Sailing Yacht'
Kelliher explained to Showbiz Cheat Sheet that working with King wasn't always easy.
"Gary, that's kind of a tough one because I actually like Gary," Kelliher said. "I'd completely hang out with him and go for a drink with him. But I don't know, you are either gonna love him or hate him. I probably actually sit a bit on the fence, which is a bit unusual because he pissed me off during work."
RELATED: 'Below Deck Sailing Yacht': Colin Macrae Says 'the Show Is Not Scripted' and He's Not the Father of Dani Soares' Baby
"That was the problem, he annoyed me at work," she continued. "So I'd happily go for a drink. But work-wise he did annoy me, but he's got a good energy. He's fun to be around. I think if I didn't meet him in a work circumstance I'd probably be better friends with him. But I did meet him in a work environment."
Below Deck Sailing Yacht is on Monday at 9/8c on Bravo.