'Below Deck Sailing Yacht': Dani Soares Describes Near Misses With Production Crew During Filming (Exclusive)
Dani Soares says that while she never fully collided with the Below Deck Sailing Yacht production crew, she experienced a few near misses when the crew had to run around to stow items as the boat heeled over.
Below Deck Sailing Yacht was Soares' first (and likely last) sailing yacht. She said that while she prefers to work on motor yachts, chaos ensues no matter the type of vessel. "We were always running around," she recalled. "But then running around, wondering which camera people were around us. Sometimes it was just like, ahhh!"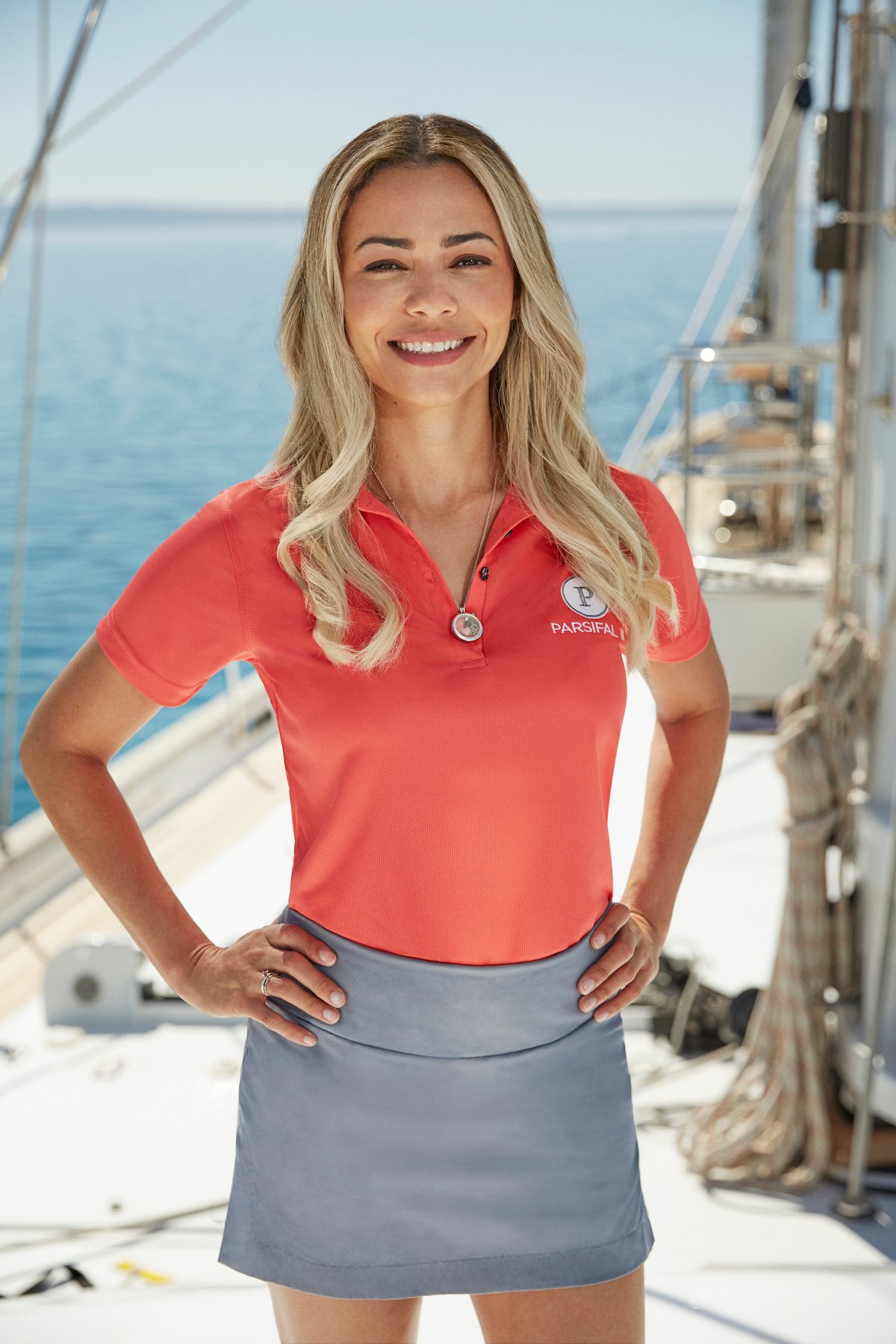 Yes, sometimes things break on a yacht
Soares said the production crew was a team of consummate professionals who could masterfully manage controlled chaos. "They are so good at it, they are such good professionals," she recalled. "I don't think we had any crashes. They were just so good at dodging us and going around us."
And while there were no human crashes, Soares says it is common for items to break. "Things do break," she laughed. "But the most important things, the art and things like that, they always have a little place where they can go when we're heeling or when it's getting really bumpy."
RELATED: 'Below Deck Sailing Yacht' Fans Now Know What Led to Dani Soares and Alli Dore's Make out Session
"It's just a matter of running around, putting everything away, and then when it's stable again, bringing it out, taking everything out," she continued. "Sometimes you just don't remember to take it out. It's like, yeah, just leave it there."
Soares doesn't remember how many glass items broke during filming. "But there was a season, maybe two years ago, that we broke maybe 20 crystal wine glasses!" The Below Deck Sailing Yacht crew had a few glass casualties during the last episode but not on the boat. The deck team had to haul the portable bar back to the boat and a few items shattered on the way back.
Dani Soares didn't know what to expect when it came to filming
Soares said that while she wasn't extremely anxious about filming, she still had no idea what to expect. "It's funny because I was at the stage in my life, as you guys had seen on the last episode, where I had lost a very important person in my life. And I was like, yeah sure. Let's do a TV show. I wasn't really sure what to expect."
But she admitted she had a little bit of anxiety once cameras started to roll. "Because I had no idea of anything about what filming takes," she admitted. "And I didn't realize how many people there was, and how crazy it would be. Also that they would have cameras 24 hours. Microphones 24 hours. So yeah it was a bit of an adjustment. But it was interesting."
RELATED: Below Deck Sailing Yacht: Hannah Ferrier from 'Below Deck Med' and Dani Soares Could Be Having Playdates Soon (Exclusive)
Chief stew Daisy Kelliher revealed she was extremely nervous about filming. "Yeah, massively," she told Fox News about being filmed. "I was really worried about it joining the show. But you just don't have any time to think because we are doing a real job and it is extremely fast-paced and high energy. [The cameras] just follow you and they're very good about stepping out [of the way]. I can literally walk very, very fast and they will they'll just get out of your way. You don't need to stop for them. You don't need to walk around them. They're very professional and they let us get on with our job."