'Below Deck Sailing Yacht': Did Producers Think the Charter Guest Brought Drugs on Board?
Captain Glenn Shephard from Below Deck Sailing Yacht was put into an extremely tough position when his crew thought a guest brought drugs on the boat.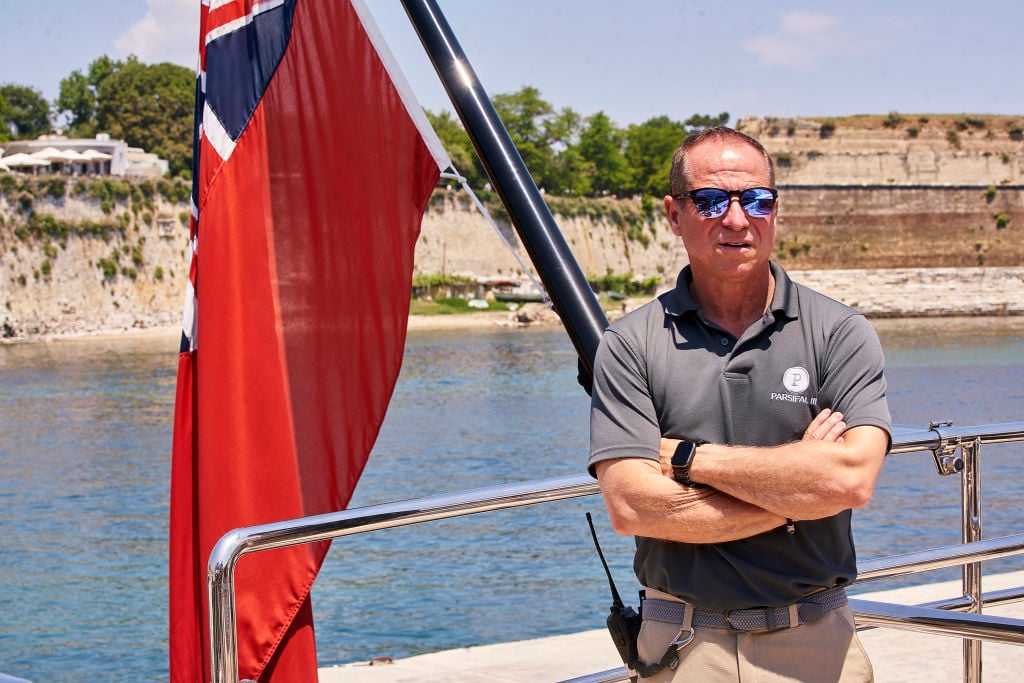 Deckhand Chris Miller and chief stew Jenna MacGillivray both suspected the guest may be doing illegal drugs. However, producers recently shared they didn't notice the guests were acting oddly because they weren't looking for it.
Producers offered their own insights to the crew's suspicions during a "behind the episode" show. Producers said, "It wasn't until Jenna and Chris brought it up that it was on our radar too."
No one else suspected drugs either
Producers shared that first mate Paget Berry didn't notice any strange behavior from the guest either. He just assumed perhaps they were drunk. Third stew Georgia Grobler simply said that the guests seemed like, "Another set of premium party people." Adding, "I seldom find charter guests to be completely normal."
Shephard and producers recalled an instance where he removed an unlit joint from a guest's mouth. He told the story during the season finale. "I threw it over the side and told the primary if I saw any more drugs it would be the end of the charter."
RELATED: 'Below Deck Sailing Yacht': Captain Glenn Describes Why Bringing Illegal Drugs on Board Is so Serious
During the penultimate episode, Shephard seems a little frustrated that MacGillivray and Miller didn't approach him with the information earlier. However, he told producers he thought his team didn't want to ruin someone's charter just because of a suspicion. MacGillivray added, "I didn't feel confirmed in my suspicion." But she felt more compelled to tell Shephard when Miller had the same suspicion.
Producers also shared that it isn't normal for the guests to have their luggage searched after boarding the boat. "They're never treated suspiciously at the outset," producers added.
If he found drugs, the charter would be over
Producers shared that if Shephard had found drugs, the guests would have been removed immediately. Captain Lee Rosbach from Below Deck season 1 (the first charter guests ever) had to bounce a group of photographers after a stew found illegal drugs in the cabin.
Of course viewers learned that Shephard didn't find anything and the guest was a little angry. But first mate Paget Berry told Showbiz Cheat Sheet drugs on board a yacht is no joke. "If any sort of substances or anything illegal is found on board a boat, the captain can go to jail, his license, the crew, we could lose our licenses," he said. "The boat gets impounded. It's not funny."
RELATED: 'Below Deck Sailing Yacht': Paget Berry Says Illegal Drugs on Board Means the Captain Could Go to Jail
Berry added that drugs can be an issue. "Unfortunately there is that element in yachting," he said. "Since I started 10 years ago as a teenager, it was readily around the crew, readily around sole owners. Obviously they've got the money and everything. And it is a shame. It does wiggle its way in there sometimes. But if you're smart and level headed, you know what to do and what not to do."
Captain Sandy and Captain Glenn handled the situation the same way until a certain point
Captain Sandy Yawn from Below Deck Mediterranean told Showbiz Cheat Sheet she'd pull the primary aside and talk to them first. Shephard does exactly that and shared his suspicions with the primary.
However, Yawn said her interventions would have stopped there and she'd never search a guest's belongings. "I would never go through the client's stuff," she said. "Taking someone's personal stuff? You can't go through someone's stuff."
RELATED: 'Below Deck Med': Captain Sandy Shares What to Do If Your Crew Suspects a Guest Has Drugs on Board
"How you handle it is really the difference," Yawn added. "It's how you address it." Thankfully, Shephard and the crew turned it around and the guests still left a sizeable tip.