'Below Deck Sailing Yacht': Gary King Explains That Yachts Must Have 'Properly Trained Crew in Case of Emergency'
Below Deck Sailing Yacht Episode 11 was the perfect example of why yachts need a well-trained crew to avoid disastrous consequences. The crew encountered two harrowing circumstances and their training and experience showed.
First mate Gary King rallied when the yacht lost all power and began drifting toward the dock. Unfortunately, chief engineer Colin Macrae was in town on an errand but King applied his knowledge and training to the situation, quickly assessing the power outage and restoring the generator. Long before viewers saw the historic episode, King discussed why crew training was important. Plus he offered some insight into how the boat is powered.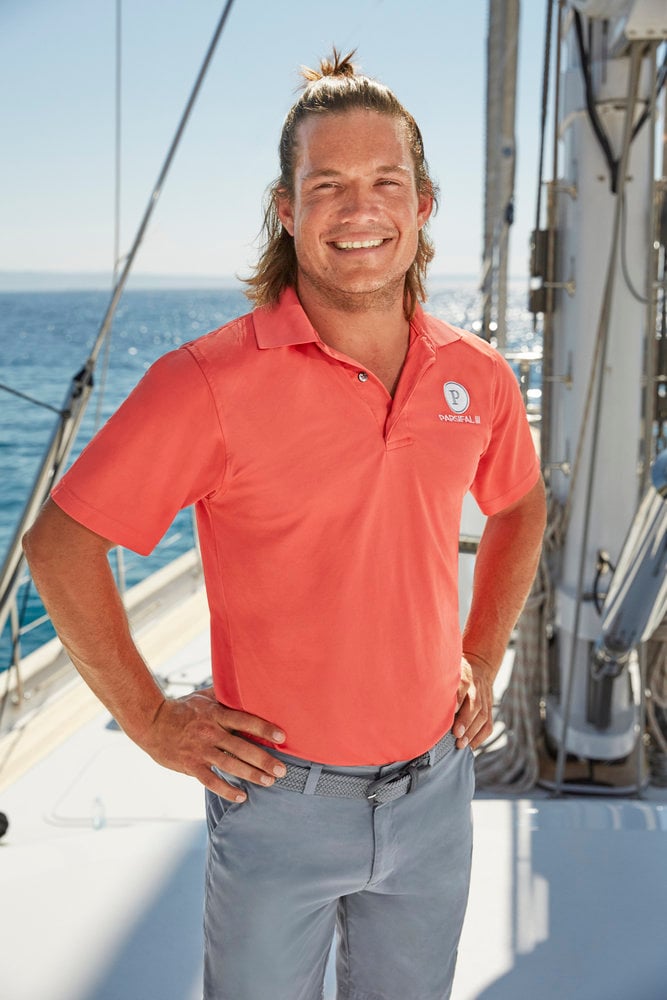 Gary King shares why 'Below Deck Sailing Yacht' training is important
King joined Captain Glenn Shephard and producer Jill Goslicky in a Reddit "Ask Me Anything" during the season 2 premiere. Viewers had no idea of the gravity of the situation at that point but knew the boat ended up colliding into the dock.
King shared why the crew must be properly trained. "I think this is general to yachts but it's very important to have properly trained crew in case an emergency situation happens people know what to do and how to act," he shared ahead of the season. Viewers watched the deck team avoid disaster during the first power outage, nearly getting injured when lines snapped on the deck.
RELATED: Below Deck Sailing Yacht: Why Does Daisy Kelliher Think Alli Dore Is Gonna 'Lose Her Sh*t'?
"That's captains and officers [who] study for years to get where they are," King continued. "With regards to sailing and being at the mercy of the elements, yes this could add to the chances of accidents happening, especially to people/guests who are unfamiliar with sailing. I have worked on a motor yacht, but I enjoy sailing too much so for me it's a job and a lifestyle."
Captain Sandy Yawn from Below Deck Mediterranean shared with Showbiz Cheat Sheet that the "elements" in the Med can be highly unpredictable. She said 100-knot winds can come out of nowhere on a clear day, which seemed to be what happened to Parsifal III.
Gary King explains that generators are always running on the 'Below Deck Sailing Yacht'
Macrae admitted that the crew still has no idea why the boat malfunctioned. "One of the craziest moments of my superyacht career was when we reversed straight into the dock, and it was all captured on tonight's episode of Below Deck," he shared on Instagram ahead of the episode. "To this day we have no idea what exactly went wrong. Which kinda sucks because if we knew why, we would be able to fix whatever went wrong. It's like when your computer sometimes freezes without any warning or explanation. Just terrible luck I guess…"
RELATED: Below Deck Sailing Yacht: Colin Macrae Admits the Crew Has No Idea Why the Boat Malfunctioned
King discussed how the boat is powered during the AMA. "It is running constantly," he explained. "On a yacht that size there is too much demand for power to run from batteries so we have a generator running constantly when maneuvering the boat in the marina or sometimes when Hoisting sails we would have 2 on. During mealtimes and busiest time of day Laundry dryers, dishwashers and everything else running sometimes requires 2 gennys too."
"The generators are quite silent so once engine is off and we sailing the boat is silent :) so you still get that sensation of yes engines off and we are still moving."