'Below Deck Sailing Yacht' Girls' Trip Fight Rivals Girl Fight From 'Below Deck' Season 6
There's nothing like a group of Below Deck charter guests getting into a wild and loud smackdown to bring a crew together.
The Below Deck Sailing Yacht crew suddenly find themselves eavesdropping in on an epic guest smackdown that rivals the guest fight from Below Deck Season 6. The Below Deck Sailing Yacht crew knew drama was coming when Erica Rose (who was on The Bachelor) and friends boarded Parsifal III. The guests sniped at each other but their bickering was clearly the calm before the storm.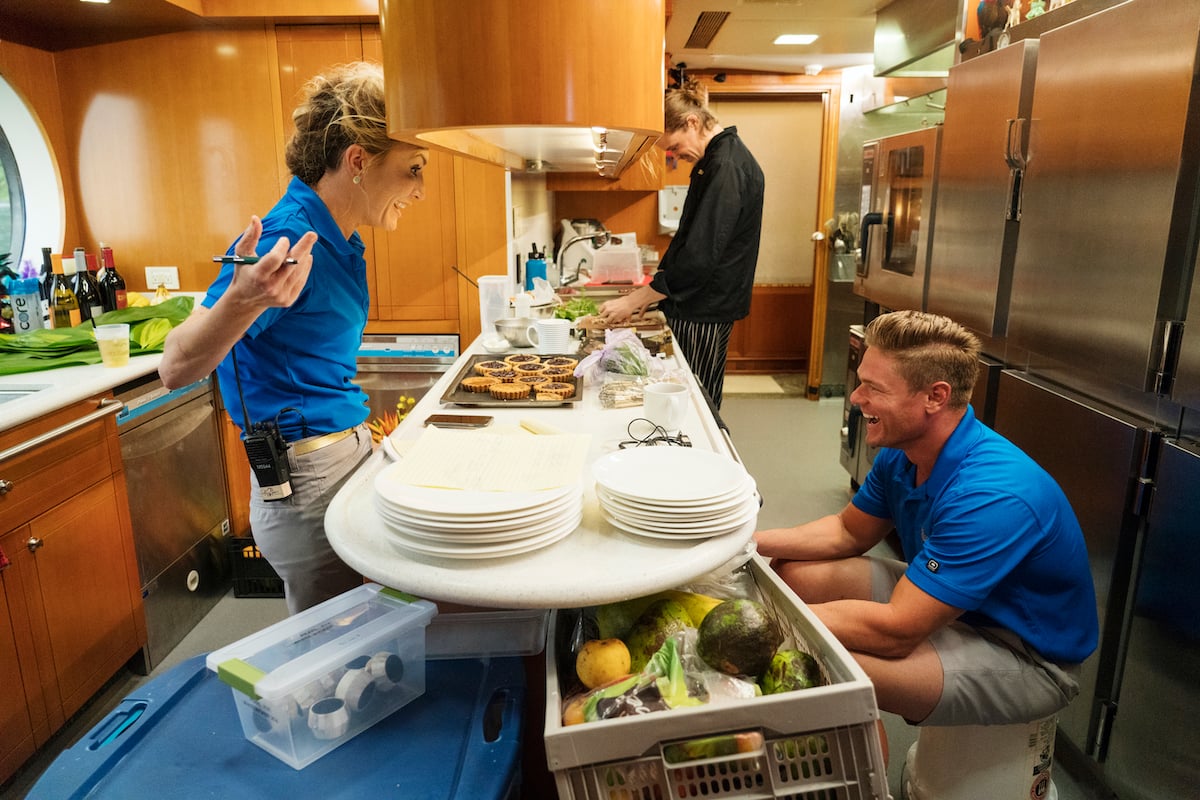 The 'Below Deck Sailing Yacht' crew listens in on the charter guests' fight
A lunchtime fight breaks out when charter guest Bianca Natalia believes the rest of the women in the group are jealous of her beauty. Jess Cimato, who busted Colin Macrae and Gary King gossiping about the group earlier, confronts Natalia, clearly annoyed.
Cimanto tells primary guest Erica Rose that they all "need to have a conversation." Rose wants to avoid a confrontation but says Natalia suspects they are all jealous of her "beauty." Meanwhile, Natalia confides in Alli Dore about feeling left out. Cimato, who is still sitting at the table, is heard saying, "I'm gonna go in there and rip her a new a**hole."
RELATED: 'Below Deck Sailing Yacht' Spoiler: Jean-Luc Cerza Lanaux Spills the Beans About STD Storyline
Indeed, Cimato comes for Natalia, telling her she's causing "all these problems." The argument prompts the rest of the guests to gather as the encounter gets increasingly heated. "People are being mean to you because you're pretty?" Rose says to Natalia. She agrees and of course, that blows Cimato's mind. "Where did you buy your mirrors because I'd like to get one!" Cimato says to Natalia.
Now the crew is in on it and Dani Soares and Sydney Zaruba come running to listen in on the drama. Colin Macrae is seen leaning in from the control room, grinning from ear to ear. The last bit of shade as the crew huddled together, laughing and loving it.
Not to be outdone but the 'Below Deck' Season 6 guest fight was pretty epic too
Another girls' trip gone wrong went down on Captain Lee Rosbach's watch on Below Deck Season 6. Krystal Murphy brought her friends on board My Seanna to celebrate her birthday, which resulted in a few spats that had the crew in stitches. First Murphy got so drunk she refused to go to her room. She swatted away her friends and chief stew Kate Chastain warned she would "remove" Murphy by turning the fire hose on her. She eventually retreated to her cabin.
RELATED: Below Deck Sailing Yacht's Chef Natasha Shares Her 'Carrot Bacon' Recipe and Reveals Her Favorite Dish to Cook (Exclusive)
But Murphy also ostracised one of her friends (Chelsea) and was heard screaming at another friend behind closed doors. Like the Below Deck Sailing Yacht crew, the Below Deck crew got as close to hearing the fight as possible. At one point the guest cabin door is flung open and the crew is sent running. Of course, they can't stop laughing.