'Below Deck Sailing Yacht': Good News About the Summer Season May Help Nudge Season 2
Production pauses due to the pandemic have taken films and television shows offline. However a bright spot has emerged that may pave the way for Below Deck Sailing Yacht to move forward with season 2.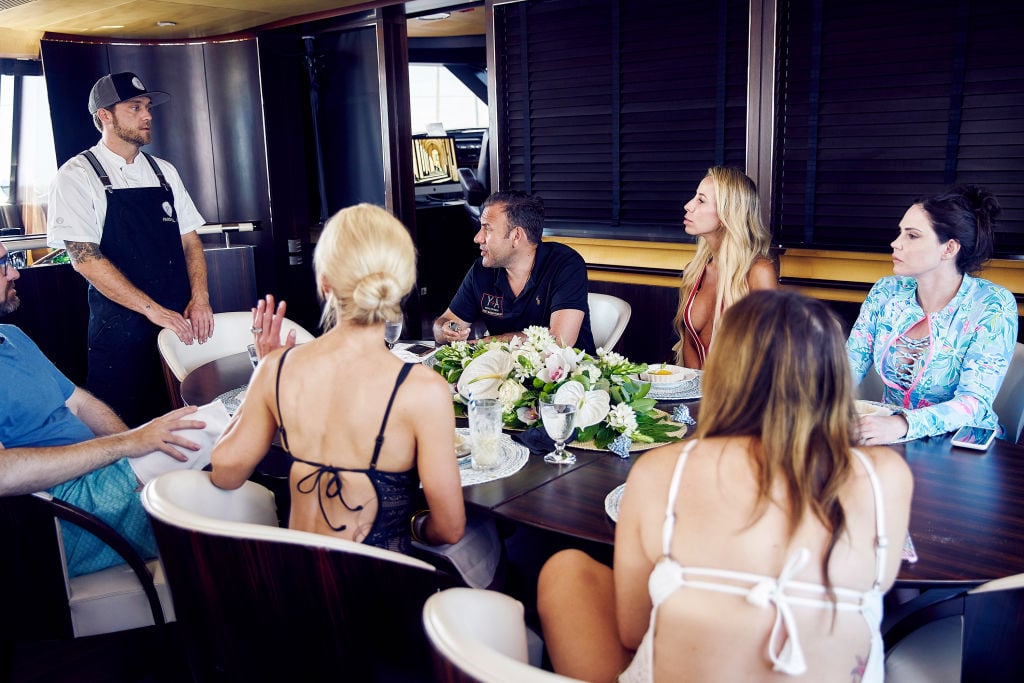 The summer yachting season appears to be moving forward, at least in some parts of the world. Some yachts have begun to advertise for private charters beginning in July, which may be a good sign for producers who hope to film sometime this summer.
For instance, superyacht Makani beckons charter guests for bookings in July. "Yacht charter in Greece is set to resume as normal from July onwards, and the 24m (77ft) motor yacht MAKANI has announced several gaps in her bookings calendar for this summer," according to Yacht Charter Fleet.
Other destinations are opening too
The Caribbean summer season may be moving forward with some restrictions, Yacht Chater Fleet also reports. "St Barts is among the first Caribbean destinations to reopen its ports, while Antigua has said it will open for international travel from June 4 and the Bahamas has set a tentative reopening date on or before July 1."
Italy, which was one of the hardest-hit also is optimistic about the upcoming charter season. "Yacht charter in Italy will go ahead in summer 2020 as Coronavirus curve flattens, with possible resume date after June 3," according to Yacht Charter Fleet. New guidelines are also imposed like the crew must wear masks and gloves.
RELATED: 'Below Deck Sailing Yacht': Did Producers Think the Charter Guest Brought Drugs on Board?
A full, up-to-date rundown can be found here. However, some areas in the Med are still locked down. For instance, most ports in France are still not open. Also, yachts must have specific clearance to dock in Spain.
Decent ratings and a casting call indicate season 2 is likely
Ratings picked up during the crew change toward the end of the season. Deckhand Parker McCown decided the stress on deck wasn't worth it. He cut his losses, then went off and got engaged. Deckhand Chris Miller replaced McCown and brought a sense of fun to the show.
However Miller was struck down with an injury. Plus the rocky romance between chief stew Jenna MacGillivray and chef Adam Glick only got messier. MacGillivray and her stews also weren't on the best of terms. Finally, a charter guest was accused of bringing drugs on board the sailing yacht. No drugs were found.
RELATED: 'Below Deck Sailing Yacht': Will the Series Score a Season 2?
 Bravo recently teased a "second season" too. "Happy #InternationalTeaDay! Here's today's tea," the network tweeted in late May. "A season 2 will be announced next month."  While Below Deck Sailing Yacht seems to be poised for another season, a number of fans answered the tweet with the show Family Karma.
Casting agents have been busy looking for "sailing" yachties too. Since February, Diana Wallace Casting has shared Instagram posts, looking for yachties. Posts continued during the pandemic, indicating that producers are likely trying to prepare for a cast and crew to move forward when conditions allow for filming. The question is who will return from the first cast? Both Below Deck and Below Deck Mediterranean experienced big cast shakeups between season 1 and season 2.