'Below Deck Sailing Yacht': What Happened to the Last Bosun Who Complained About Helping the Interior?
First mate Gary King from Below Deck Sailing Yacht became completely annoyed that chief stew Daisy Kelliher demanded help in the interior. But King's attitude may not bode well for him if he looked back in the history of Below Deck.
While King has proven to be skillful at his job and runs a tight ship, he seems to be pretty unwilling to pitch in when the interior team is being run ragged. Kelliher had to beg King for help from his deck team when they had a large group of especially demanding guests. But during a tip meeting, he rolls his eyes and pushes back when she shares that sometimes the deck team needs to help. Does this sound like another deck leader from the past?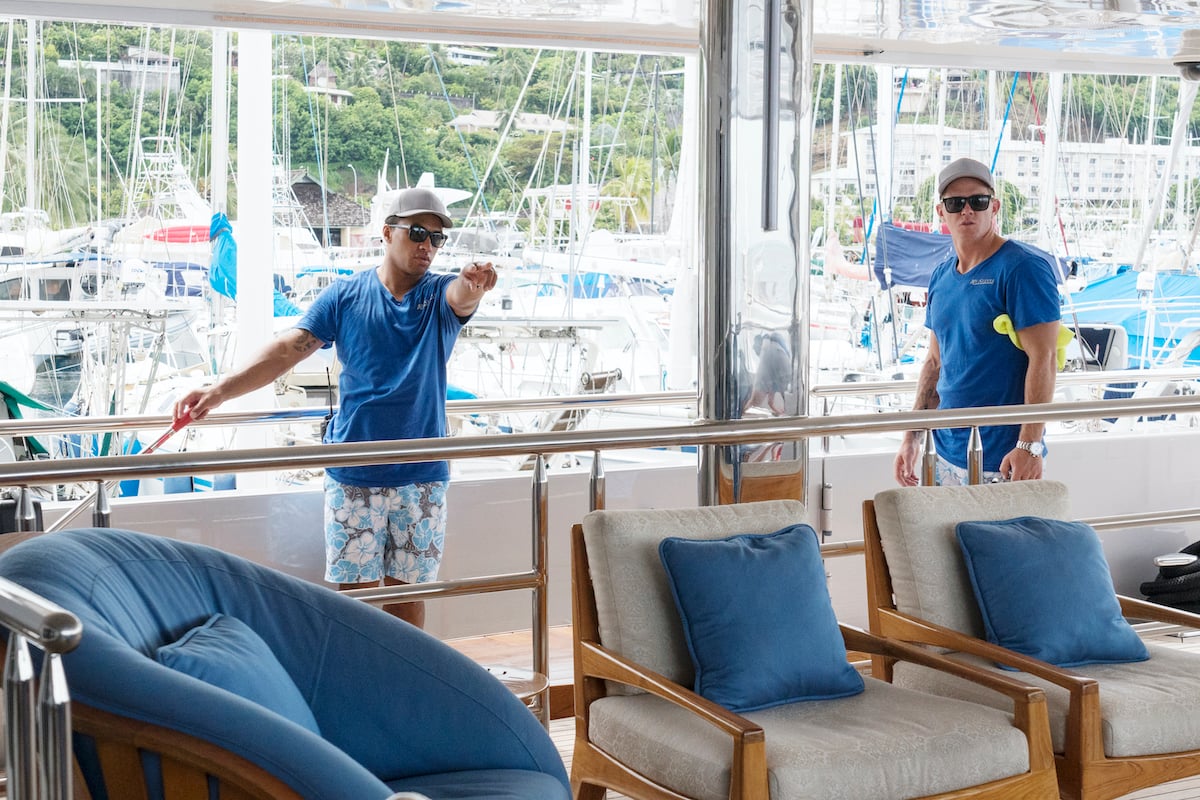 Chandler Brooks went home because he wasn't a team player
Bosun Chander Brooks from Below Deck Season 6 may have finally earned his plane ticket home when he wasn't exactly helpful when chief stew Kate Chastain needed help. While Brooks had a few snafus (changing the radio frequency and being a chaotic leader), the final straw was when he left Chastain and Josiah Carter alone to clean up a beach picnic in the dark.
Then, when Chastain finally asked Rosbach to get her help, Brooks insisted on eating ice cream instead of pitching in. She also told Rosbach that "something needs to happen" with Brooks, Bravo's The Daily Dish reports.
Chastain then had to witness Brooks getting fired.  "I had to sit there and act like, 'I don't know what's happening. I'm just here watching.' And I was the one who told Captain Lee the night before to do it," she shared. "It was like I ordered the execution, and I had to be like, 'Preference sheet meeting?'"
"Morale at this point sucks, the team's not performing like I have to have them perform, and the one common thread through all of it is Chandler," Captain Lee Rosbach said. "Let's give morale a boost. We'll get rid of the thorn that's sitting in the lion's foot. Lion's gonna feel better, I'm gonna feel better, and everybody's gonna be happier."
Is Gary King going to step it up?
Being resistant to helping out may not ultimately sit well with Captain Glenn Shephard. While everyone understood that each department is busy, the crew also knows it ultimately comes down to the guests.
"I spoke to Gary and kind of explained if he can see something's not going quite right, instead of me being chief b*tch, per usual, to jump in there and go like 'these glasses need to be put away,'" Kelliher said in a preview clip.
But instead of agreeing to be more helpful, King makes a face and complains that his team doesn't get extra help. "F**k when do we have a break?" King asks looking angry and annoyed. The team tries to come to an agreement about helping each other out, but King shakes his head still looking irritated.
How is this going to work out for him? Stay tuned as Below Deck Sailing Yacht is on Bravo every Monday at 9/8c.