'Below Deck Sailing Yacht': Jenna MacGillivray Shares How She Reacted the Next Time Chef Adam Gave Her Flowers
As the sun sets on Below Deck Sailing Yacht season 1, chief stew Jenna MacGillivray reflects on the season and shares an update on her relationship with chef Adam Glick.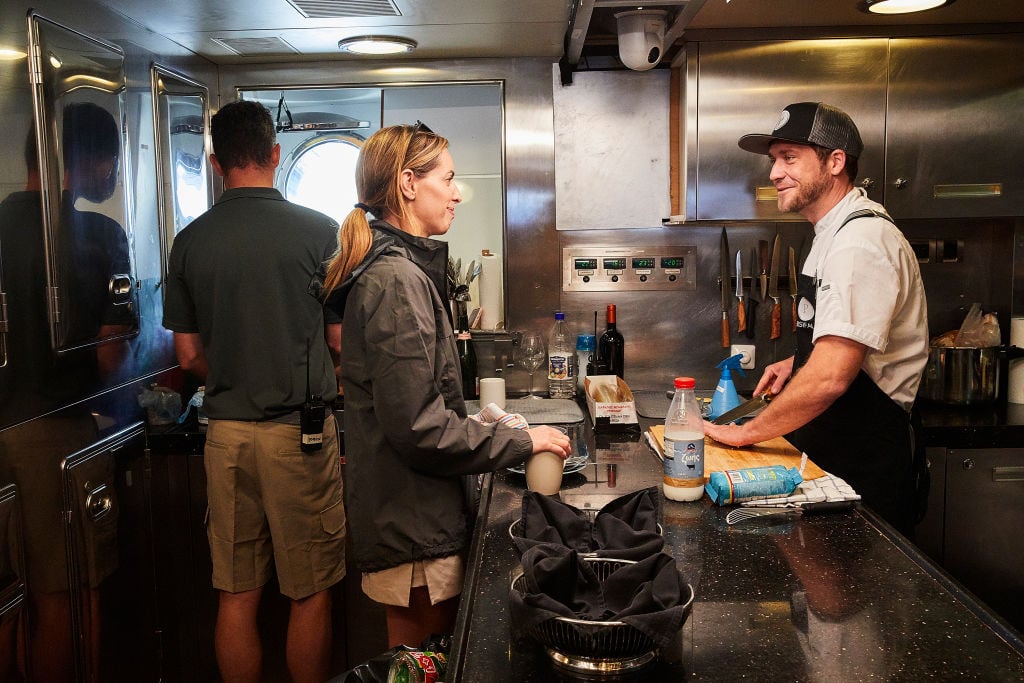 MacGillivray and Glick's rocky romance often heeled over harder than the sailing yacht as the couple's makeups and breakups left viewers and the crew with whiplash. But MacGillivray recently hinted that the couple may be on pretty good terms.
In fact she shared how she had a much better reaction when Glick gave her flowers for the second time. An Instagram follower commented on a photo MacGillivray shared of a van. The follower expressed disappointment that the couple didn't stay together and her non-reaction to the bouquet of flowers he gave to her.
She says the relationship has all been worked out
While MacGillivray didn't share that she and Glick were currently a couple, she commented that they have worked out their differences. "Don't worry that's all been worked out," she replied to the comment. "Sometimes when you're working in high stress you react differently than you would under normal circumstances. We both understand why we each reacted the way we did."
She then added, "And the next time he gave me flowers, I reacted with enthusiasm, not being shy." Glick made a big deal about getting MacGillivray flowers during the season. MacGillivray told him no boyfriend has ever given her flowers and he wanted to be the first.
RELATED: 'Below Deck Sailing Yacht': Chef Adam Learns That Love Literally Hurts
But after making a trip to forage for the flowers (and knocking his head on a tree branch), he was disappointed when MacGillivray's reaction was rather anemic. She was tired, but he stewed inside when she seemed to be underwhelmed. Later the couple fought fiercely behind closed doors, but the audio was captured.
MacGillivray also shared where she is happiest
She also shared in the post that she is happiest when she is exploring nature and going on adventures. MacGillivray shared a photo of a van and a post. "This is what I work for. What makes me love the job I do cause it affords me time for what I LOVE, nature, exploration, being on/near the water, campfires, laughing, going to sleep when the sun sets and waking up when it rises. This is my church. This is where I'm happiest. ⛰🛶⛺️🚐,."
While she expresses optimism, Glick confirmed he and MacGillivray are no longer a couple. Glick revealed on Watch What Happens Live with Andy Cohen he and MacGillivray recently spent time together and are just friends. "Actually I was with Jenna," he said. "For about the first half [of being quarantined] I would say. And then she had to get back to Canada and I had to stay in America. So that was sort of the beginning of us being separated."
RELATED: 'Below Deck Sailing Yacht': Chef Adam Shares He's Spent Time With Jenna MacGillivray but They Aren't Together
Although they are not dating, he says the experience of being on the show has bonded them forever.  "Any time you go through sort of a tense situation with anyone, particularly a significant other there's a level of connection that's never going to go away," he said. "We were just speaking to each other earlier today. We've gone through something incredibly powerful together. We could both be married in 20 years and we'd probably still want to talk to each other about what we went through."