'Below Deck Sailing Yacht': Madison Stalker Confirms She's Not Dating Luke Gulbranson From 'Summer House' (So Who Is Her Mystery Man?)
If Madison Stalker from 'Below Deck Sailing Yacht' isn't dating Luke Gulbranson from 'Summer House' who is her mystery man?
Madison Stalker from Below Deck Sailing Yacht heated up social media when she was coy about the man who she is currently "talking to" from the Bravo family.
Reunion host Andy Cohen asked Stalker if she was currently dating anyone and she replied that she was "talking to someone." Cohen responded that she follows Colin Macy-O'Toole from Below Deck Mediterranean and Luke Gulbranson from Summer House.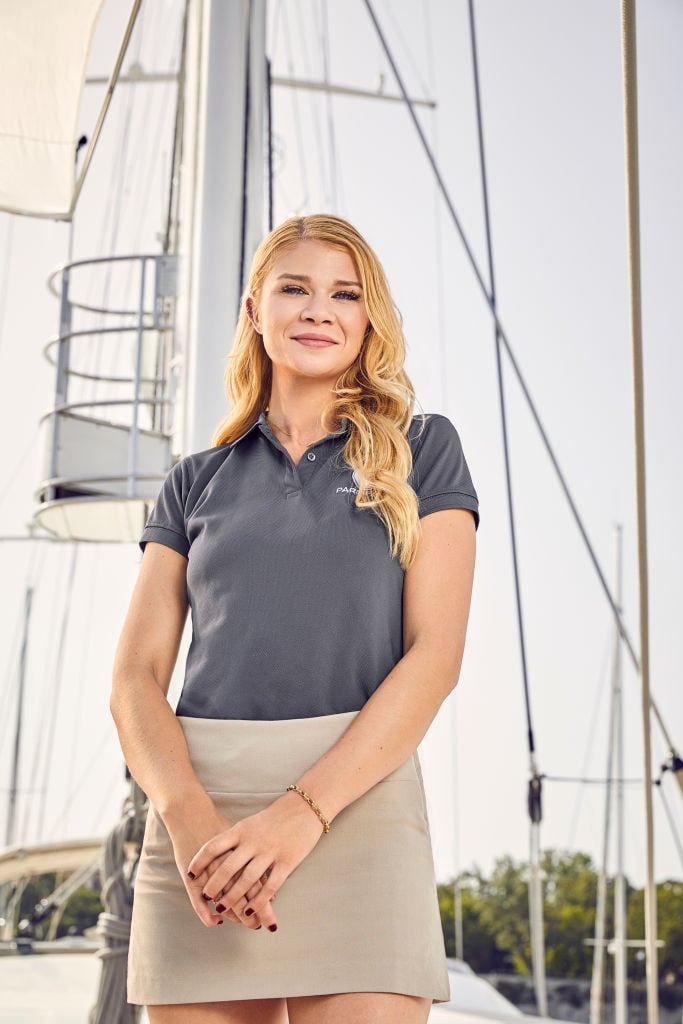 Stalker said she wasn't dating Macy-O'Toole and just left the rest for fans to ponder. Of course, Cohen looked delighted leaving fans to speculate if Stalker indicated Gulbranson as the man she was "talking to" at the moment. Only a few days ago Stalker dropped a cryptic photo holding a bearded man's hand. Her face and the man's face are not fully visible in the image but a few clues exist that are leading fans toward Gulbranson.
But it's not Luke Gulbranson
Fans could resist asking Stalker who was her mystery man. One fan assumed it was Gulbranson. "It's definitely luke. He makes rings and she's focusing on the ring in the pic," the fan wrote.
But Stalker confirmed, "not Luke." Adding, "I'm focusing on our love language, not a ring." Of course, fans are fixated who it is. But the fan replied, "heh that's what I get for trying to be a know it all 😅😂 regardless, just happy you're happy!"
Stalker also shared she was hanging out in Colorado. Meanwhile, Gulbranson has been working nonstop on his cabin in Minnesota. Gulbranson has been making jewelry too, which is likely why fans quickly jumped to the conclusion that Stalker is with Gulbranson … well, that and her silence about him too during the reunion.
But fans have now pivoted to this 'Below Deck Med' cast member
Cohen forgot to name another cast member who Stalker follows. Stalker also follows new Below Deck Med deckhand, Robert Westergaard on Instagram. He also follows her back. The plot thickens. But Westergaard is being teased as getting into a boatmance with third stew Jessica More. So if the two are connected, no one wants to spoil storylines on social media.
But a few fans tracked the jawline of the man in Stalker's photo and concluded that she is with Westergaard. "it's def @robert_westergaard," a fan wrote on Stalker's photo. Others agreed. "@themadstalker  @robert_westergaard he is your dude. I just can tell by the jawline," another person wrote.
This time, does Stalker's silence indicate that Westergaard is her man? She didn't deny it as she did about Gulbranson. But she didn't confirm she was dating him either.
Stalker ended up being the reunion MVP too. She rocked a stunning look but also seemed floored by some of the ongoing comments about the dispute she had with chief stew Jenna MacGillivray. MacGillivray apologized and Stalker said she was just over it and accepted her apology.
A fan summed up the night for Stalker, "You are a kind empathetic funny chic smart woman and no one thinks you are 'selling yourself' to audience . Hope you are chief stew next year ☘️💜."