'Below Deck Sailing Yacht' Producers Revealed 'the Tension Between Jenna and Adam Was at a 12'
Producers from Below Deck Sailing Yacht revealed that the tense exchanges between chef Adam Glick and Jenna MacGillivray were even more intense than viewers may realize.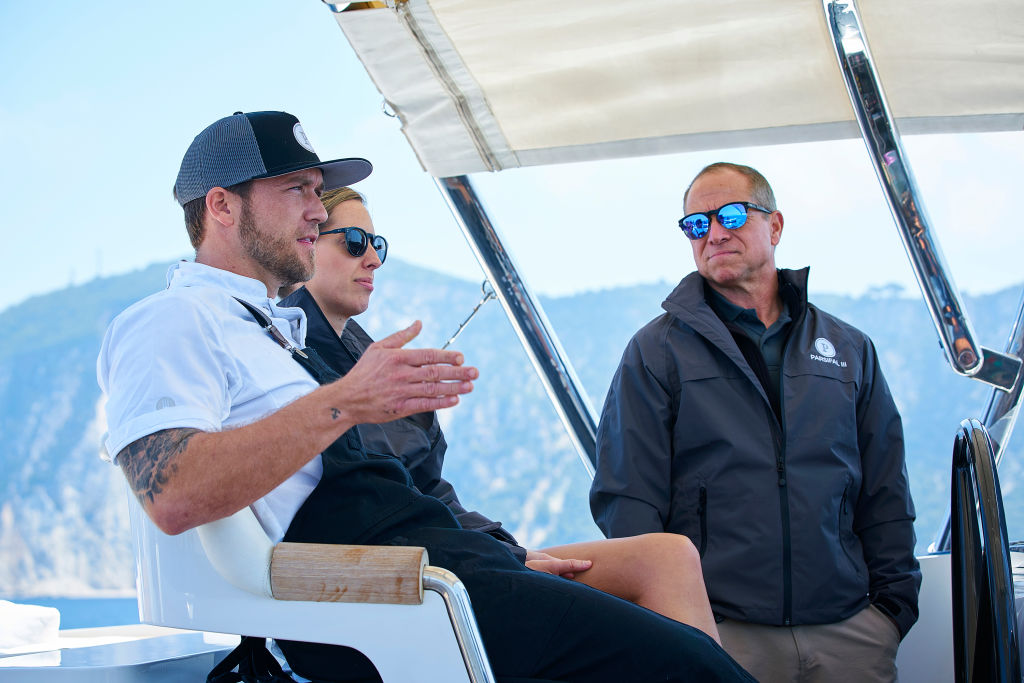 The couple seems to fight as hard as they love. MacGillivray and Glick had instant chemistry from the minute they met. The two almost hooked up after the first charter as Glick knew the relationship could become problematic if it went south. Viewers saw Glick meltdown when he was on Below Deck Mediterranean during season 2.
Glick was involved in a love triangle on Below Deck Med and it negatively impacted his job performance. Captain Sandy Yawn was also less than impressed but she hired him back for another season. Glick knocked it out of the park when he returned. So clearly, he's been here before and wanted to avoid drama. So much for that plan.
Producers said tensions were off the chart between the two
Cameras captured more than one fight between MacGillivray and Glick. Most fights seemed to come down to MacGillivray wanting to get closer and Glick getting cold feet. However, he overtly pursued her too, which made the entire relationship pretty confusing for MacGillivray.
During the "behind the scenes" episode, producers said on a scale from 1 to 10, "the tension between Jenna and Adam was at a 12" during the fight behind closed doors. The couple just had sex and when MacGillivray asked Glick why he was holding back, he unleashed on her.
"I feel like … I f**king love this person. I've never felt like this before in my life," MacGillivray shares. But he shoots back that he's not going to tell someone he's in love with them after a few weeks.
"We just had incredible sex and you immediately bring up something bullsh*t," Glick says. "You have to, have to, have to say something stupid and ruin the moment."
Glick opened up about why he has a fear of commitment
Glick revealed in a confessional why he tends to back off when relationships become serious. "It's hard for me to have the emotional attachments," he explained.
"Because my parents worked internationally my entire childhood," he revealed. "I was drug around in and out of schools. Make friends, goodbye. Make friends goodbye."
"Of course I want a great relationship," Glick shared. "Up until this point in my life, I'm not convinced that I'm capable." He looks as though he's close to tears as a producer asks if he thinks he's the problem. "Yeah," he said nodding and his voice cracking. "F**k yeah. I know I'm the problem."
MacGillivray hinted that Glick will show some vulnerability
MacGillivray shared with Showbiz Cheat Sheet that she knows her relationship with Glick is complex. "You will see as the relationship between Adam and I progresses, I can tell you we do have up's and down's, but I do feel like to elude to some event, you'll see some definite f**king up's and down's and rockiness," she teased in early March.
"You'll see some vulnerability in both of us. Adam goes through a lot in this season, mostly because of me," she added while laughing. "And I'm not saying it's in a bad way necessarily, but there will be some things he needs to go through this season to get to a different place. And I don't know if he necessarily gets there or not."