'Below Deck Sailing Yacht' Spoiler: Jean-Luc Cerza Lanaux Spills the Beans About STD Storyline
Ahead of a Below Deck Sailing Yacht episode reveal, deckhand Jean-Luc Cerza Lanaux shared he did not have a sexually transmitted disease (STD).
Cerza Lanaux was filmed looking extremely concerned he may have an STD (again). He made the discovery alone in his bunk. What the f**k is this sh*t?" he said, sounding worried. "There's things that have popped up down there that are concerning. I don't think I have an STD but … f**k." Cerza Lanaux had to tell girlfriend Dani Soares about the discovery, who becomes so worried, she considers leaving the boat.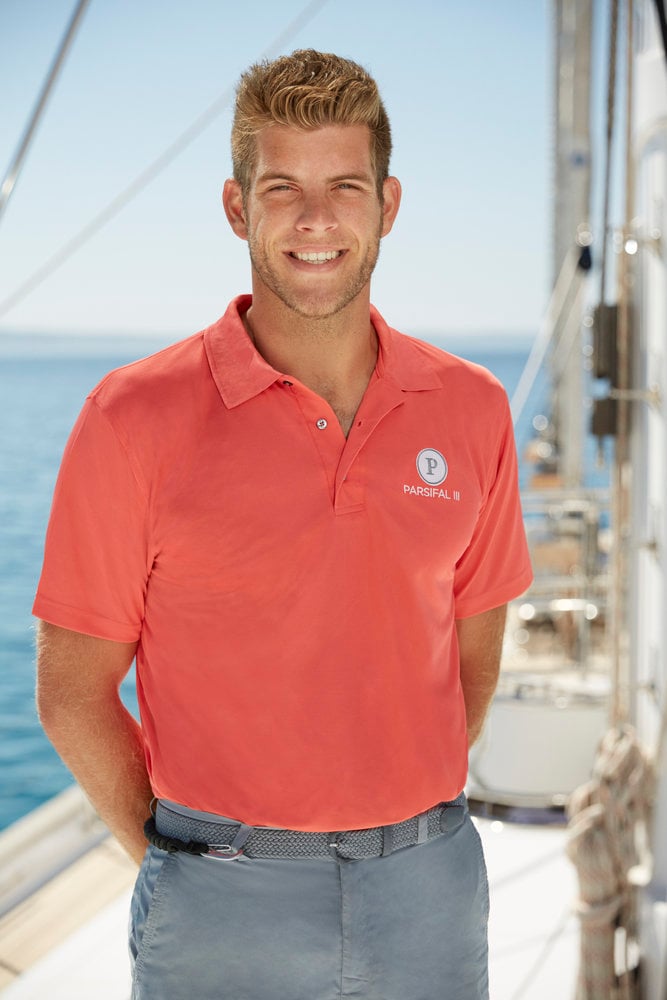 Jean-Luc Cerza Lanaux reveals if he had an STD
Producers may not be thrilled that Cerza Lanaux disclosed the storyline outcome. He posted a photo with friends on Instagram and that's when a fan asked how his (eggplant emoji) was doing. "It's good, I didn't have anything," he replied. One fan added, "Spoiler alert!" since the news has yet to be shared on the show.
Thankfully he did not have an STD, but Soares is seen agonizing over his unknown status, seriously wanting to quit the boat. She is seen in a preview clip telling chief engineer Colin Macrae about the situation. But he has a good sense of humor about it, likening Cerza Lanaux's situation to the goopy sea cucumber he removed from the anchor chain. "His willy probably looks like the sea cucumber we picked up yesterday!" Macrae jokes as cameras flashback to the dead sea cucumber dissolving into mush when he tried to remove it.
RELATED: Below Deck Sailing Yacht's Chef Natasha Shares Her 'Carrot Bacon' Recipe and Reveals Her Favorite Dish to Cook (Exclusive)
Soares also tells Macrae she wants to quit. He tells her to first wait and see what Cerza Lanaux is dealing with. Adding in a confessional, "Dani's just overreacting," he insists. "If everyone left the boat over an STD there'd be no yachties left in the world!"
'Below Deck Sailing Yacht' crew is dealing with more than an STD
Executive producer Courtland Cox was taken aback when Cerza Lanaux worried he had an STD.  "I'm a fossil who grew up in the '70s and '80s," he told Vanity Fair. "What was going through my head was, 'There's a very easy way he could have prevented this—by using some kind of protection".
"If you roll the dice, you kinda gotta accept what happens to you," he continued. "I'm not a heartless monster TV producer. I don't want anyone to ever suffer or go through something they have an existential crisis over. In that moment, you're hoping that it's at least one of the lesser STDs that is easily treated."
RELATED: 'Below Deck Sailing Yacht' Crew Hints They Don't Speak to Some Cast Members
The STD scare isn't the only medical "first" for the show. While it isn't part of the series, Soares later learned she was pregnant. She has not disclosed the father's identity but fans are thirsty for answers. Many believe the father is Cerza Lanaux and troll his social media looking for answers. While he addressed the STD rumor he has never responded to questions about his role in Soares' pregnancy.
"I find it really weird," Soares told Bravo Insider about the curiosity over the father's identity. "'Cause I'm like, if somebody tells me they're pregnant, right, somebody that I know, I wouldn't go like, 'Oh my god, where's the father?' So I find it really weird that people do that. I guess people have the right to say what they want. But I do find it really strange that they feel like that's OK to ask, you know?"