'Below Deck Sailing Yacht': What Happened to the Season 1 Crew?
Captain Glenn Shephard is the only crew member to return for Below Deck Sailing Yacht Season 2. But what happened to the rest of the crew from season 1?
Shephard worked closely with first mate Paget Berry and deckhand/stew Ciara Duggan but both Berry and Duggan did not return for another season. Also, crossover chef, Adam Glick did not return. He made it clear during the season 1 reunion he was finished with Below Deck but where is he and the rest of the crew today?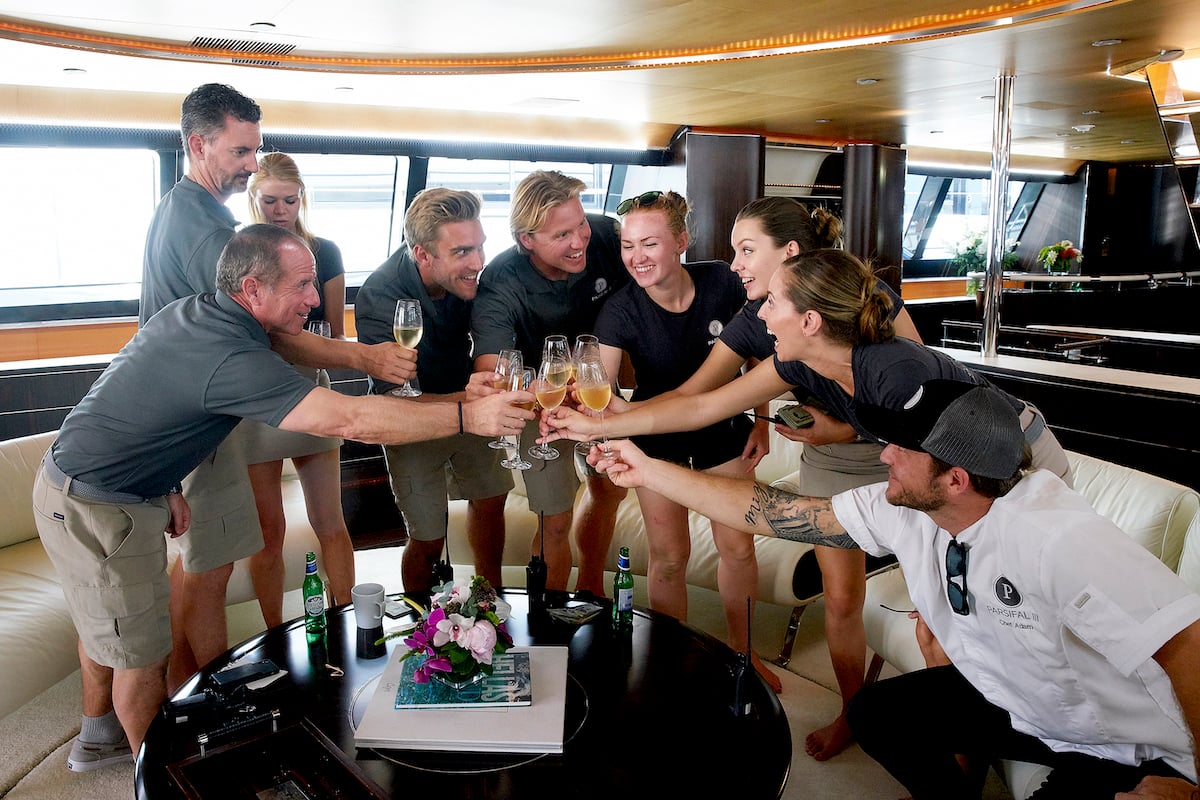 Paget Berry and Ciara Duggan got engaged and bought a house
Berry and Duggan bought a home in France and also got engaged. While the couple dodged the question of marriage during season 1, Berry popped the question and used a "stand-in" ring.
Apparently, Berry caught Duggan off guard with the proposal. The couple shared the moment on Instagram over the summer. She was sitting next to a fountain and when he asked her, she looked shocked and wondered if he was serious.
RELATED: 'Below Deck Sailing Yacht': Ciara Duggan Says 'Yes' to Paget Berry's Proposal
The couple managed to spend time together until recently when Duggan took yachting jobs that had her on the go. She is currently working with Jessica More from Below Deck Mediterranean and has been partying with other Below Deck alums in South Florida. Berry has dedicated himself to health and fitness. He's completely ripped and posted videos and photos of his workout routines.
Madison Stalker is working with another 'Below Deck' alum
Madison Stalker is also working in yachting. She recently started working with former Below Deck chief stew Adrienne Gang and seems to be having the time of her life.
She revealed that she briefly dated More's boatmance, Rob Westergaard. Stalker told Bravo Confessionals that Westergaard struck up a romance with her that was similar to the one he started with More.
RELATED: 'Below Deck Med': Madison Stalker Drops Bombshell About Dating Rob Westergaard
"He makes you feel like he sees you in a light that you've never been seen before," she said. "And he has this very good way of just manipulating you without knowing that you're being manipulated." Stalker says she's dated a manipulator before. "And it sucks to not have seen the signs early on," she added.
Chef Adam and Jenna MacGillivray no longer speak to each other
Despite leaving the boat on good terms, chief stew Jenna MacGillivray said she no longer speaks to Glick.  "I will say this," she said on Another Below Deck Podcast Patreon. "Adam and I were on very friendly terms up until last week. Something happened and we are no longer friends." Adding, "I will not speak to him."  MacGillivray started a podcast called Wild Loner.
RELATED: 'Below Deck Sailing Yacht': Jenna MacGillivray Says She and Adam Glick Are No Longer Speaking
Glick definitely hasn't looked back since he left the show last year. He continues to enjoy van life with his dog Tex and posts breathtaking nature images on his Instagram.
Georgia Grobler got super fit and released an album
Georgia Grobler has worked on her music since leaving the series. "Well this is it, folks," she shared on Instagram in November. "After teasing you about new music for months, I can finally say that my album The Same Mistakes is set to release December 18th, with my single dropping this Friday (December 4th). I hope you're ready for some rock 'n roll, naughty lyrics and a lot of social media posts."
RELATED: 'Below Deck Sailing Yacht': Madison Stalker Says She Hasn't Talked to Georgia Grobler in a Long Time
She also hit the gym and focused on health and fitness. "Since I went on @belowdecksailing I've gotten a lot healthier, I've actually lost a wild 9kgs (almost 20 pounds)," she revealed. "Not through some drastic diet or anything, just watching my portions and what I eat, working out, partying less (thanks to lockdown)."
'Below Deck Sailing Yacht' yachties are keeping a low profile
Byron Hissey still works in yachting but has also enjoyed being a family man too. He shared some photos from work on superyacht sailing yachts but also some sweet family photos. "Sunday lunch," he shared in August, along with a photo of his wife and daughter. "Next stop 6 weeks at sea. Goodbye my loves!"
RELATED: 'Below Deck Sailing Yacht': Good News About the Summer Season May Help Nudge Season 2
Chris Miller has spent time at home and continues to work on his photography. Parker McCown has been recording music and recently shot a music video. He is living in Colorado with his fiance.
A new season of Below Deck Sailing Yacht starts on Monday, March 1 at 9/8c on Bravo.