Below Deck Sailing Yacht's Paget Berry Shades Chef Adam, Wouldn't Consider Working With Him Again
First mate Paget Berry from Below Deck Sailing Yacht may be on good terms with ex-girlfriend Ciara Duggan but not so much when it comes to chef Adam Glick.
Berry, who typically tried to stay away from any negativity on the boat, revealed who he would (and wouldn't) work with again, adding that he thought Glick dragged down chief stew Jenna MacGillivray during season 1 when their romance interfered with her experience on the show.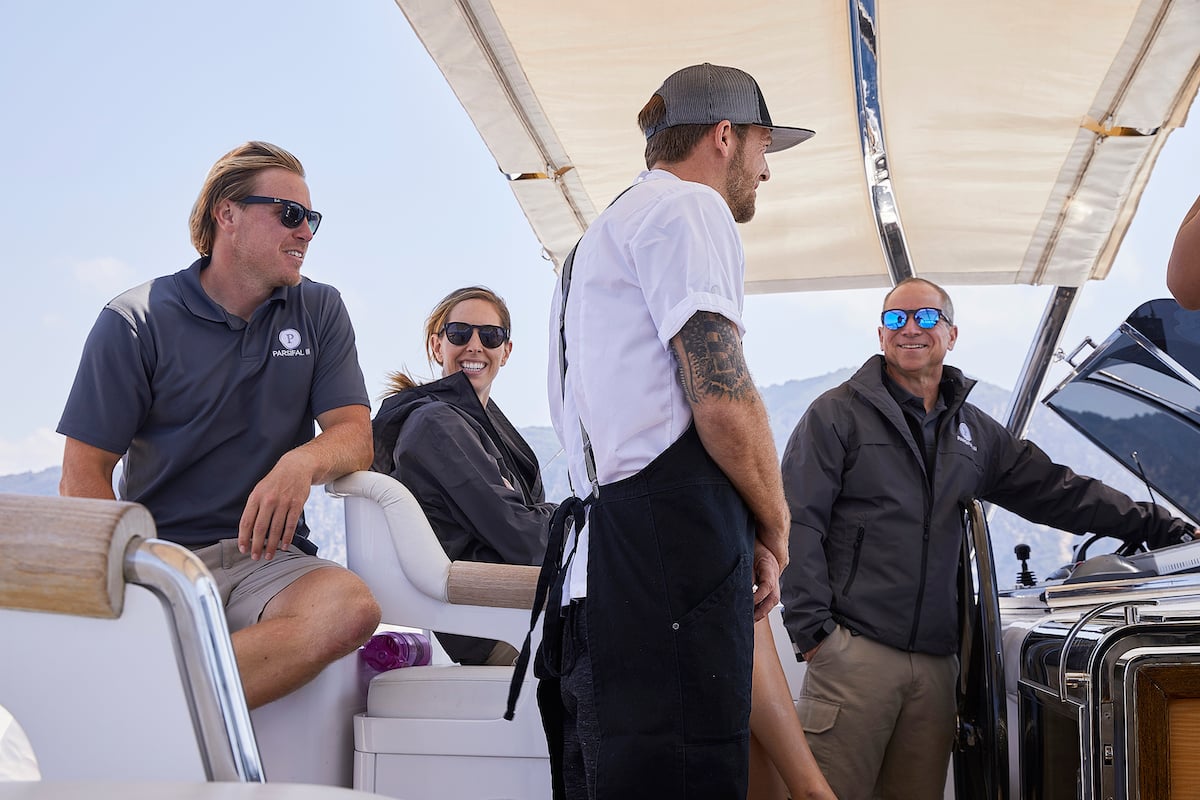 'Below Deck Sailing Yacht' Season 1 boatmance interfered with the chief stew's experience
Berry appeared on the Below Deck Sailing Yacht's viral Instagram "Pita Party" hosted by current crew members, Alli Dore, Daisy Kelliher, and Dani Soares. Berry and Duggan dated during season 1 and he mused about the boatmances-gone-wild on season 2. He said showing couples on the series in the right light is important because "you don't want to screw it up for a couple looking for their dream job" in the industry.
He shared that he and Duggan managed to keep their arguments under wraps during season 1. But that's when he turned to the volatile relationship between Glick and MacGillivray. "I think the issue with Jenna and Adam …," Berry began. "The issue was they didn't really see much of anybody else. They were infatuated with each other."
RELATED: 'Below Deck Sailing Yacht' Producer Reveals if Any of the Show Is Scripted
"And then everybody else was secondary," he continued. "It was a shame. I think, especially for Jenna, it definitely took away from her experience. She just got..what's the term for guys like p***y whipped?" He and the Pita Party hosts laughed as they arrived at a name for the situation. Adding, "She got it with him, whatever it was."
Paget Berry recalled how Chef Adam made him stop what he was doing during a hectic charter for romance
Berry recounted having to take Glick to a remote area to pick flowers for MacGillivray during a hectic charter. "With everything that's going on in the boat, he asked to be run to the shore," Berry recounted in an interview with Showbiz Cheat Sheet in April 2020. "I'm like, 'What do you need to go for?'" Berry said Glick lied and told him he was gathering garnish.
"But we go and it's f**king weeds all over the place," Berry laughed. "I'm like, 'You're gonna put this s**t on guest's plates, really?' But he didn't tell me what it is for and I just drop him off. And I see him running all heroic and then just smack! He just really whacked his head."
RELATED: 'Below Deck Sailing Yacht': Chef Adam Learns That Love Literally Hurts
"And I just burst out laughing," he recalled. "And the camera guy is like wobbling and trying not to crack up and everything. We were totally losing our s**t. But then he tries to sort of make it out like nothing happened! But I mean f**k it definitely happened. I'm glad they caught it because it was so funny."
Paget Berry would not work with Chef Adam from 'Below Deck Sailing' again
Berry said he'd do another season of Below Deck Sailing Yacht and then offered his list of crew members he'd love to work with either again or in the future. That's when he made it clear Glick was not on his list.
"Obviously so [Captain] Glenn [Shephard] is obviously a mainstay," Berry said. Berry then selected Kelliher as chief stew. Kelliher and Berry recently worked on a yacht together too. He added Soares to the list and named Colin Macy-O'Toole and João Franco from Below Deck Mediterranean for his deck crew.
RELATED: 'Below Deck Sailing Yacht': Flirting Scenes With Georgia Grobler Surprised Both Ciara Duggan and Paget Berry (Exclusive)
Then he said, "Definitely not Adam. Definitely not f**king Adam. Not [chef] Natasha [de Bourg]. No offense to her. I'd probably get [chef] Ben [Robinson]. And then the engineer. It wouldn't be Byron [Hissey] because Byron is a little b*tch. He knows I'm joking. It would definitely be Colin [Macrae] for sure."