Below Deck Sailing's Paget Berry Only Speaks to 2 Crew Members From Season 1
Paget Berry from 'Below Deck Sailing Yacht' says he speaks to only two crew members from his season, one of them is Ciara Duggan. The other crew member is a little surprising since he did not seem overly close to the crew member during season 1.
Paget Berry from Below Deck Sailing Yacht Season 1 said he is only in touch with two cast members from his season.
"I'm in contact with Jenna [MacGillivray] every now and again," he said on the Below Deck Sailing Yacht Season 2 Instagram "Pita Party." Plus, "Obviously Ciara [Duggan] and I are in contact. But that's it really." Duggan and Berry got engaged after season 1 ended. They purchased a house together too but broke up. But they have remained friendly since their split.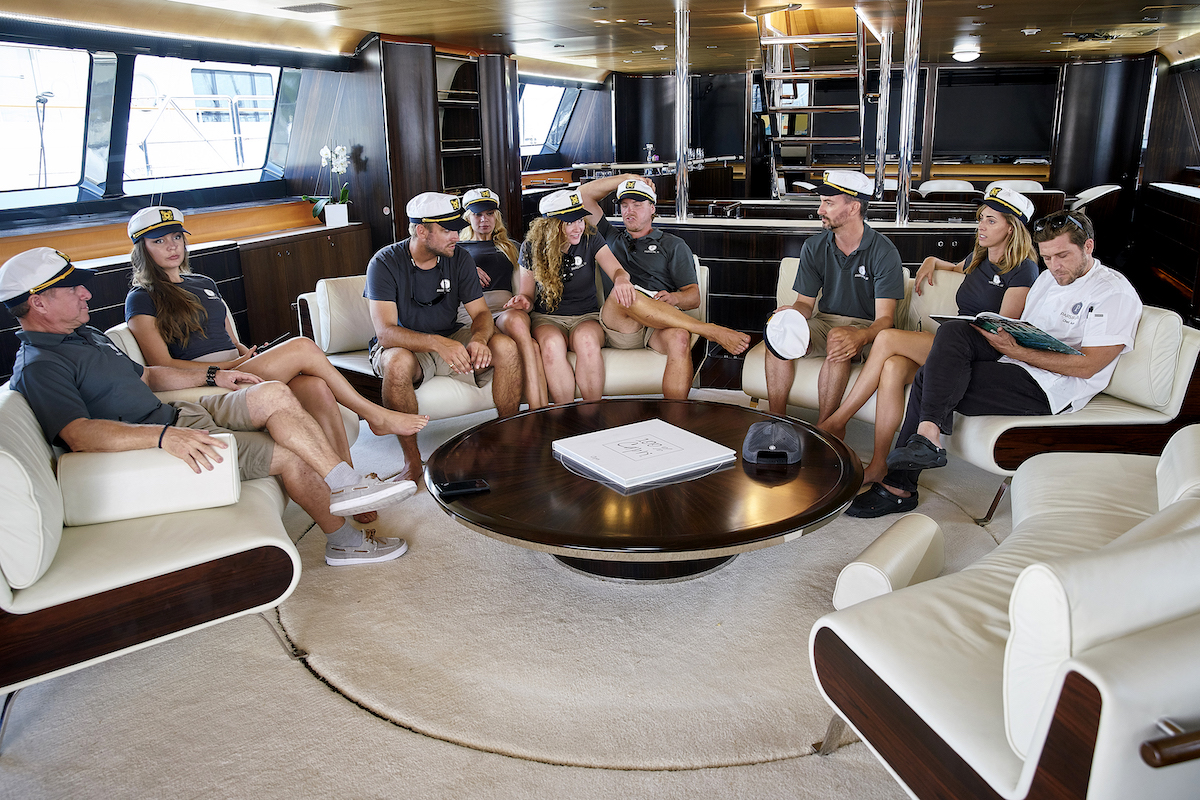 The 'Below Deck Sailing Yacht' Season 1 crew went their own ways
Berry said the group was pretty tight when they filmed the show. "But yeah, it just sort of filtered out, everyone went in their own directions," he said. Below Deck Sailing Yacht Season 2 chief stew, Daisy Kelliher commented that the crew on the show only works together for six weeks.
Despite not keeping in close touch, Berry is still fond of Captain Glenn Shephard and jokes about chief engineer Byron Hissey. When he was asked to assemble his "dream team" he said about Hissey: "It wouldn't be Byron [Hissey] because Byron is a little b*tch. He knows I'm joking." 
As for MacGillivray, Berry believes that her relationship with chef Adam Glick interfered with her experience on the show. "I think the issue with Jenna and Adam …," Berry said. "The issue was they didn't really see much of anybody else. They were infatuated with each other."
"And then everybody else was secondary," he continued. "It was a shame. I think, especially for Jenna, it definitely took away from her experience. She just got..what's the term for guys like p***y whipped?" Adding, "She got it with him, whatever it was."
Paget Berry definitely does not keep in touch with Chef Adam or Parker McCown
As Berry continued talking about his season, he made it more than clear he's not in touch with Glick. When he was asked to form his "dream crew" he said Glick was not on his list.
"Definitely not Adam," he said when it came to choosing the chef. "Definitely not f**king Adam. Not [chef] Natasha [de Bourg]. No offense to her. I'd probably get [chef] Ben [Robinson]."
And while Berry didn't shade deckhand Parker McCown he said he never got busted talking about the guests behind their back, but instead he probably complained about McCown. "He probably heard," he added and shared he's not in contact with McCown.
He also said the season 2 crew was better suited for television. "It's very entertaining," he said. "It's almost like a frat party. It's entertaining for me to watch, I'm definitely cracking up. I think you guys brought pretty much everything to the second season that probably wasn't there on the first season to be fair. You guys are still remaining professionals, doing your jobs. But you're also bringing like the drama so to speak. But in a good way."