'Below Deck': Shep Rose From 'Southern Charm' Goes Viral in Captain Lee T-Shirt
Shep Rose from Southern Charm probably had no idea that wearing his Captain Lee Rosbach t-shirt during a workout would go viral, but his recent Instagram story had fans clamoring for Below Deck merchandise.
Gabriella Schwager, CEO of Stars Marketing Group told Showbiz Cheat Sheet she couldn't figure out why orders for the t-shirt skyrocketed on a random Friday. That's when she checked Rose's Instagram story and got a chuckle. "It feels like we were all just at BravoCon and I was putting Shep's Captain Lee shirt in the bag for him," she recalled. "Loved seeing him wear it at the gym today on his Instagram story! We all can't be Shep Rose, but we got a bunch of orders from people who want to dress like him."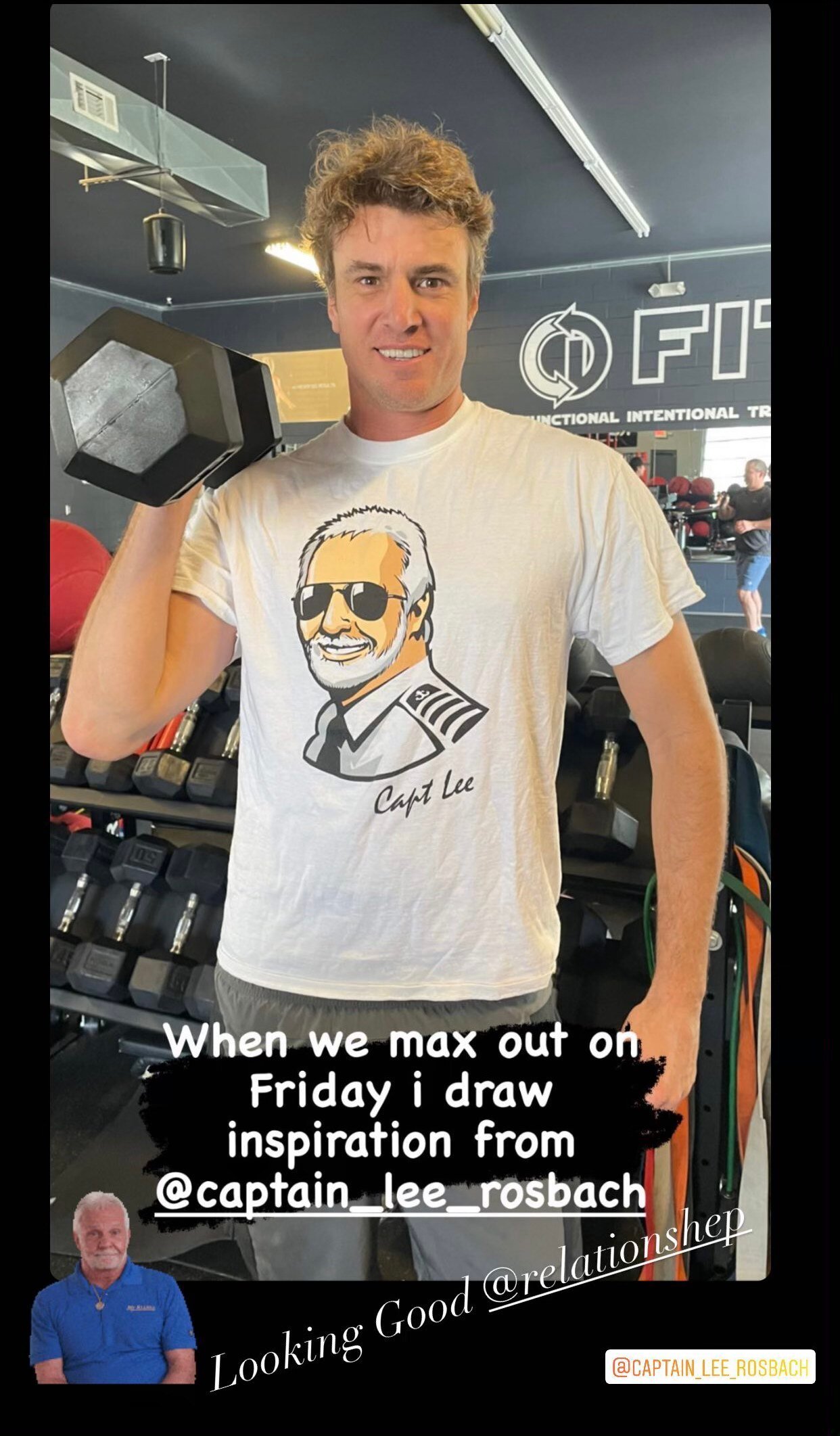 The Captain Lee shirt was love at first sight for Shep Rose
Rose shared one image of the front side of the shirt. He's holding a weight and a caption about why he wears the shirt to the gym. "When we max out on Friday, I draw inspiration from Captain Lee Rosbach," he wrote. The next image is of the back of the t-shirt. "And the quote on the back [crying/laughing emoji]."
The quote written on the back of the shirt is one of Rosbach's classic "Captain Lee-isms" he often says when exasperated on the show. "I'd rather drag my d*ck through 10 miles of broken whiskey bottles…" That pretty much sums it up.
RELATED: These 7 One-Liners From 'Below Decks' Captain Lee Rosbach Are Everything
No wonder Rose couldn't leave BravoCon without the shirt. In fact, Schwager recalled how enamored Rose was with the shirt the minute he set eyes on it. She remembered seeing a slew of Bravolebs selling their wares at BravoCon 2019. "Craig [Conover] was there, let me tell you, Craig worked it," she recalled to Showbiz Cheat Sheet in 2019. Plus, "[Captain] Sandy [Yawn] was right by us too." 
Shep Rose was especially excited when he saw the Captain Lee t-shirt
Schwager distinctly remembered Rose's high level of excitement when he got to Rosbach's booth.
"Shep came over and got incredibly excited to see some of the Captain Lee merchandise, especially the 'screwed the pooch,' or the 'you really screwed the pooch' t-shirt," Schwager recounted.
"He grabbed them right away," she continued. "Then he grabbed Austen [Kroll] from another booth. Dragged him down there and said, 'You have to get these Captain Lee shirts!' So Shep ended up treating Austen and they each got a shirt," she said. Rose also shared the encounter on his Instagram. "He was just so excited," Schwager added.
RELATED: 'Below Deck': Captain Lee Reveals He Was Broke Before He Got Into Yachting (Exclusive)
But then Rose returned to the booth on the following day of BravoCon. "The next day Shep came back," Schwager exclaimed. "He was doing an event in that building. So he came back over to look at the shirts again."
He even insisted Patricia Altschul check out the merchandise too. "He walked Patricia over to our booth to show her the Captain Lee shirts," Schwager remembered. "She kept saying 'Oh my goodness that's just so great' in her adorable Patricia voice." 
Hopefully Rose (and fans) can score another Captain Lee t-shirt at BravoCon 2021.