'Below Deck' Sizzle Reel: Why Did Producers Keep Live Lobsters in a Hotel Bathroom? (Exclusive Series)
Former Below Deck chief stew Adrienne Gang previously shared that series producers worked on a shoestring budget for the first season. But they had an even thinner budget when it came time to shoot the sizzle reel, prompting producers to get creative.
The crew had to create something that resembled a lavish dinner for their "guests," similar to what viewers see today, but executed with far fewer resources. Lobster seemed to be an agreed-upon fare for the dinner but producers were still working on timing. So when a production crew member produced two live lobsters several hours before the meal, they had no choice but to find somewhere for the coruscations to take a dip. That happened to be in their hotel room's bathtub. Unfortunately, they forgot to notify housekeeping.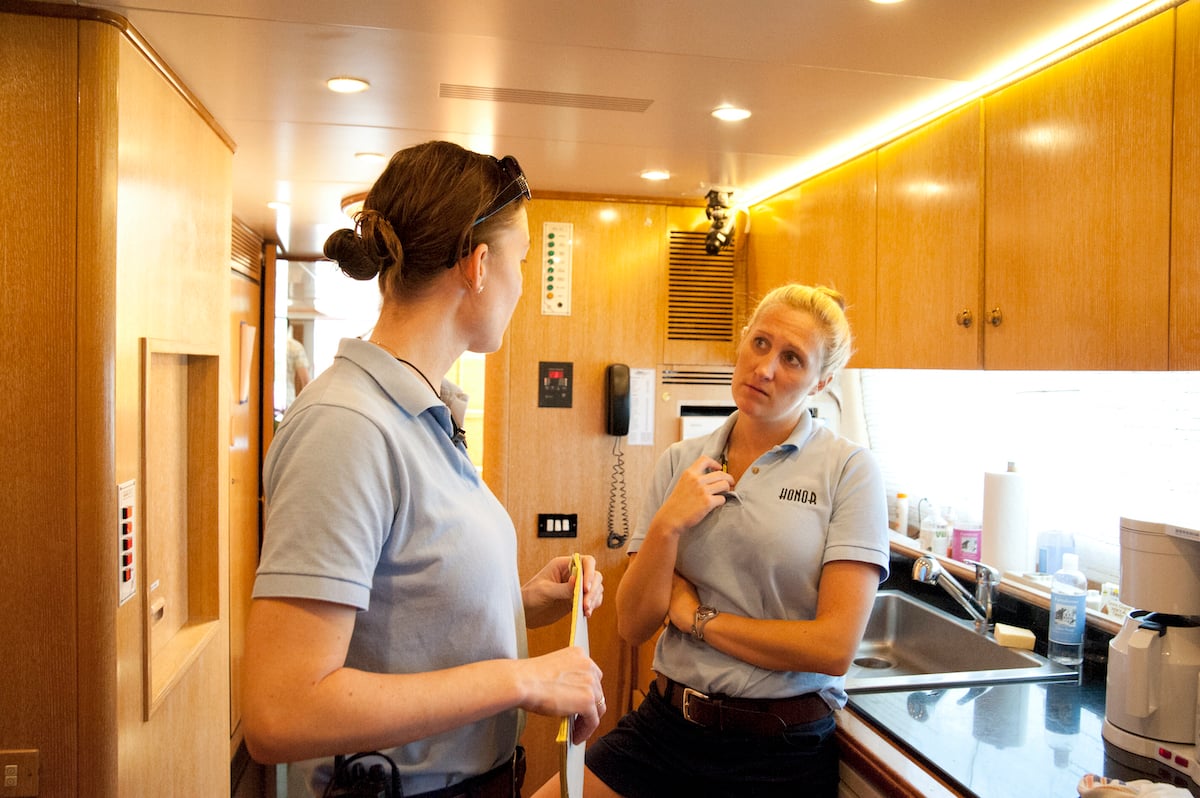 'Below Deck' sizzle producers were flying by the seat of their pants
Gang laughs as she remembers how two live lobsters splashing in the hotel tub shocked the housekeeper to the point where the woman ran screaming from the room. She shared how the lobsters ended up in the tub.
"One of the producers who was filming the sizzle reel was like, 'OK I'll go get the food that you're gonna prepare tomorrow and I'll keep it in my hotel room,'" she told Showbiz Cheat Sheet. At the time, Gang was a yacht chef and she works as a yacht chef today. She said the producer envisioned storing provisions in the hotel room mini-fridge.
RELATED: 'Below Deck Mediterranean' Season 4: How Many Cast Members Are Still in Yachting?
"What we needed was food that was visually appealing," she continued. "And really impressive and luxurious. So my recommendation was that we do some lobsters, like whole lobsters, and platter those. Maybe get some meat and cheese stuff and get a handful of other things. He didn't want me to spend a ton of time in the galley because I had to do the role of chief stew as well and serving the guests."
'Below Deck' lobsters take a dip in the hotel bathtub
"So the producer goes to the grocery store, goes to the seafood market," she continued. "Buys these two live lobsters and then calls me and says, 'I don't know what the heck I'm supposed to do to keep these things alive until tomorrow. Because all they did was give me a snow box to stick them in. And they're making noise.'"
"So I was like, 'they like water,'" she recalled. "They're water creatures. 'Just put some water in your bathtub and stick them in the bathtub!' So he does that and they're swimming around in the bathtub. And the maid service comes into the hotel to clean the room and screams and runs! She didn't know there were these live lobsters in the bathtub!'"
RELATED: Below Deck's Kate Chastain Recalls the Exact Moment She Knew Daisy Kelliher From Below Deck Sailing Yacht 'Was a Bada**'
Gang added that the sizzle reel production crew had a slew of other hurdles, including how they procured the "guests." She said the crew's mission to gather groups of guests, especially Housewives-type women didn't exactly go as planned.
Stay tuned for Gang's story about how the crew's mission to find the right guests went a little sideways …