'Below Deck': This Is the Real Reason Why Kate Chastain Would Return as Third Stew
Former chief stew Kate Chastain from Below Deck just mused that the only way she'd return to the show is if she came back as the third stew and Josiah Carter was chief stew.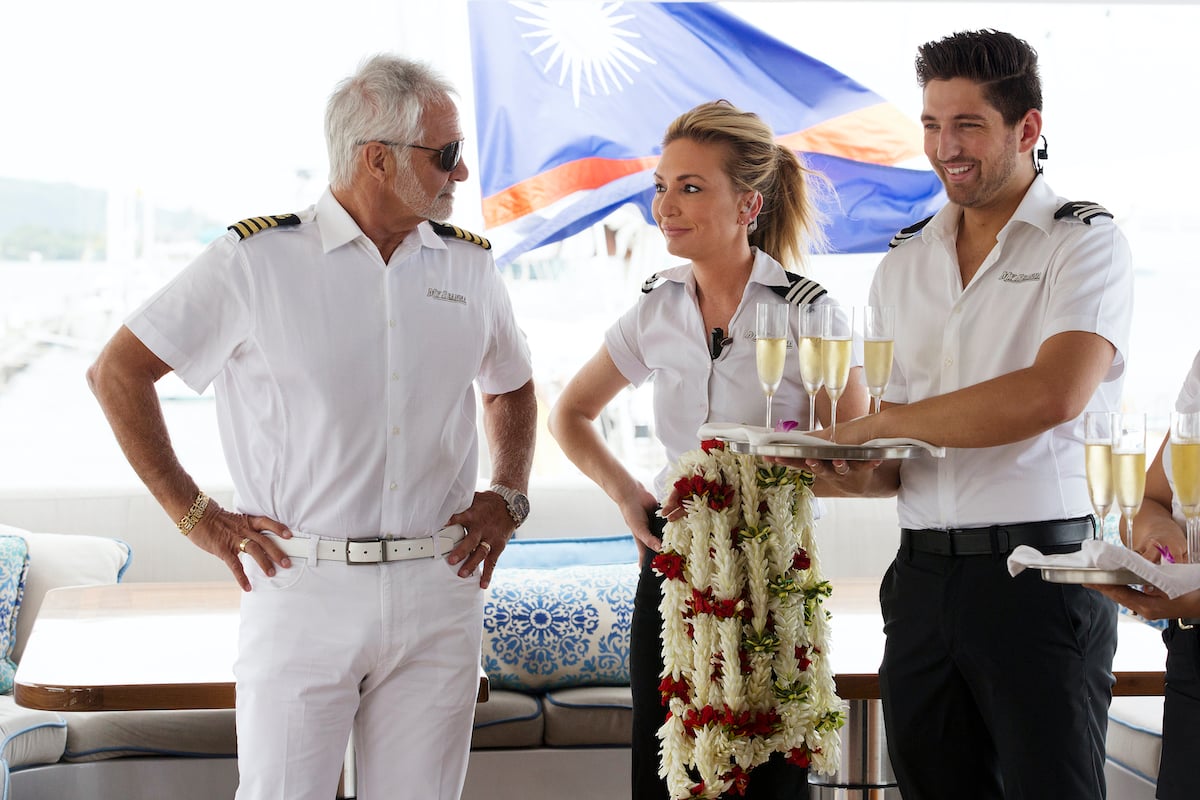 "I have an idea of how this is going to work," she dished with ET. She then turned to Carter, who was also being interviewed and had a proposal. "Josiah, I think you should be chief stew next season, and I would come back to be the third stew," she remarked.
"The third stew gets the worst job!" Carter exclaimed. To which Chastain replied, "Exactly."
Carter, Chastain, and a slew of other fan-favorite former Below Deck crew members recently returned with the breakout hit "hot-goss" show Below Deck Galley Talk. And while Chastain has proclaimed she was finished with yachting, her return as third stew makes sense. She explained one reason why she'd take on the third stew position to ET, but Chastain has also revealed the allure to the position in the past.
Laundry duty means you don't have to deal with the guests
"You're down in the laundry hiding," Chastain told ET. "I'd just be down there with my music saying, 'Hey, guys…' You get to be part of it with zero responsibility. When you're third stew, you don't realize how wonderful life is."
She hilariously added, "I won't even make mustard gas." The reference was to the bleach and soap mixture Elizabeth Frankini created, which ultimately got the crew sick. An investigator concluded the mixture was comparable to mustard gas.  
Chastain opened up about why she loved laundry in a previous Below Deck After Show. "I love the laundry room," she said. "Let me tell you all the reasons I love the laundry room," she added turning to Captain Lee Rosbach who sat next to her.
Captain Lee also understands why the laundry room is preferable
"First of all, you're away from the guests and the crew," Chastain remarked. "It's like your own private clubhouse. You get to play music. On a yacht, everywhere else, no music. You're in your own zone. You're in your own clubhouse. You are away from …"
"The laundry room everybody leaves you alone," Rosbach piped in. "Because they want nothing to do with it."
"It's very gratifying. You are like, take it out of the dryer, fold it. That's done! It's just … zen. It's like a rock garden," Chastain described. "It's like a bonsai tree that you trim, but in fabric form."
Rosbach added, "It's alone time."
While Chastain said she'd return as a third stew, she previously talked about her experience as a third stew.  "I wasn't always a Chief Stew…..for 6 straight months in 2008 I was on laundry duty #BelowDeck. It's not punishment, it's earning your rank," she wrote in a 2015 post along with a throwback photo.
Chastain, Carter, and the rest of the Below Deck Galley Talk crew will have plenty to say when a new episode airs on Friday, Jan. 15 at 8 p.m. ET/PT on Bravo.