'Below Deck': Tom Reveals Things 'Take a Turn for the Worst' – 'I Can Still Hear the Alarms'
Below Deck Sailing Yacht deckhand Tom Pearson teased that the storm brewing on deck takes a "turn for the worst" and he is not looking forward to what's to come.
After an unusually calm day at sea, the winds pick up during Pearson's pre-dawn anchor watch. Winds go from a slight breeze to 31 knots and climbing. Alarms begin to sound as the crew scrambles to secure the boat, worried it could be dragging anchor. Before the episode ends, Pearson is seen on deck trying to tamp down the cushions but the winds furiously blow the deckhand to the ground.
Tom Pearson is worried about what is to come on 'Below Deck Sailing Yacht'
Pearson recently joined the Below Deck Sailing Yacht Pita Party on Instagram, which is when he expressed massive concern over what comes next. He admitted to being distracted shortly before the winds picked up. "And the next minute the alarms go off," he recalled. "For some reason, I was making a coffee before I went to bed. So yeah, I was just making a drink and I was going to go to bed. Watch was over. And I can still hear the alarms now. Well, yeah, it wasn't a fun experience."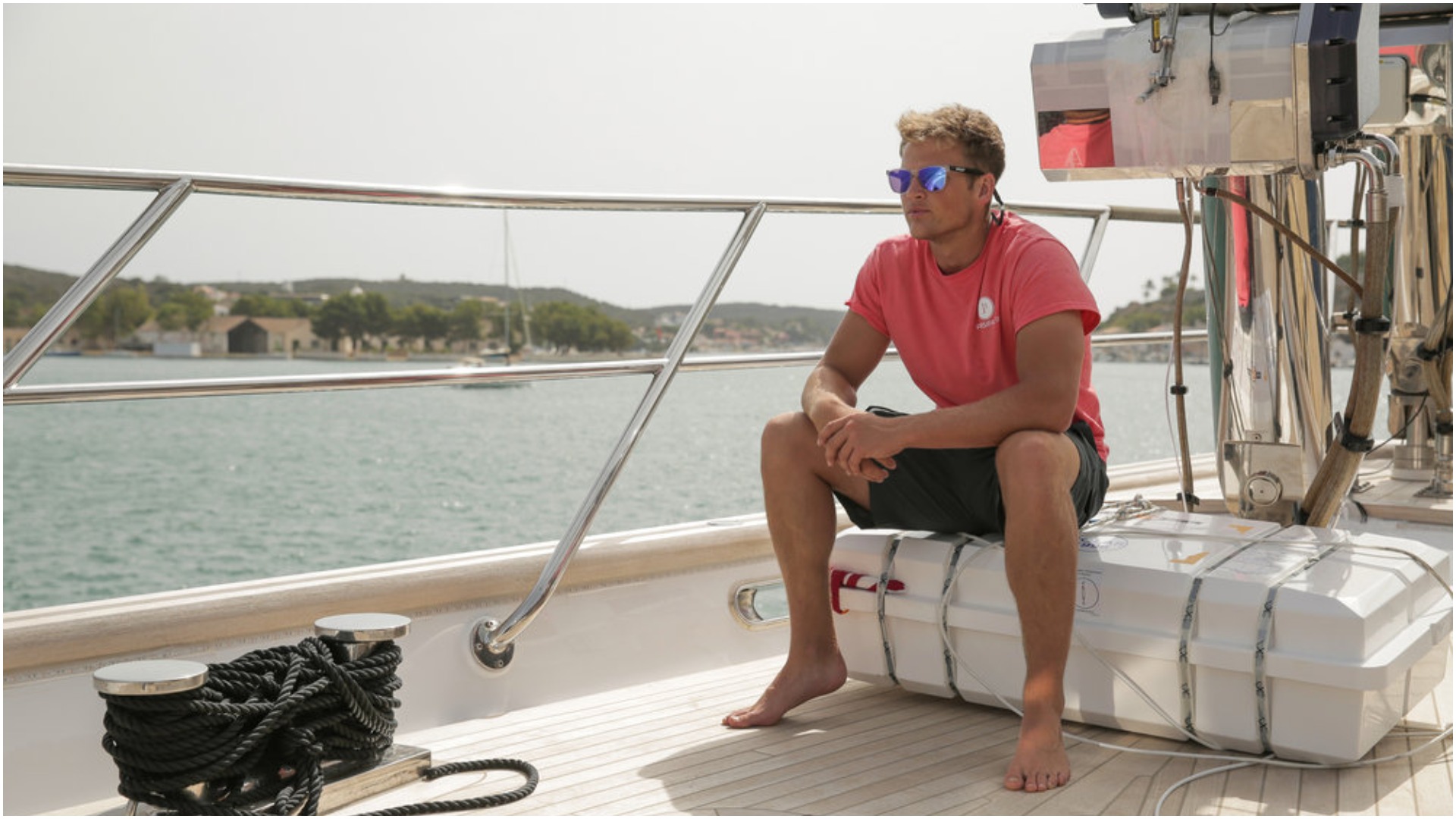 He added that the show was fun up until he found out about his best friend's father's serious illness. And he's enjoyed receiving messages from fans of the show. But teased that the incident on deck with the winds may change everything for him.
The 'Below Deck' deckhand is worried about viewer's reactions
Pearson implied that how he reacts to the sudden wind change and the threat to the boat is a game-changer for him.
"But knowing in your head that at some point, things do take a little bit of a turn for the worst sort of thing," he remarked. "And that's been difficult because I don't want people's minds to be changed, you know? But yeah, I remember that moment. And now all I could think about was what didn't I do you know?"
"[The wind] was like super calm and then literally like a click of your fingers, and it was just 40 knots of wind, belting," he recalled. "And I didn't know when that happened. I honestly can't tell you when that happened. Yeah, it happened. It happened very, very quickly."
In addition to first mate Gary King and chief engineer Colin MacRae rushing to the emergency, Captain Glenn Shephard is also seen climbing out of his bed. The guests are also stirred by the alarm and are seen pouring out of their cabins.
Sudden wind changes are common in the Med, Captain Sandy reveals
And while the winds may have come out of nowhere, Captain Sandy Yawn from Below Deck Mediterranean shared that sudden wind bursts are common in the Mediterranean. She told Showbiz Cheat Sheet a phenomenon called "medicanes" happen and described what they are like.
Yawn's been at the helm when winds kicked up from hardly any to 100 knots. "It's like the mountains burped," she remarked. "It's so weird. It was 100 knots of wind for 15 minutes. But then it calmed right now. But the Med is really unpredictable."
RELATED: Captain Glenn From 'Below Deck Sailing Yacht' Would Be Most Prepared for 'The Perfect Storm'