'Below Deck' Where Is Chef Adrian Martin Today?
Chef Adrian from 'Below Deck' is still serving up his creative fare to lucky guests around the country.
Chef Adrian Martin from Below Deck quickly became the culinary whizkid of the show, impressing both Captain Lee Rosbach and chief stew Kate Chastain.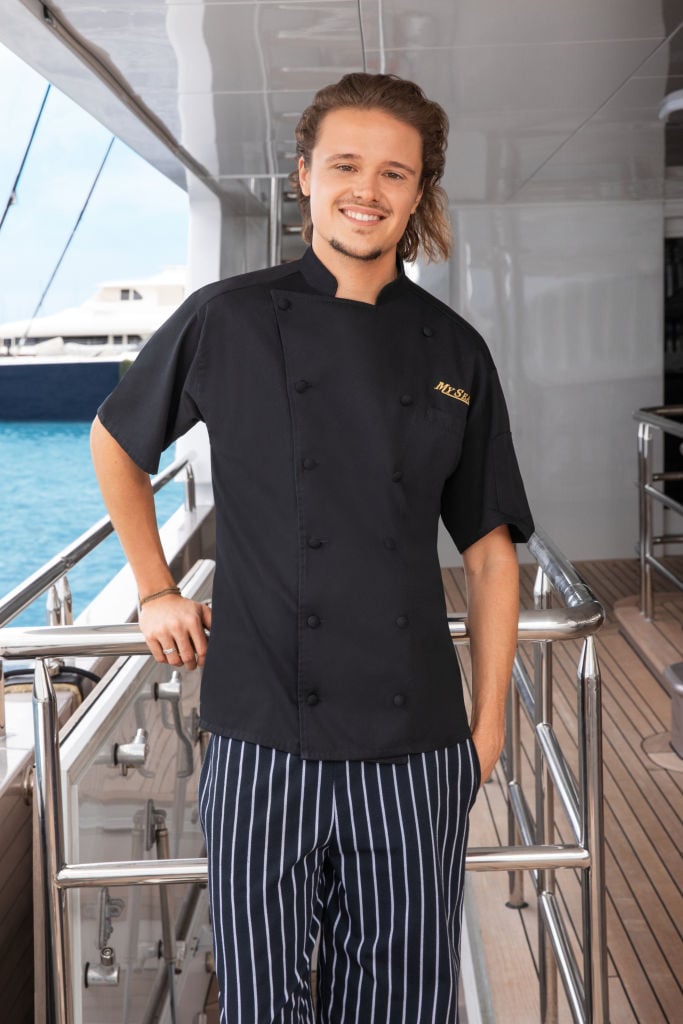 Martin had some pretty big shoes to fill, following chef Ben Robinson's multi-season tenure. Plus the crew initially had their doubts due to his laid-back surfer attitude and youthful appearance. But after one charter, the crew fell in love with his creative cuisine. His demeanor in the kitchen was a departure from the typical yacht chef too.
Like his immediate predecessor chef Matt Burns, he was always pretty lowkey in the kitchen. But Martin could command his domain when needed and would even throw down with some crew members on occasion. Since leaving the show he's done a significant amount of traveling. So where is the chef today?
He's been hosting private dinner experiences
Martin offered private dining experiences since leaving Below Deck. He shared that he planned to set up a residency in New York City for a private client during the season 6 reunion. But after several months in the city, he moved on and started offering his services to other clients.
Before embarking upon his U.S. travels, Martin took part in the Below Deck 100th episode anniversary celebration in New York City. "Was soo fun to meet all these funky kittens and reconnect with old friends… that's a wrap for my BD adventure, very great full for this experience and all that it has brought me, time to sail into the sun and start a new chapter in my life! Stay tuned for exiting projects being manifested as we speak, 2020 is going to be a big one… and the show must go on! 🔥✨🕺," he shared along with a group photo.
He briefly returned home to Saint Martin where he shared photos of both the beauty from the area, but also some mouthwatering dishes. In late February, he announced his U.S. tour. "Exciting news everyone!! I am planning an east coast culinary odyssey in March, will be traveling through Florida, New York, Colorado and Texas!!" He added, "I have had a lot of demands for Tennessee, so might stop there too.. I will be available for dinner party's and to make all your gastronomical fantasy's come true! DM for more info 💖✨✨✨🔥🕺📷 @where_is_fab," he shared.
He had big plans for 2020
Like most people, Martin had big plans for 2020. In early March he embarked upon his road trip, just as the country began to realize a pandemic loomed. "First dinner party on the road was a hit!!! 🔥✨ So exited for the all the ones to come.. this was a golden ruby chocolate sphere filled with chewy coconut crumble, sake infused mango mousse, and fresh raspberries, it was served with a strawberry chamomile coulis and compressed mango✨✨🕺," Martin shared along with a photo of an amazing dish. Martin was still in Orlando, Florida so he was only getting started on his tour.
Days later, he had a private dinner in Georgia. "What a blast cooking for all these lovely folks while cruisin up the coast.. next stop VA.. should be in NY by the end of the week! 🕺✨," he wrote, seemingly optimistic.
The Georgia dinner seems to be the last Martin was able to perform. Instead, he made his way to Oregon to reflect on life and ride out the pandemic. He recently shared a dish he whipped up that looks nothing less than spectacular. "I am often asked if I cook for myself with the same standards I use for my clients and the answer is yes! This is yesterday's solo dinner, coconut roasted fingerling potatoes with seared mizuna and baby peppers, poached egg, watermelon radish carpaccio, fig glaze, boom boom sauce and some fresh dill.. simple but ohh so tasty! Have a nice week all you cool cats and kittens ✨✨"