'Below Deck': Why Did Charter Guest Timothy Sykes Make Chef Ben so Mad He Totally Trashed the Galley Kitchen?
Below Deck chefs can be a little intense, but the move charter guest Timothy Sykes made during season 2 was so infuriating, chef Ben Robinson almost did some damage to the galley kitchen.
It's no secret that Captain Lee Rosbach considers Sykes to be one of his very worst guests ever. Sykes' condescending attitude and complaints over spotty WiFi annoyed the crew. But when Robinson tried to serve Sykes' girlfriend five-star cuisine when she requested chicken fingers and quesadillas, Sykes hit the crew in the wallet. Sykes reduced the tip because Robinson didn't adhere to his girlfriend's dining preferences.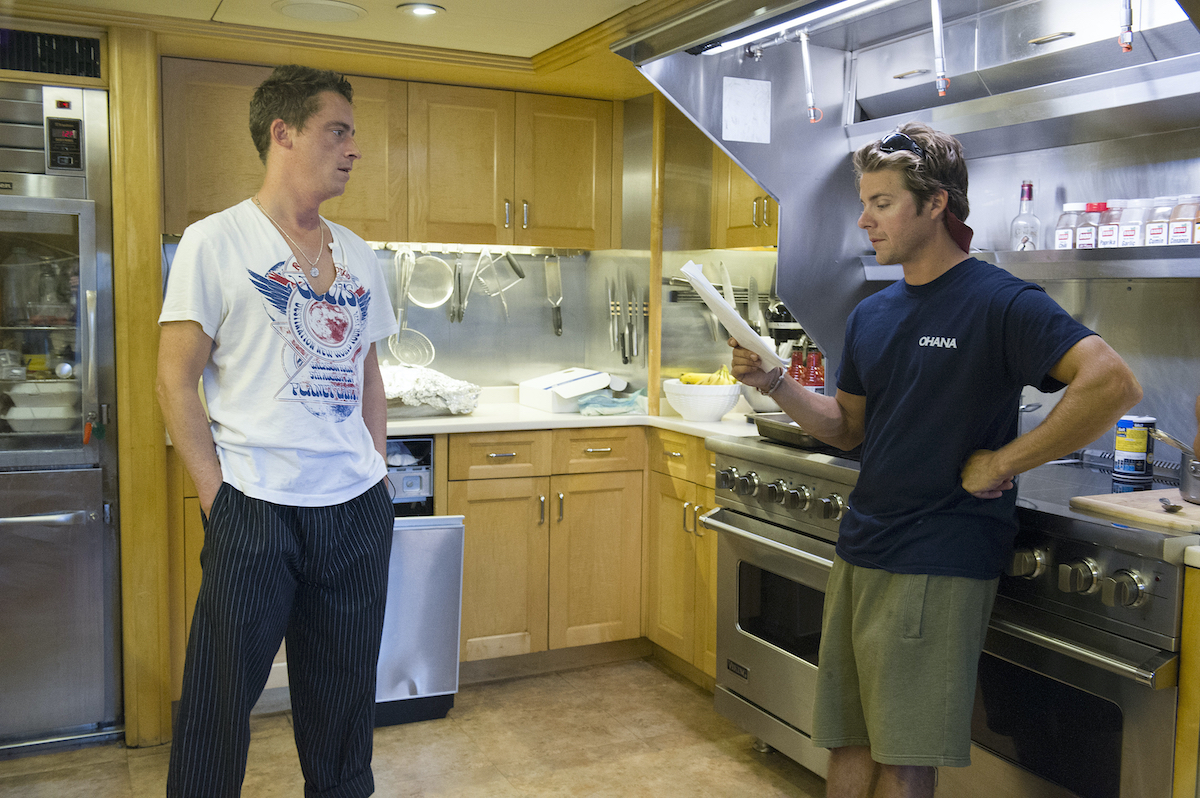 Timothy Sykes stiffed the 'Below Deck' crew on the tip because of the food
The entire crew could not wait for Sykes to leave. But he presented stew Amy Johnson with a magnum of champagne for a job well done. Sykes then turned to Rosbach and asked for some time alone with him. "So let's talk tip," Sykes said yanking out an overflowing envelope of cash.
"I planned to give you 22 grand," he said rifling through the dollars. "I want to give you the $2,000 first of all. So out of the 22 …ack." He yanked out a wad of cash. "Here you go," he said handing Rosbach fistfuls of cash. "So 17 (thousand)." He cited the WiFi issues and the food being problematic for his girlfriend.
"I've never had that happen to me before," Rosbach said in a confessional. "Showed me a bag of like $10,000 and said, 'You f**ked up.' I'm taking five grand back … never had it happen."
While Sykes did the exchange off to the side, Robinson soon learned why Sykes removed a chunk of the tip money. And he was enraged.
Chef Ben trashed the galley kitchen
Rosbach disclosed that Sykes reduced the tip during the crew tip meeting. "It's like an extra $500 apiece," Rosbach said that Sykes kept for himself. Robinson eye-rolled what Sykes did. "I don't care who you are," he said in a confessional. "That's just scumbag behavior."
But then Rosbach lowers the boom and shared with the crew why Sykes kept some of the tip money. "His girlfriend's picky eating," Rosbach said. And while the comment was directed toward Robinson, he took the opportunity to try to throw chief stew Kate Chastain under the bus. He'd already been warring with her throughout the charter. "There needs to be someone head of service," Robinson proclaimed. "One person communicating with me."
While the tip meeting remained civil, Robinson stormed out of the meeting. He slammed his cabin door and is later seen in the kitchen screaming. Bosun Eddie Lucas witnessed the meltdown and knew it could seriously escalate. "Dude you are off the handle," Lucas said to Robinson. Robinson becomes angrier and angrier, throwing and kicking pans. Lucas intervened, adding that he understood Robinson's frustration.
Rosbach said Robinson's kitchen meltdown was the worst he's ever experienced. "The biggest one I ever experienced was with Ben Robinson," he said on Watch What Happens Live with Andy Cohen. "I think it was Season 2. We were just really having a tough time. He was under a lot of pressure, and things were not going well. I believe we aired every bit of that footage."