'Below Deck': Why Was Kate Chastain Almost Fired During Season 2?
Chief stew Kate Chastain could have been fired during her first season of Below Deck when she created a "rocketship" blanket fold on a guest's bed.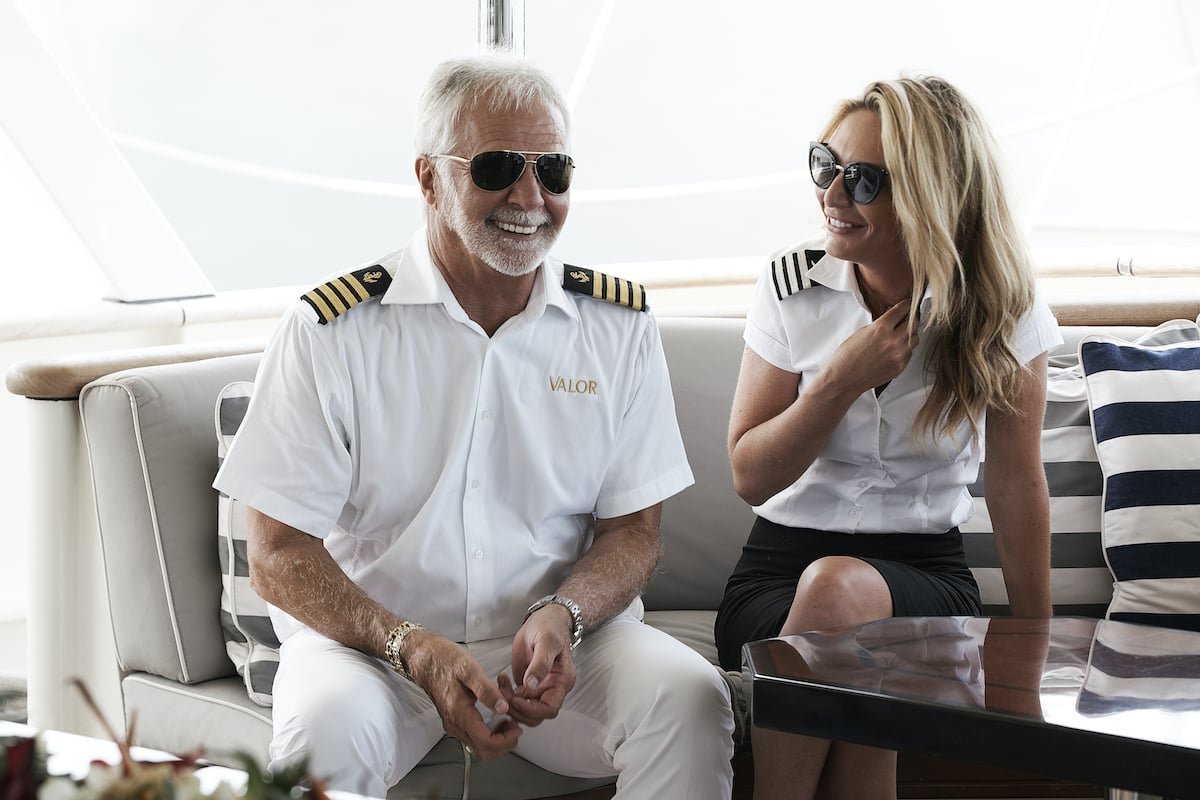 Guest Dean Slover nagged Chastain about her facial expressions during season 2. She became frustrated when he kept telling her to smile so she crafted a phallic-looking shape on his bed with the throw blanket. Chastain got into hot water with Captain Lee Rosbach. Rosbach is heard saying that Chastain's actions put her in the position to be fired and he told her to apologize.
At the same time, the crew worried that Chastain's blanket fold cost them their tip money. And while she squirmed for the remainder of the charter, Slover said he thought the blanket fold was funny and loved it. Chastain sailed on for five additional seasons until she retired after season 7.
Captain Lee was angry with Kate Chastain
Chastain revealed that the blanket fold creation took on a life of it's own. "I have never used my blanket folding to get revenge prior to this, mostly because I've never had to," she told Bravo."Walking into the master stateroom I was simply planning on doing the anchor as usual, but the next thing I knew I had made…something else."
"Deep inside I knew I would eventually have to face this head on, because it was only going to get harder the longer I waited," she continued about knowing she would be in trouble. "I just hoped it wouldn't be too painful, I was still emotionally exhausted from Dean's oratorical pounding the day before. A girl can only take so much."
Rosbach, who had only worked with Chastain for a few charters, was angry at the time. "Kate, how could you possibly think that you could manipulate me into thinking that you were the victim here? Feigning ignorance? Really?" Rosbach wrote in his blog. "I asked you twice and you lied to me. Then, you tried to lie to me again. Then you want to blame the guests for your bad behavior. Your feelings were hurt, so you took it upon yourself to extract retribution for your hurt feelings without regard for the guests, the crew, or the reputation of the yacht." 
Captain Lee gave her a second chance like the one he gave Andrew Sturby
Rosbach shared he decided to give Chastain a second chance like the one he gave to deckhand Andrew Sturby. Sturby lied on his resume about having yachting experience. He was finally busted for being too green but Rosbach decided to allow him to continue to work … but only for another charter. He was eventually fired.
"Were you worried?" Rosbach continued in his blog, addressing Chastain. "I think that was apparent and deserved, but when it's all said and done, now you want credit for a great tip that you had no clue was coming? Wow."
"You were lucky, nothing more, nothing less," Rosbach concluded. "You have a second chance, just like Andrew, and I hope you make the best of it. In my opinion, a little humility on your part would go a long way. You are too good, way too good, and too smart to not realize this. I'm trying to be fair with you, yet you get [an] attitude about getting caught doing the wrong thing."