'Below Deck': How Does Captain Lee Keep the Crew in Check? By Reminding Them He's 'Not Their Friend'
Want to run a tight ship? Don't befriend the crew, Captain Lee Rosbach from Below Deck advises. None of the captains on the show party with their crew. Plus, they make it clear they are their captain – not their pal.
What is Captain Lee's advice for keeping the crew in check?
A fan asked Rosbach for his advice on how to keep the crew in check. His response: "Be their Capt, not their friend. Plenty of time for that later. Someone has to make the tough and sometimes unpopular decisions." Rosbach, Captain Sandy Yawn, and Captain Glenn Shepard have been filmed making some of those "unpopular" decisions that were in the best interest of the boat.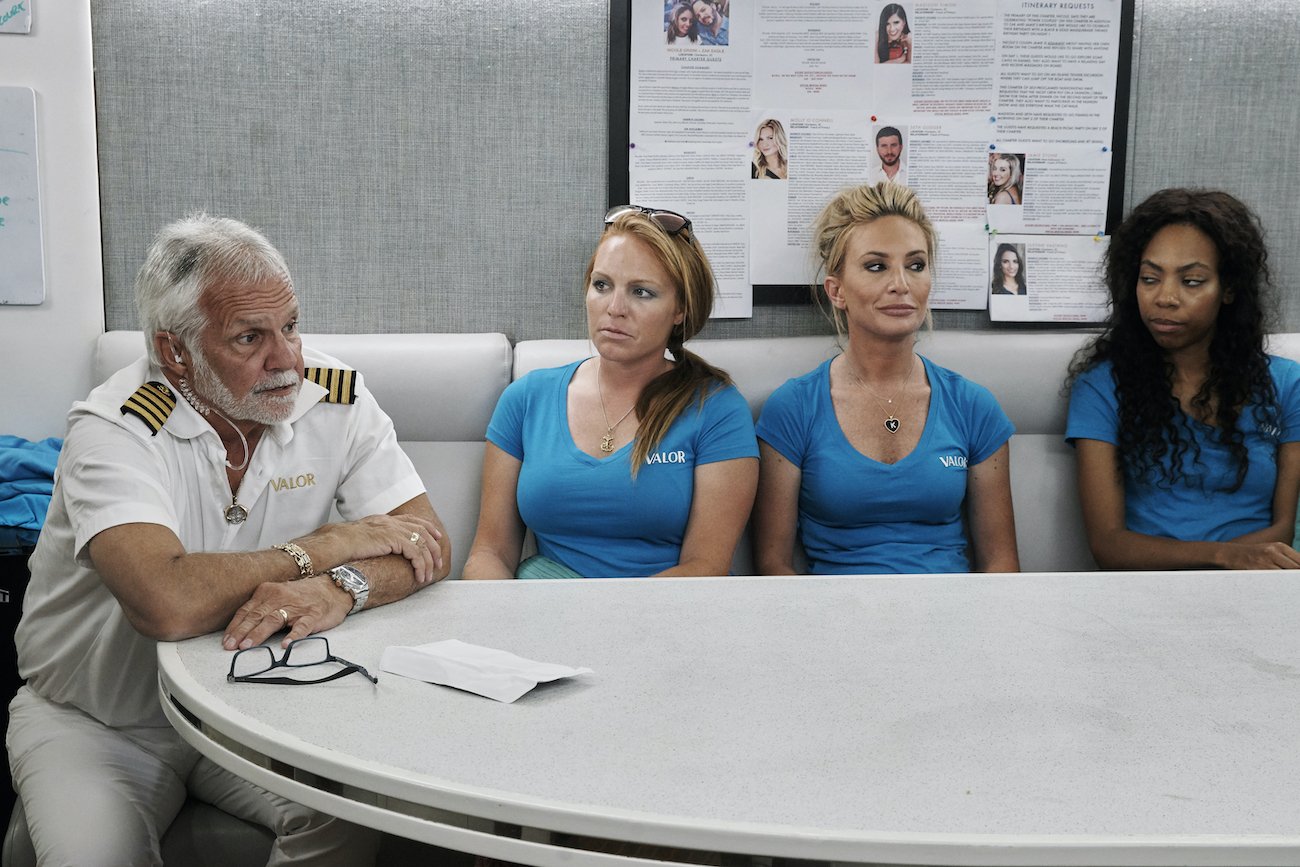 Shephard "invited" deckhand Parker McCown to either step up his game on deck or leave the boat. McCown opted to leave. Plus, Yawn fired chief stew Hannah Ferrier when she worked with unregistered Valium and a vape pen last season. Yawn took significant heat for her decision, but she had to follow the law.
Rosbach has made several decisions that were unpopular with the crew. He's demanded that they remain on the vessel during crew nights off to curb hard partying. Plus he's come down hard on more than one bosun for a weak docking.
Captain Lee is friends with 'Below Deck' crew … now
Indeed, Rosbach has remained close with former crew members like chief stew Kate Chastain. While they always had a warm relationship on the boat, they now seem to be more like friends. Chastain has posted about going to dinner with Rosbach and his wife Mary Anne on more than one occasion. "Getting the band back together," Chastain posted on Instagram alongside the Rosbachs and former bosun Kelley Johnson.
Yawn too has remained close with former chief stew Christine "Bugsy" Drake. She joined Drake on Instagram Live to discuss Drake's book. "You're just such a good human being and I'm grateful that we met," Yawn said to Drake during the Live. "I always say my dream team, you'd definitely be on it. Like if I ever go back to the real world of captaining, you know, just like get on a boat, I'd hire you, Max [Hagley] … I miss Max! People miss Max. You know what I mean? Max is so funny."
How does Captain Sandy handle crew drama?
Yawn also shared how she handles crew drama in a 2017 interview during her first season on the show. "I'm not bossy or b*tchy, more like reality," she told People. "I will like slap them across the head and go, 'How old are you? You're 24? Okay, well you're acting like you're 12.'"
"I just try to bring them back to reality," she added. "I tell them, 'Look where you are, you're standing on a 50 million Euro boat. You are in the middle of the Mediterranean in a dream job that everyone who watches the show would love to have. Snap out of it.'"
Fans have also watched how Yawn allows her department heads to handle complicated crew situations on their own too. "I try to let it resolve itself," she remarked. "When it comes to the bridge that's when I step in and someone usually gets fired. I have a fourth wall. Crew members are not allowed to come to me about the person in charge of them unless it's obviously detrimental to their health. The minute it reaches the bridge, it can't be resolved and I usually fire them, because coming to me is like telling on their boss."