Below Deck's Chef Ben Had a Kitchen Fire, but That Wasn't His Worst Kitchen Injury
Chef Ben Robinson went down Below Deck memory lane during the latest episode of Below Deck Mediterranean. Chef Mathew Shea's scary kitchen fire resulted in his finger sustaining a second-degree burn and Robinson had flashbacks from his own kitchen fire on the show.
"Season 1 I did have a galley fire," he admitted on Below Deck Galley Talk. "I put the wrong oil into a very hot pan. And it … boom!" Robinson is seen placing a towel over the flaming pot. And while that fire was pretty intense, Robinson was not injured. But he was injured during other charters, which included a burn on Below Deck Mediterranean Season 4.
Chef Ben had his own burn blister on 'Below Deck Mediterranean' Season 4
Robinson came in as the relief chef on Below Deck Mediterranean Season 4 and was injured when he grabbed for an intensely hot bowl. Robinson said getting burned like that isn't commonplace, but that the galley kitchen layout was a nightmare.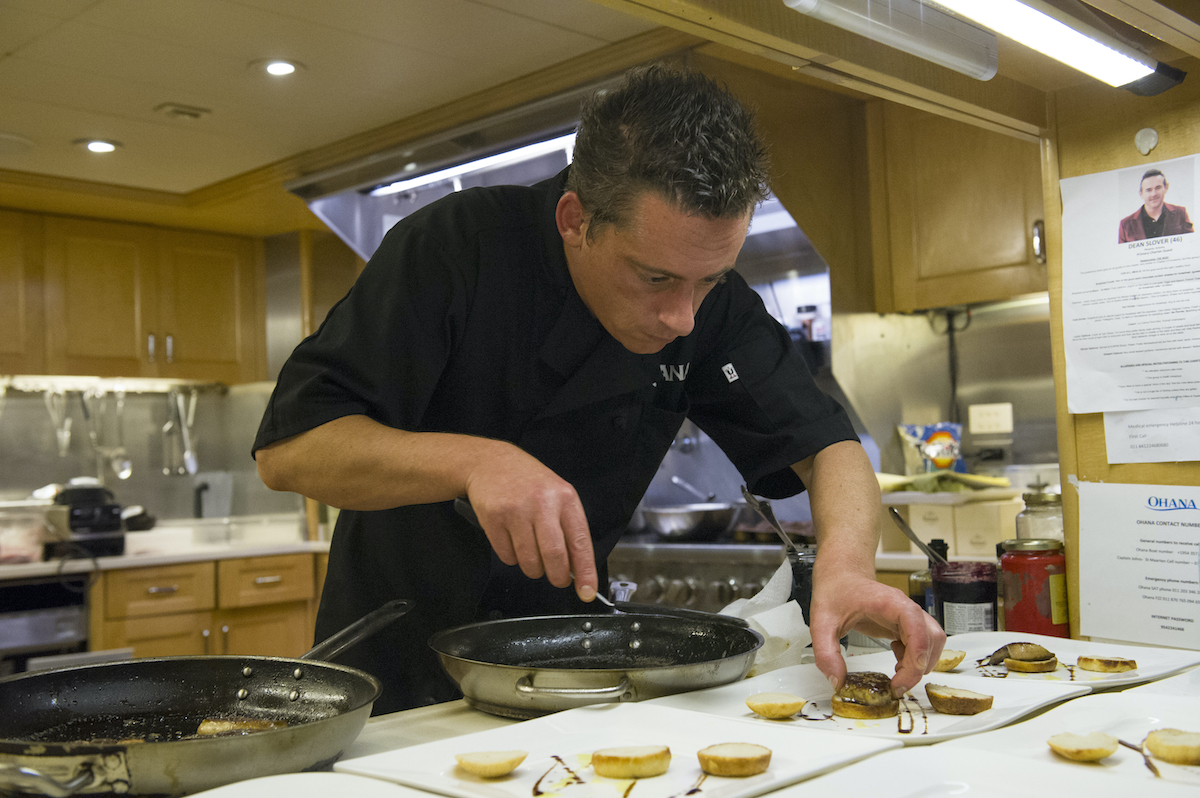 "I didn't have much counter space," he told Decider. "I was probably using the stovetop as a work surface, or just to hold prep, because induction runs on electromagnetism, so if you put a stainless steel bowl on the stovetop it could activate on high. And so you're not expecting to take that bowl off and for it to be red-hot, so it got me, it bit me."
"That was probably the biggest workspace that I had, and I was kind of sharing the island with the girls, and it's just really tough. It's just not a natural workspace for such a cumbersome load," he added. Shea told Showbiz Cheat Sheet that the kitchen played a role in his burn. "The [stove] knobs kept turning. I don't know, like every time you would bump into them, they'd go to high heat," he said.
But the burn isn't the worst 'Below Deck' injury for Chef Ben
Robinson cut his finger so badly during Below Deck Season 3, crew members looked horrified when they saw the injury. Robinson was chopping an onion and then suddenly he jumped back in pain. Stew Raquel "Rocky" Dakota was in the kitchen with him and called for medical attention.
RELATED: 'Below Deck Med' Cast Share What They Were Really Thinking When Chef Mathew Was Burned
Bosun Eddie Lucas arrived with the medical kit and knew the cut was bad. "I took the whole f–king knuckle off basically," Robinson said to Lucas. "I'd rather not look at it personally." Lucas had to ask chief stew Kate Chastain to retrieve a "more extensive" first aid kit in the bridge. Robinson growled when he immersed the bleeding finger in water.
Chef Ben's cut was sliced 'down to the cartilage'
Lucas shared that the cut was "down to the cartilage." Robinson worried he wouldn't be able to cook because, like Shea, the crew was on charter when he injured himself. And while Robinson tried to resume cooking, he knew he was restricted due to his injury.
RELATED: 'Below Deck' Producer Mark Cronin Told Cast Members They Have 2 Jobs on the Show, Chef Ben Recalls
He tried to resume cutting the onion but hesitated and walked away. "I've got a really big dinner to accomplish within the next 45 minutes," he said in a confessional. "Which is hard enough with two hands. How the hell am I gonna do it with one?" He managed to slice the onion using a mandoline but he clearly struggled. Eventually, like Shea, he called for backup. Dakota went to culinary school so she ended up helping him prepare dinner.
Episodes of Below Deck Mediterranean air on Mondays at 9 pm ET/PT on Bravo. New episodes will drop one week early on Mondays on Peacock. Below Deck Galley Talk airs on Fridays at 8 pm ET/PT on Bravo.