Below Deck's Chef Rachel Is Game for a 'Top Chef' / 'Below Deck' Chef Type Showdown
Below Deck chef Rachel Hargrove recently said she'd love to participate in a Below Deck / Top Chef type collaboration and fan interest continues to mount. Hargrove recently answered fan questions during an Instagram Live, which was when she said a collaboration between the two hit shows would be a blast.
"That would be so much fun!" she exclaimed during a live chat with On this Day Entertainment. "Everybody's been asking. We have a group called Below Deck Community. It's one of the groups I started with two of my admins. Stacy and Julie are the admins that monitor it 24 hours a day. It's like a super positive group too."
She added, "Everybody is positive and we got a lot of cast members in there. But the one thing I keep getting requests for is Below Deck Chef All-Stars. So maybe that might happen. So put it out in the universe."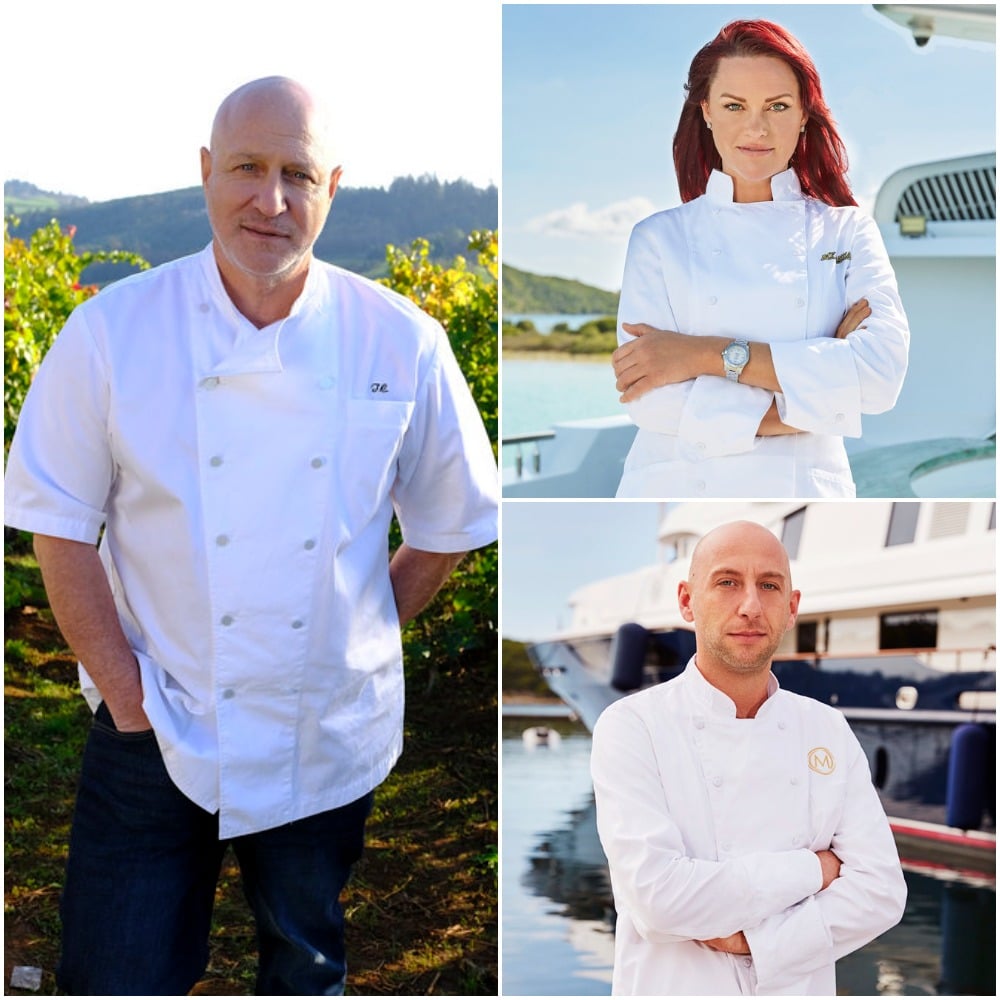 Hargrove isn't the only one from Below Deck and Top Chef interested in a collab. Below Deck executive producer Mark Cronin told Showbiz Cheat Sheet that everyone loves a Bravo mashup. "They do look for crossover opportunities," he said about Bravo. "We've had Housewives on as guests. That's a really cool idea."
Additionally, Top Chef Amateurs Magical Elves' executive producer, Cat Sullivan was also on board for a meeting of the shows. "You know, I think that's a great idea," she told Showbiz Cheat Sheet in a separate interview. "I think we should do it. I haven't thought about it, but I would love to see a Below Deck versus Top Chef challenge. And see how those Below Deck chefs do against Top Chefs. That would be very funny."
The trend to showcase Below Deck chef talents has always buzzed in the background. Chef Ben Robinson and chef Adam Glick from Below Deck Mediterranean tried to cook up a chef challenge in 2019. Robinson posted about a dinner party that he cheffed. Glick saw the post and thought the two Below Deck chefs should do a cook-off.
"Forget the private dinners, I think we should have a Ben vs. Adam throw down while I'm in So Flo next month. Let's go, Ben! I challenge you," Glick wrote on Robinson's post. Robinson replied that the challenge was accepted. "@chefadamglick I'm in….," Robinson wrote. 
Fan buzz reached a fever pitch and many were excited with the notion the two Below Deck chefs planned to face off. "I'd love to see all the chefs together. No need to compete, just cook," one person replied on the thread. Another person said they would pay to see this challenge. A fan also had a suggestion. "So, are u taking Adam's challenge? You guys should do a live cook-off and have the viewers cast their vote." One fan wondered about adding other Below Deck chefs to the cook-off.
Unfortunately, the cooking challenge never came to fruition. But Top Chef and Below Deck worlds continue to collide. Before the chef was revealed on Below Deck Season 8 (Hargrove), Top Chef judge Tom Colicchio joked that he was going to be the next chef on Below Deck. "Besides being in the kitchen, one of my favorite things is to be out on the water," he wrote in a Bravo social media post. "Open ocean, salt air. I just absolutely love it. And that's why I'm going to be the executive chef on the next season of Below Deck."
Of course, the post was an April Fool's joke. "April Fools!" he said. "No, but I will be judging this season of Portland's Top Chef tonight. See you there."