Below Deck's Gary King Reveals Chef Marcos Kept His Torn, Bloody Scalp Under His Pillow
Maybe chef Marcos Spaziani wanted to keep the piece of scalp he ripped from his head as some sort of a souvenir because the Below Deck Sailing Yacht chef hung onto it and kept it underneath his pillow.
Spaziani experienced one of the most gruesome injuries in Below Deck history when he whacked his head on a low ceiling, tearing a piece of his scalp completely from his head. He was seen looking dazed and bleeding as he emerged from the bilge, scalp, complete with hair, in his hand.
Chef Marcos from 'Below Deck' kept the piece of scalp under his pillow?
Captain Glenn Shephard thought the injury required medical attention, but thankfully the gash did not require stitches. Spaziani kept the wound covered, but shared that he was in significant pain. Nonetheless, he still cooked gourmet meals for the guests and even partied with the crew.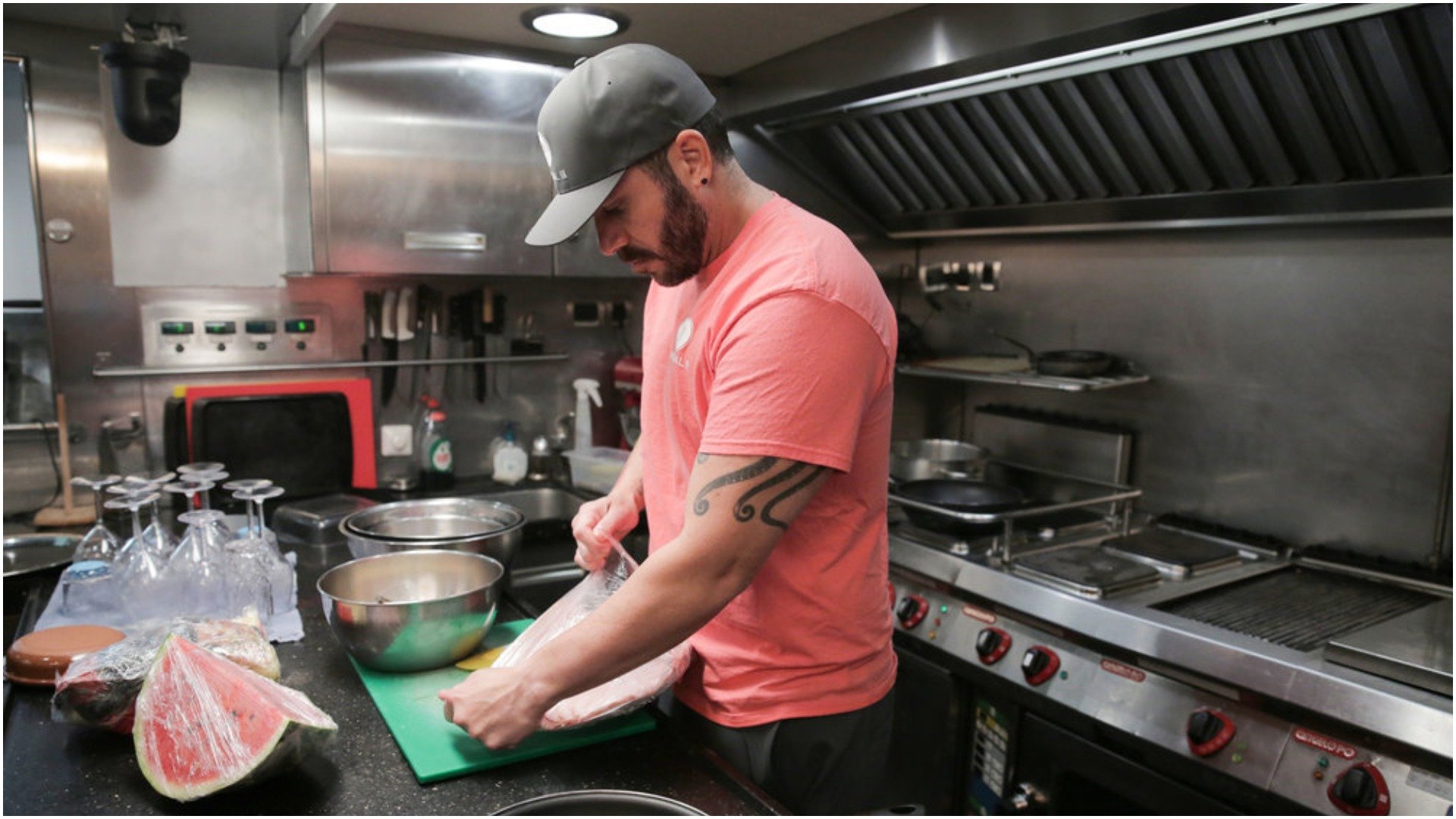 First mate Gary King, who shared a cabin with Spaziani dished that the chef didn't want to part ways with his torn scalp. "Did you see it in his hand?" King said during an interview on the Dear Reality, You're Effed podcast. "Marcos ended up keeping it! He actually kept everything under his pillow. Like he'd keep cash, his keys, his wallet. Phone, everything."
Post host Hannah Ferrier exclaimed, "His scalp?!"
"Yep!" King replied. "Everything!"
Gary King described how Chef Marcos slept
"When he slept, he slept on his back," King recalled. "But like this but he didn't move. When I sleep my pillows go everywhere. So he'd just lay like that and in the morning he'd get something else from under his pillow like chewing gum. And that's where he kept his scalp. Just to go and socialize with the rest of his belongings. It was so gross."
"Pretty funny!" King added. He said the crew was incredibly amazing by how calm he was. "It was like guillotine it off. It was like a scalpel was used to shave it off. And he was just so amazed by it, like 'I'm gonna keep it as a souvenir.' He's something else that guy. My gosh, I love him."
Ferrier joked how keeping his scalp was the yachtie equivalent of keeping your kid's first tooth.
The injury could have ended the 'Below Deck' season
"Scary because that could have been a season-ending injury," King remarked. Shephard also expressed significant concern before the doctor arrived on the boat.
"But luckily it wasn't and you saw his food in the first two episodes," King said. "It was amazing and he kept up to that standard. It was great." But the King laughed, "It's like a little hairball!"
Like King, Spaziani had a great sense of humor about the scary injury. He joked with chief stew Daisy Kelliher, asking her if she wanted to see the open wound the next day. He also let the crew wrap his head in plastic wrap after they drank pretty much every bottle of booze on the boat.
Spaziani never once complained about being in pain and was more concerned about ensuring the guests had a good dinner. He went the extra mile for the guests, but they stiffed the crew on the tip.
RELATED: 'Below Deck Sailing Yacht' Season 3 Trailer Features an Angry Guest – Could He be the 'Man Child' Gabriela Barragan Just Teased?