Below Deck's Hannah Ferrier Reveals 1 Thing She'd Never Ask Her Stews to Do While Shading 'Below Deck Sailing' Guests
Hannah Ferrier from 'Below Deck Mediterranean' said she would never ask her stews to give the guests a massage. But Covid-19 put Daisy Kelliher in a tough position. She let the stews decide what they wanted to do.
Hannah Ferrier from Below Deck Mediterranean made a spicy observation about the latest group of charter guests on Below Deck Sailing Yacht, while at the same time sharing she'd never ask her stews to massage the guests.
Below Deck Sailing Yacht's chief stew Daisy Kelliher found that her hands were tied when a few of the over-the-top guests from the all-women charter requested massages. Covid-19 made finding a last-minute masseuse nearly impossible so she asked her stews if they wanted to give it a shot. She added that the stews did not have to give a massage if they were uncomfortable, but both Alli Dore and Dani Soares agreed to pitch in.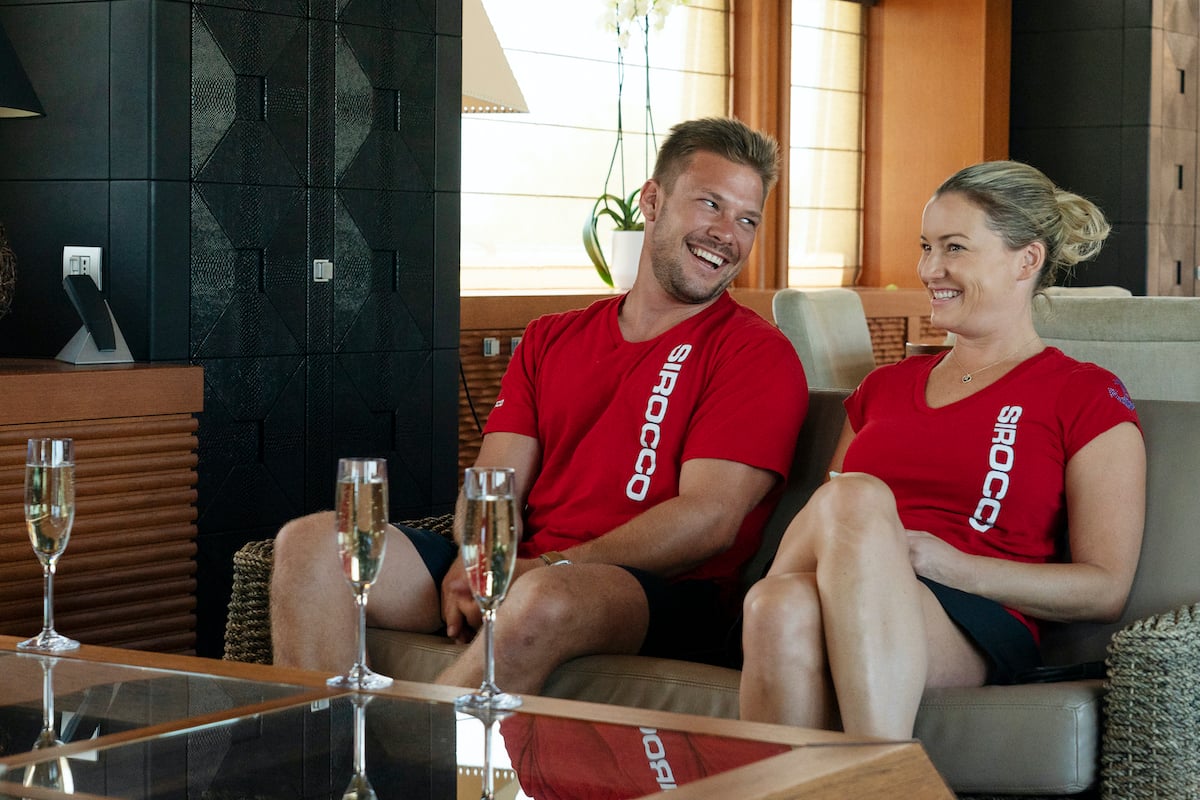 Hannah Ferrier said she would never ask her stews to give massages to the guests
After viewing the latest episode, Ferrier tweeted her thoughts about the massages when a fan asked her what she would do in Kelliher's place. "I would NEVER allow my crew to massage. If we can arrange professionals on then I would do that / if not then you should have arranged it earlier."
Indeed, Kelliher was put in a tough position, especially after the guests started fighting amongst themselves. But both Dore and Soares had massage training before becoming a stew so they were somewhat skilled in the art of massage. Dore was asked to give the primary's mother, Cindi a massage and Dore admitted she wasn't totally looking forward to it.
"As a yachtie, you work so hard," she said in a confessional. "You know, you put up with a fair bit of sh*t. I don't really like giving massages, but at least Cindi's gonna be happy." But when Dore joked with Kelliher how the massage would go fast because the primary's mother was such a talker, the primary, Erica Rose overheard their conversation. She took their remarks as shade and told Captain Glenn Shephard that the crew was talking about her mother behind her back.
Speaking of those 'Below Deck Sailing Yacht' charter guests …
Ferrier also noted that the charter guests seemed like they were trying to get their own reality show. "Anyone else get the impression these think they are auditioning for their own reality show??" she wrote in the same Twitter thread.
Ferrier's not off base since Rose and her mother have both been on other reality shows. Rose was a contestant on season 9 of The Bachelor. She later appeared on Seasons 2 and 5 of Bachelor Nation. She was eliminated by the fifth week during both seasons. Rose's mother, Cindi was on Married to Medicine Houston.
And while viewers (and Ferrier) probably think the guests were being a little too overly dramatic, Kelliher gave them some grace. "I also did see with all the guests — not just these two groups — a lot of heated arguments, drunken moments, that you don't see that didn't make the show," she told ET. "I think the pressures of COVID, I think the pressures of a lot of alcohol, sometimes the dynamics were a bit weird. … Maybe they wanted a bit of TV time, but I also think that there was actually quite a bit of real, genuine drama there, as well."