Below Deck's Kate Chastain and Fans Compare 'Bloody' Handprint on 'Below Deck Sailing Yacht' Plate to 'Wilson' From 'Castaway'
Chef Natasha de Bourg's edgy plate flourish was lost on some Below Deck Sailing Yacht viewers as several, including Kate Chastain from Below Deck compared it to the bloody handprint left behind on a volleyball in the film Castaway.
During the season finale, De Bourg created what looked like a bloody handprint in the middle of each white dinner plate. She placed her gloved hand in bright, red cherry sauce and gave each plate a handprint. "That's very artistic," Alli Dore observed. De Bourg replied, "It's the chef's blood and sweat." Dore said she loved it and the charter guests, who were yachties from neighboring motor yacht Lady Michelle, agreed. While the yachties loved the design, Chastain and fans couldn't help but compare it to Tom Hank's bloody handprint volleyball buddy "Wilson" from Castaway.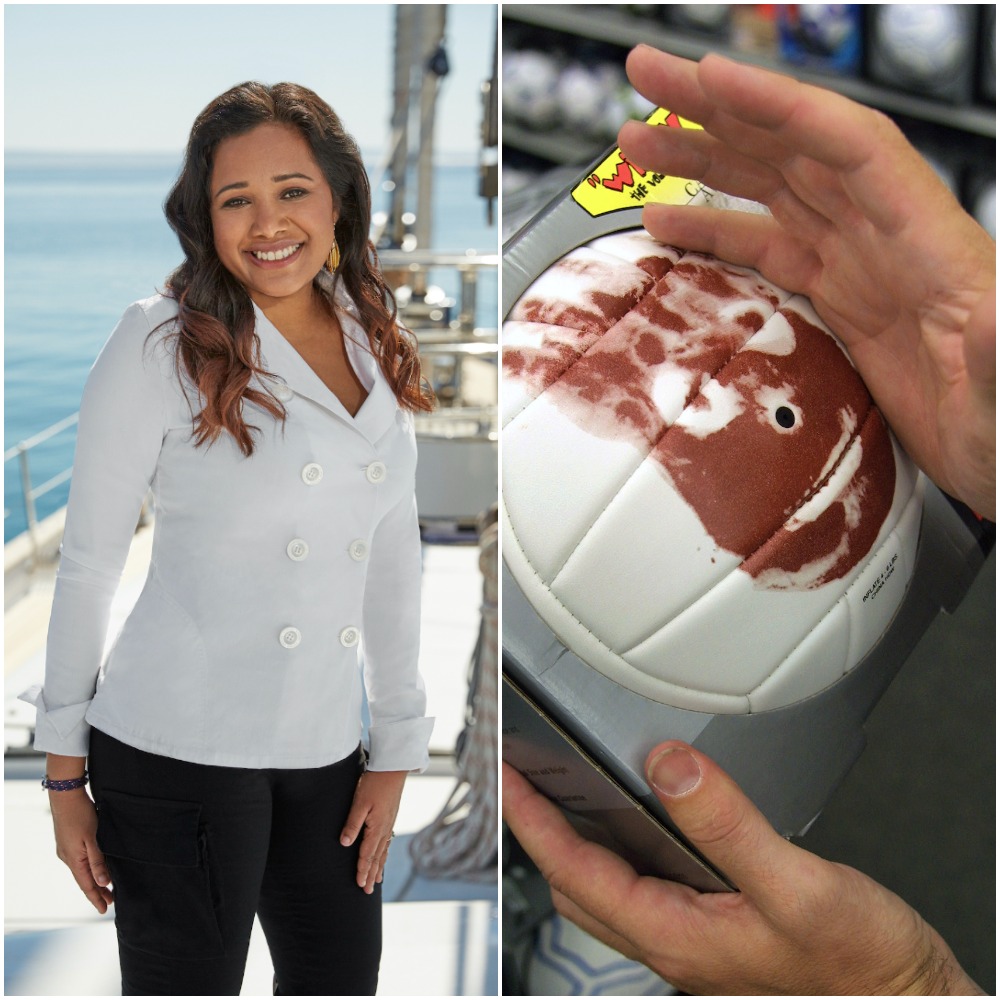 The 'Wilson' from 'Castaway' comparison was strong on 'Below Deck Sailing Yacht'
Almost instantaneously, the "Wilson" comments built on Twitter. "The last thing you want to think about when you're eating something is the fact that someone's hands may have been touching it," Chastain observed on Twitter along with an image of the iconic volleyball.
Another person wrote, "OMFG Natasha Wilson'd the food" in response to "I 100% would not eat that. Wilson had a f**king face. That was a murder scene not Wilson." Another person felt that the handprint during the height of Covid might be a bit much. "This handprint sauce really doesn't work in a covid world for me," the person tweeted.
RELATED: 'Below Deck Sailing Yacht': Alli Dore's Yacht Charter Dream Crew Includes Kate Chastain and a Few 'Below Deck Mediterranean' Surprises
"I really can do without evidence that the chef has been palm handling my food and plate," a viewer tweeted. And of course, the Wilson comments were still in abundance. "I totally thought the handprint was supposed to be Wilson from Cast Away!" a fan wrote.
Not all the remarks were negative. "OMG I love that!! The hand print like Cast Away OMG Super Cool!!! @tomhanks would so approve!" one fan tweeted. The chef from Lady Michelle appreciated de Bourg's creativity and made notes about the food and presentation during dinner. "I love that their chef is getting ideas LOL," one person tweeted.
Chef Natasha had unique food presentation ideas on 'Below Deck Sailing Yacht' Season 2
De Bourg created the "dessert table" for two charters and the guests seemed to be truly impressed. She would splatter different sauces across a clean table and then pepper it with truffles, chocolates, candies, and other delights. Guests could then scoop and eat directly from the table. During the last dessert table, deckhand Jean-Luc Cerza-Lanaux was asked to slide across the desserts. Then a guest decided to lick some of the sauce off of the deckhand.
RELATED: 'Below Deck' Made History With This Unique 'Below Deck Sailing Yacht' Season 2 Ending Twist
Instead of the dessert table, de Bourg created a "chocolate forest" dessert platter for the final charter. The platter was similar to de Bourg's dessert table but on a smaller scale. She included homemade chocolate truffles, ice cream sandwiches, fresh fruit, and sauces on the platter and guests could help themselves.