Below Deck's Paget Berry Doesn't Think He Would Have Found Love (or Stayed in Yachting) if He Returned for Season 2 (Exclusive)
While Paget Berry wasn't thrilled to not be asked back for Below Deck Sailing Yacht Season 2, he knows his life would be entirely different if he returned – perhaps not for the better.
Berry recently shared that he found love after parting ways with longtime girlfriend Ciara Duggan. While their split was amicable and the former couple wishes each other well, the breakup was painful, especially after not being cast on the second season of the show. Berry recently reflected on "what if" sharing that everything truly did work out for a reason and he's in a much better – and happier – place today.
Paget Berry isn't sure he'd still be in yachting if he returned for 'Below Deck Sailing Yacht' Season 2
Berry told Showbiz Cheat Sheet he's met someone who he sees a future with and doesn't think it would have happened if he had continued on with the show. "Probably not, no," he said about if he would be with his current girlfriend. "So I'm very thankful actually with the way things turned out."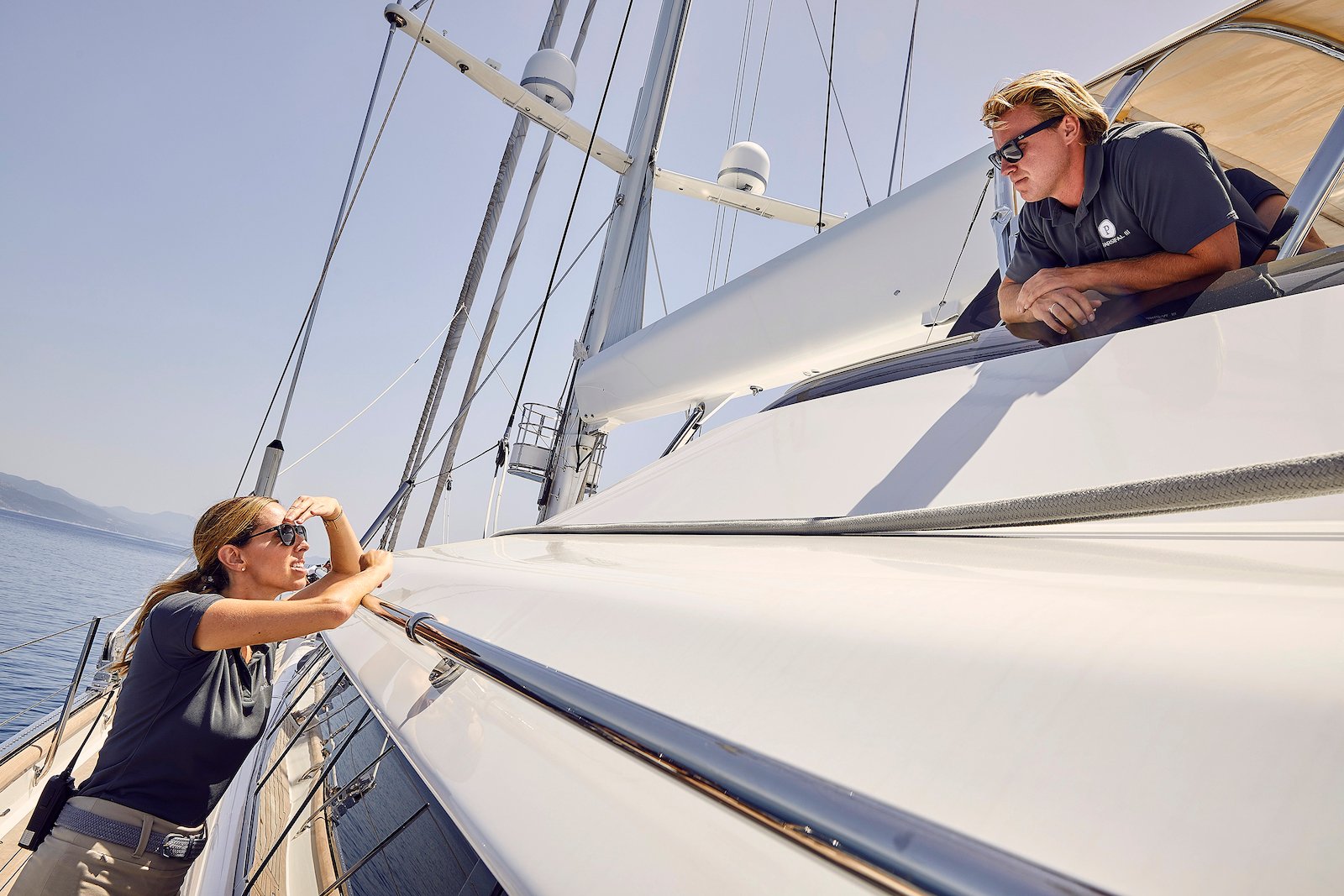 "And as hard as it is in the moment to see it like that," he added. "Looking back on it now. Yes, if I'd done the second season of [Below Deck ] Sailing [Yacht] with Ciara. Yeah, I mean, no the relationship I don't think would have worked out still. But, yeah, I might not be doing yachting if I had done a second season. I don't know. You never know the opportunities that come up from doing a TV show. Somebody sees you doing it like, 'Who's that guy or who's that girl?' You know, 'I want to use them for a series of something' or … you just don't know what happens, really."
With the exception of Captain Glenn Shephard, the entire crew was re-cast for Below Deck Sailing Yacht Season 2. Showrunner Jill Goslicky explained. "I honestly think having a new cast was the refresh we needed," she told Bravo Insider. "I think that was the biggest lesson is having a new dynamic, and once we knew sort of how to shoot on Parsifal, handle Parsifal, being able to have that in our back pocket and then working with a new cast. Having that is really refreshing."
But he's now in love and still in yachting
Instead of filming Below Deck Sailing Yacht, Berry met the love of his life. "We met in May when I was in Newport, Rhode Island, at the time," he said. "That's where the boat I work on is primarily based in the summer," he added. "And yeah, we met there. And her sort of line was, 'Would you like a tour guide?' Because I'd never been to Newport before. I was like, 'Well, you know, you're pretty. You're funny.' Why not, you know? Yeah, let's see how this goes."
The couple started dating and have been together ever since. Berry embarked upon the winter yachting season but plans to return to New England when the season ends. "The long-term goal in that respect, obviously, me being in yachting. [And now] yachting is not my long-term [plan] sort of. I mean, it has been. It's my 11th year now going into it next year," he explained.
"Now I've met somebody who's not in yachts and who I actually really want to have a future with and to build with," he added. "And yeah, we're sort of making tentative plans for the next couple of years. You know, it might sound weird saying that. But when you're with somebody, you just sort of know."
Paget Berry wishes Ciara Duggan well
Berry wishes for nothing but the best for Duggan too. "I hope she's happy and I hope she'd feel the same way for me as well because we've known each other for, you know, over ten years," he said. "So for me, there's no malicious feelings at all. I've moved completely on. I'm a different person and I'm with the right person, which we at the time we both weren't with."
Duggan also seems to still be in yachting and shared photos and videos from her travels on social media.
RELATED: Chef Adam's 'Below Deck' Instagram Shows Him Rocking Long Hair and New Adventures