Ben Affleck Is Working With Matt Damon Again; Is the Former Batman Vying for an Oscar?
Back in the 1990s, it was hard to think of Ben Affleck or Matt Damon without the other coming to mind. Most notably, the duo co-starred and co-wrote the screenplay for 1997's Good Will Hunting. Their Academy Award win for Best Original Screenplay cemented their intertwining careers and longtime friendship.
While they still cross paths every now and then, Affleck and Damon have fostered very distinctive careers. Damon went on to land arguably his most famous role as Jason Bourne. And Affleck became a respected director in his own right. Now Affleck and Damon are coming back together for a new movie. And fans couldn't be more excited.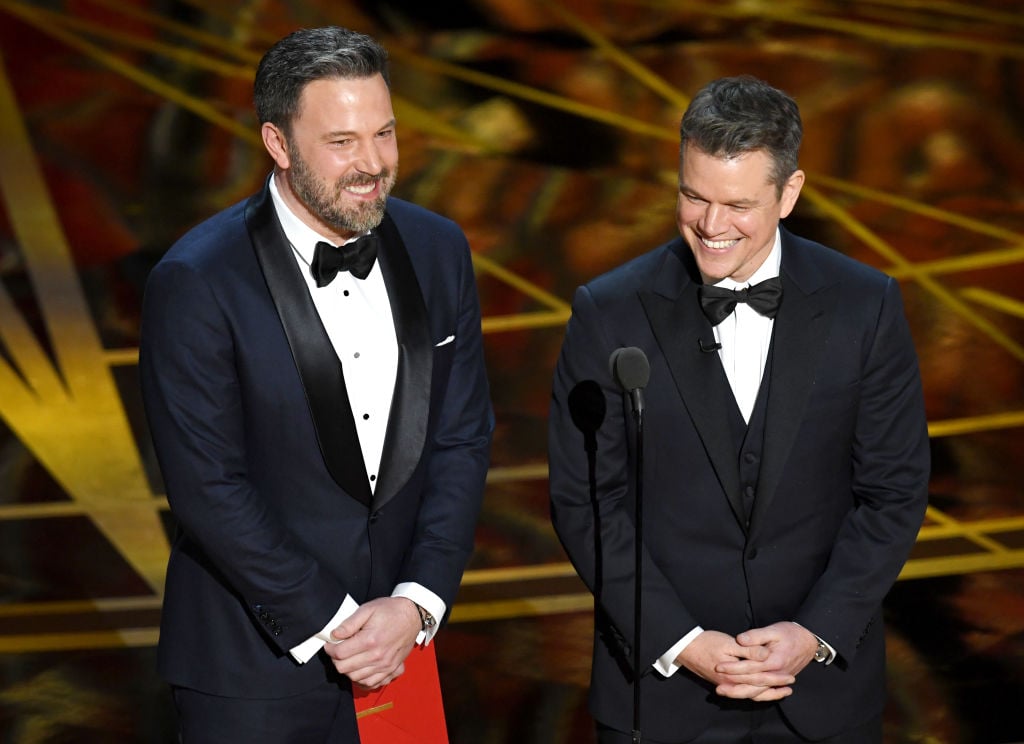 Ben Affleck and Matt Damon have a long history
Affleck and Damon go back way further than Good Will Hunting. In fact, the two stars are childhood friends who reunited when they each found themselves pursuing showbiz careers. And even before their Oscar win, the actors shared a few notable credits — including School Ties and Glory Daze — in the first half of the 1990s.
After their joint Academy Award win, Affleck and Damon became known for their real-life friendship and behind-the-scenes collaborations. They both appeared in a number of films directed by Kevin Smith, most notably as co-leads of 1999's Dogma. And the stars created TV series like filmmaking documentary Project Greenlight and short-lived reality show The Runner.
Ben Affleck is rebuilding his career post-Batman
While Damon has starred in recent flops like Downsizing and Suburbicon, he most recently appeared in the Oscar-winning hit Ford v Ferrari. However, Affleck is in a much more dire place right now. In the past few years, he ended his run as Batman after the disappointing performance of 2017's Justice League.
Then the very next year, he and Jennifer Garner finalized their divorce. A recovering alcoholic, Affleck has also struggled to maintain his sobriety since 2017. He has since opened up about grappling with anxiety and depression. So the upcoming reunion with Damon might actually be coming at the perfect time.
Since 2007, Affleck has directed critically acclaimed hits Gone, Baby, Gone, The Town, and Best Picture-winning Argo. But that level of success eluded him with 2016's Live By Night, the last film he had such creative control over. After the modest success of 2020's The Way Back, working with Damon again could put Affleck back on top and maybe on the Oscar stage.
Could he be hoping for another Oscar win?
The actors and writers behind Good Will Hunting are back together on The Last Duel. Based on the book The Last Duel: A True Story of Trial by Combat in Medieval France, the film stars Damon and Adam Driver as two friends who must fight to the death. Affleck will take on a supporting role in the film.
Damon and Affleck are co-writing the screenplay with Nicole Holofcener (Can You Ever Forgive Me?). But the film — directed by the legendary Ridley Scott — halted production due to the coronavirus pandemic. So, while The Last Duel was earmarked for a late 2020 release, its date may change. Yet, another Affleck-Damon collaboration could be what the stars need now.
Besides the novelty of the stars working together again, The Last Duel boasts the filmmaker behind Alien and Gladiator. With Scott and recent Oscar nominee Adam Driver also involved, the period drama could be positioned to be a big award season player. It depends on whether Scott and his team will be able to complete and release in time to qualify.