Ben Higgins Told Hannah Ann Sluss That He Never Watched Back His 'Bachelor' Season
Out of all the Bachelor seasons, Peter Weber's was by far one of the most controversial. He proposed to Hannah Ann Sluss at the end of his season — and while he told the cameras he loved Sluss and was committed to making it work, part of his heart was still with contestant Madison Prewett. And it seems he also may have had some lingering feelings for Hannah Brown.
Sluss and Weber had their breakup on-camera, and it was extremely difficult for Sluss to move forward after having her engagement not work out for her. And she recently spoke to Ben Higgins and Ashley Iaconetti on their podcast, Almost Famous. Sluss mentioned that she watched back her Bachelor season — but it seems Higgins chose not to, though his Bachelor engagement also didn't last. Here's what he said.
Hannah Ann Sluss said watching her 'Bachelor' season back was helpful for her
When Weber proposed to Sluss, Sluss noted she had no idea that he was still pining for Prewett. But it was later revealed to her that Prewett left the show on her own accord — and if she stayed, it was likely that Weber would've proposed to her instead.
Sluss had her own perspective regarding what was happening while she was on the show — but she told the Bachelor Happy Hour podcast that watching back the season put everything into an entirely new light. And she was thankful watching the show was able to give her some clarity.
"Watching the season back has actually been really helpful for me," Sluss said. "It's helped me work through any unresolved feelings I had towards him because I am able to see how he is consistently indecisive and confused. That doesn't make me feel secure in being with him. It's really helped me move forward, because I know I deserve more than someone half-loving me."
Ben Higgins also had a failed engagement with his 'Bachelor' fiancée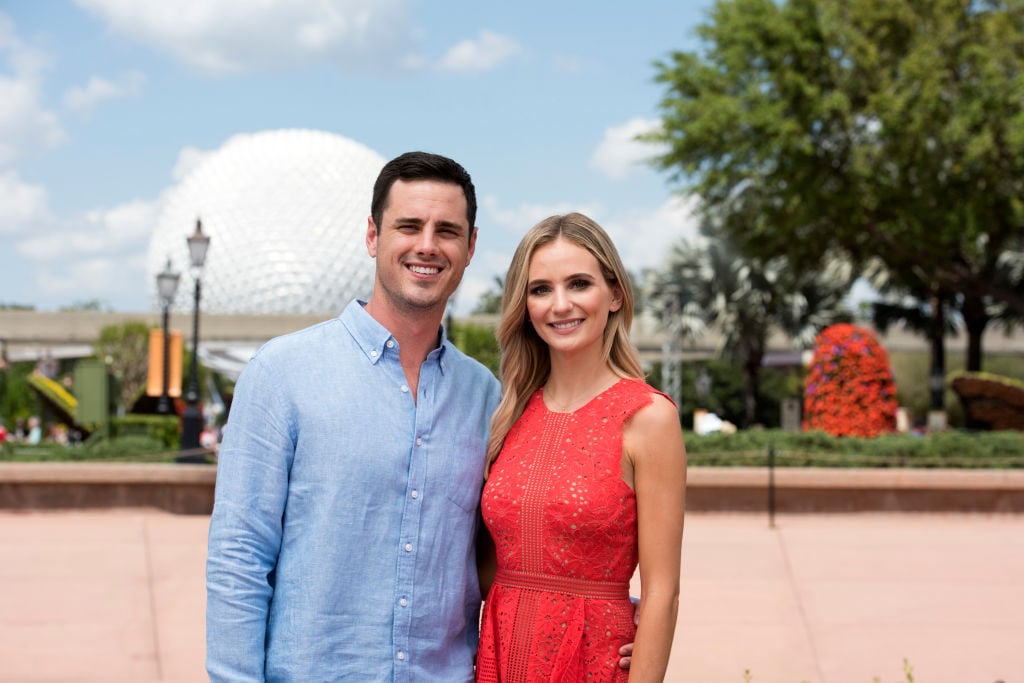 Sluss is far from the first Bachelor contestant to go through a failed engagement. She spoke with Ben Higgins on his Almost Famous podcast regarding the breakup — and Higgins could relate to having his relationship in the spotlight and also having it fail.
Higgins proposed to Lauren Bushnell back when he was The Bachelor in 2016. Their relationship was put under the spotlight after Higgins told both Bushnell and finalist JoJo Fletcher that he loved them both — and this certainly wore on Bushnell, People notes.
"There are so many weird elements to being in a relationship after The Bachelor," Bushnell told the publication. "We've gotten in arguments like any other couple, but about some things that other couples wouldn't have to fight about, like the fact that we met when he was dating other women. You can say that's what I signed up for, but it's still real life and it's still hard."
Ultimately, the two decided to go their separate ways despite loving each other and trying their best.
Higgins told Sluss he never watched back his season of the show
Higgins and Sluss both discussed their failed engagements on the Almost Famous podcast. And Sluss noted once again that she watched her Bachelor season. Oddly enough, it seems Higgins chose to opt-out of watching his.
Sluss told Higgins and Iaconotti that what she wants in a relationship is for her partner to be so sure of their love for her that it makes sense to them as to why it never worked out with other people. And Higgins agreed. "That's what we all hope, right? I remember it's why we didn't watch back my season during that time, 'cause it was gonna be too hard. It's weird. That's not natural at any level. There's nothing about that that's healthy to do."
It seems Weber didn't feel the same as Higgins, as he went ahead and watched the season back despite still having feelings for Prewett and Brown. We're hoping Sluss has found the closure she needs so she can move forward!
Check out Showbiz Cheat Sheet on Facebook!