The Best of 'The Bachelorette': Seasons, Episodes, and Looks
With 17 seasons and counting, picking which one is the best of The Bachelorette is no simple task. Whether you think heaping doses of drama make a season extra special, or you prefer seeing a couple find true love, each season has its own charms. To sort through the options, we've put together a countdown of The Bachelorette seasons that topped the rest.
5. Jillian Harris, Season 5
Bachelorette star Harris broke ground twice: she was the first Canadian on the show, and also the first to have 30 contestants to choose from. Her time on the show was filled with drama over rumors that some of the men who were participating still had girlfriends at home. 
After wading through all that, Harris chose Ed Swiderski, even though he seemed to be a little averse to commitment. Their engagement lasted about a year before they went their separate ways.
4. Kaitlyn Bristowe, Season 11
Bristowe had been a contestant on The Bachelor, but she just missed out on the coveted top spot. When she came to star on The Bachelorette, she charmed audiences with her fun-loving personality. Bristowe fell for one of the men, Shawn Booth, early on in the season.
Many fans felt that this prevented her from fully considering the other contestants, and the show's producers tried to convince her to be more open to other possibilities. But in the end, Booth was the only one for her. After she chose him, they were engaged for three years before they broke up. 
3. Andi Dorfman, Season 10
Dorfman was already a fan favorite when she became a Bachelorette. She'd been on a previous season of The Bachelor, and the star that year was Juan Pablo Galavis. He was widely disliked, and when Dorfman got angry at him, fans loved her for it. 
She was just as feisty as a Bachelorette, upfront about things like sexual activity with contestant Nick Viall. But in the end, she chose Josh Murray, a formal baseball player. Unfortunately, their relationship didn't last.
2. Emily Maynard, Season 8
Maynard's story made her an easy Bachelorette to root for. Years before, she lost her fiancé in a plane crash, and she found out just a few days later that she was pregnant. When the single mom went on The Bachelor, she made her way to the very end, and she accepted a proposal from Brad Womack. However, he quickly broke up with her, something she found out when she was cc'd on an email.
After all that, fans were ready for her to finally get her happily-ever-after. Everything seemed to be coming together for the charming Southern belle when she chose Jef Holm. The relationship wasn't meant to be, however, and the couple broke up not long after the show ended. Maynard has since found love, and married a man she met at church.
Which 'Bachelorette' season had the highest ratings?
What's the best season of The Bachelorette? Well, coming in at number 1 on the list is season one, the highest-rated season of The Bachelorette, and the one that launched it all. Rehn had been a runner-up on The Bachelor, and her popularity made her a popular choice as the very first Bachelorette. Rehn was a level-headed person, and she found the perfect match in Ryan Sutter, a poetic firefighter. 
The first season was short and sweet, with little of the drama found in the later seasons. Rehn and Sutter got married in a ceremony that was broadcast on ABC, and fans loved the proof that the show could end in lasting love. They're still married to this day, and they have two children.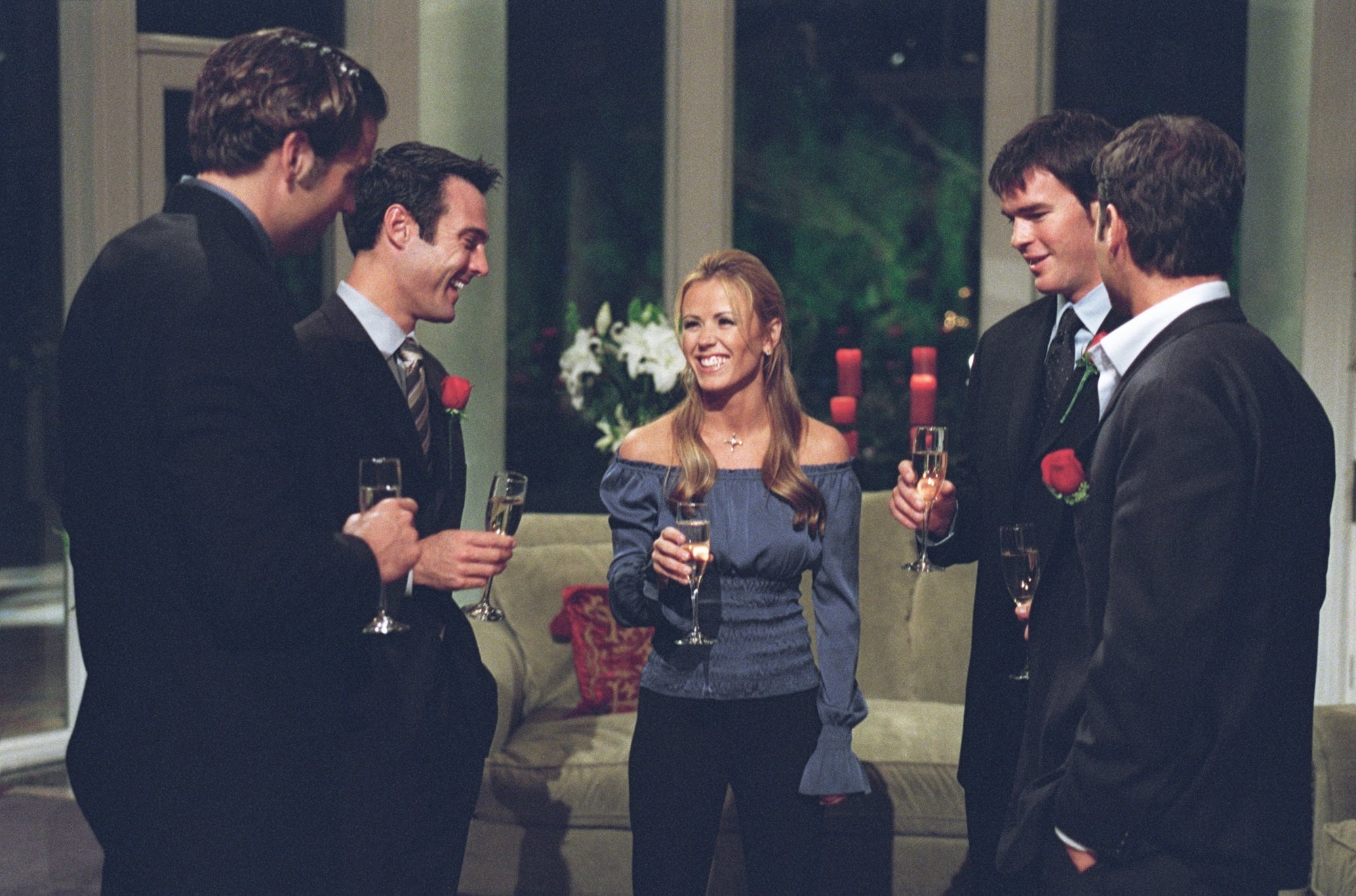 If you're looking for drama, we found five best of The Bachelorette episodes that delivered more than their share. There's heartbreak, sex, and laughs, so buckle up. These are examples of why fans just can't quit the series, and enjoying them again is the next best thing to being on the show.
1. JoJo Fletcher, Season 12, Episode 4
RELATED: 3 of the Best 'Bachelorette' Looks
Chad Johnson and Jordan Rodgers were both vying for Fletcher's affection when they got into a bit of conflict. Rodgers made a dismissive comment about Johnson, and he didn't just get upset, he seemed to threaten him with violence. 
"You think you're safe for now," Johnson said. "But one day this ends. And when this ends, you go home. And you think I can't find you? You think I won't go out of my way to come to your house?" Rodgers not only seemed unaffected by Johnson's words, but he went on to have the last laugh. Fletcher chose him, leaving Johnson out in the cold. 
2. Kaitlyn Bristowe, Season 12, Episode 7
Fans might be wondering, who is the most popular bachelorette? And for many fans, Kaitlyn Bristow and her season full of The Bachelorette drama would be high on the list. For a show that's focused on romance, viewers can be surprisingly easy to shock when it comes to sex.
According to PopSugar, in this episode, Bristowe was on a date with Nick Viall when things went farther than fans expected. A makeout session inspired them to move to a more private area and have sex. It was the first time (that we know of) a couple had sex on the series before they got to the Fantasy Suite. 
Bristowe didn't seem too concerned about what people thought about her sex life. In the end, the steamy date didn't seem to sway her, because she chose Shawn Booth over Viall.
3. Rachel Lindsay, Season 13, Episode 2
Things seemed to be going well between Lindsay and DeMario Jackson. But then, in one The Bachelorette episode, an unexpected guest dropped by during their date to complicate matters. A woman named Lexi showed up to let Lindsay know that she was Jackson's girlfriend back home. 
Jackson tried to do damage control by claiming he didn't even know Lexi. Then he called her "psycho," and finally he insisted that they'd broken up before the show started. Lindsay wasn't impressed with his ever-changing excuses, and she sent him home. 
4. Desiree Hartsock, Season 9, Episode 10
While most contestants do everything in their power to stick around, Brooks Forester opted for a different route. Forester surprised Hartsock on the couple's Fantasy Suite date by telling her he wasn't in love with her. He followed that up by announcing he was going home. 
Although the moment was shocking and painful, Hartsock went on to pick Chris Siegfried, and the couple is still married today. Forester seemed to be right — he wasn't the right man for Hartsock. 
5. Jillian Harris, Season 5, Episode 8
RELATED: 'The Bachelor': Why Men Have an Easier Time Dating on the Show, According To Relationship Expert Rori Sassoon
One of Harris' options was a man named Wes Hayden. He seemed to have promise as a country singer with charm. But it came out that Hayden's reason for being on The Bachelorette was not to find love. He was there to promote his music career.
To make matters even worse, he even admitted that he had a girlfriend at home. Harris wasted no time kicking him off the show, and it didn't seem like he was missed very much. The Bachelorette is a reliable source of drama, as its fans well know. But a few episodes rise above the others as a source of intrigue, and they're always worth another viewing.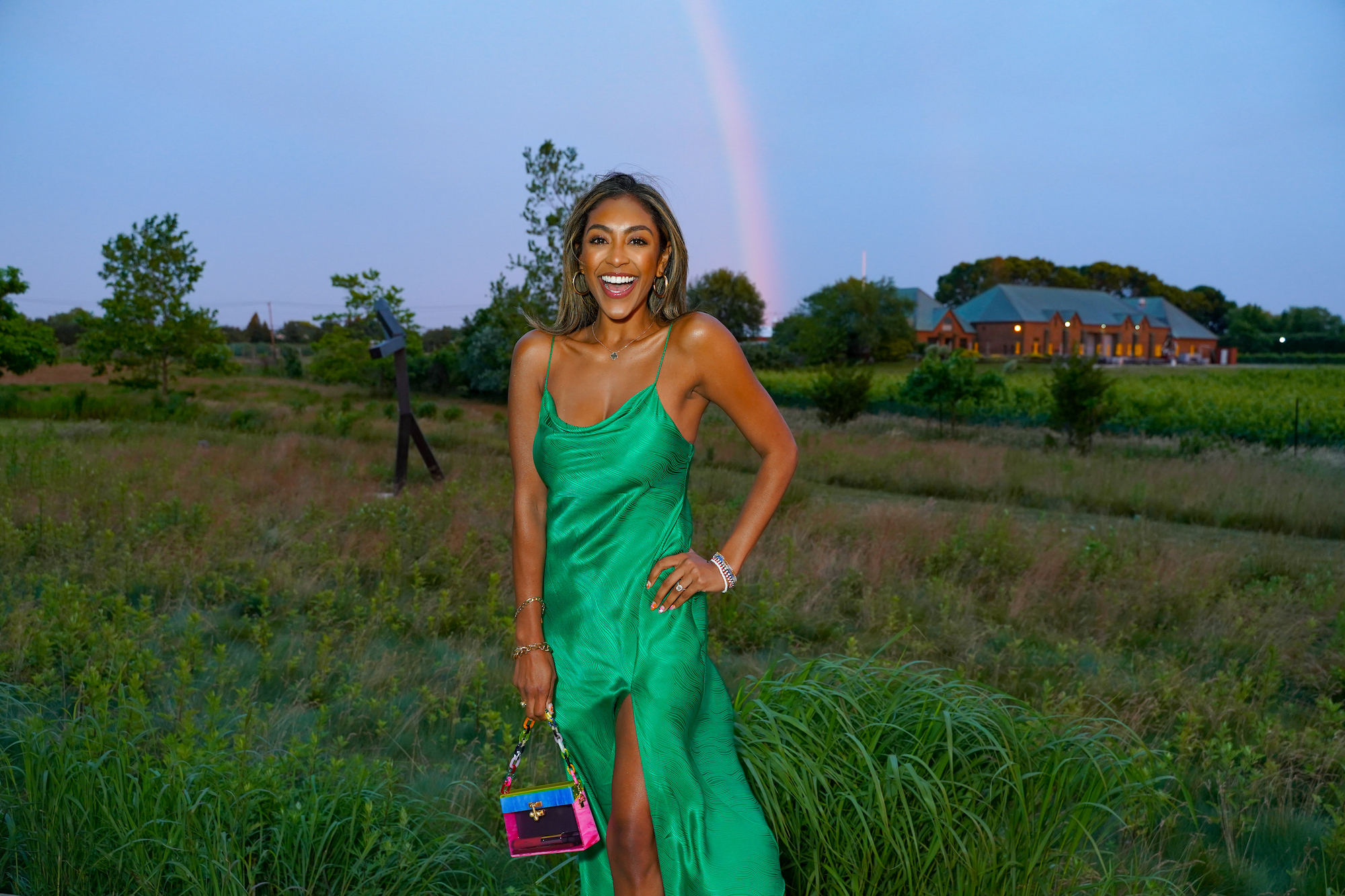 When deciding what elements make up the best of The Bachelorette, you can't forget the stunning looks contestants wear. Bachelorette engagement rings aren't the only stunning piece contestants will wear during their season.
The romance, intrigue, and drama are some of the reasons fans can't get enough of the show, but the dresses are also important. In fact, they do a lot to help to make the franchise so popular. We've collected a few of our favorite looks from seasons gone by. 
1. Tayshia Adams's acid-green date dress (Season 16)
Adams's sassy style was on display when she wore this fun, vibrant dress to go on a one-on-one date. According to Insider, the dress was from designer Olivia Von Halle, and the bright green color of this silky mini dress glowed against her flawless skin. With a draped neckline and chains for straps, the look was both bold and feminine. 
Not everyone could pull off this look without being overwhelmed by such an intense shade of acid green. Adams was up to the task, though, and she looked absolutely gorgeous in the dress.
2. JoJo Fletcher's blue mermaid dress (Season 12)
Fletcher also opted for an eye-catching color for the dress she chose for her rose ceremony. Her sapphire blue, sparkly mermaid-style gown hugged her curves to perfection. Designed by Jay Godfrey, the dress's simple lines didn't mute its impact at all. The plunging neckline didn't hurt either. Fletcher remains a very popular Bachelorette, and her sense of style is only one of the reasons people love her. 
3. Andi Dorfman's night one dress (Season 10)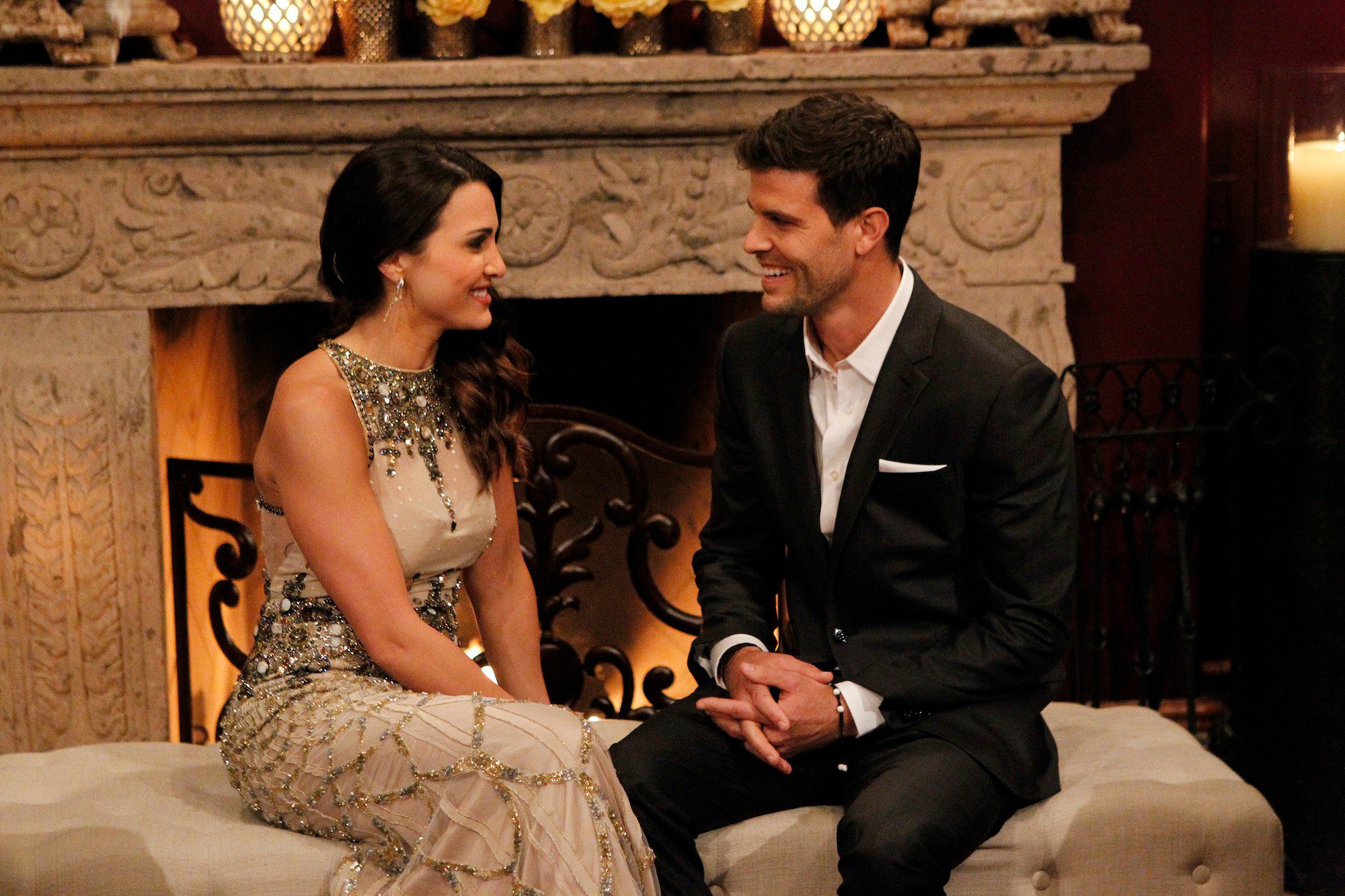 Dorfman's search for love still seems to be ongoing, but at least she started her journey in style. She wore an unusual gown that was designed by Basler. It was champagne-colored, with a high neckline and intricate beading. It skimmed her curves to create a look that was just as elegant as it was sexy. 
Not everyone loved Dorfman's beaded dress, but many people found it unique and stunning. Fans hope that she'll find someone to appreciate her and her elegant sense of style.
4. Trista Sutter's finale dress (Season 1)
Sutter is a hard act to beat, being the first Bachelorette to ever wield a rose. The white sheath dress she wore for The Bachelorette finale was classic without ever coming close to being boring. It had white-on-white beading and spaghetti straps.
The look was perfect, which was a good thing. Those final moments of the first season and the couple's happy marriage have become iconic parts of The Bachelorette history. Viewers love seeing the Sutters prove that love can be found, and it's nice to be able to look back on memories that include such a lovely look.
5. Katie Thurston's rose ceremony dress (season 17)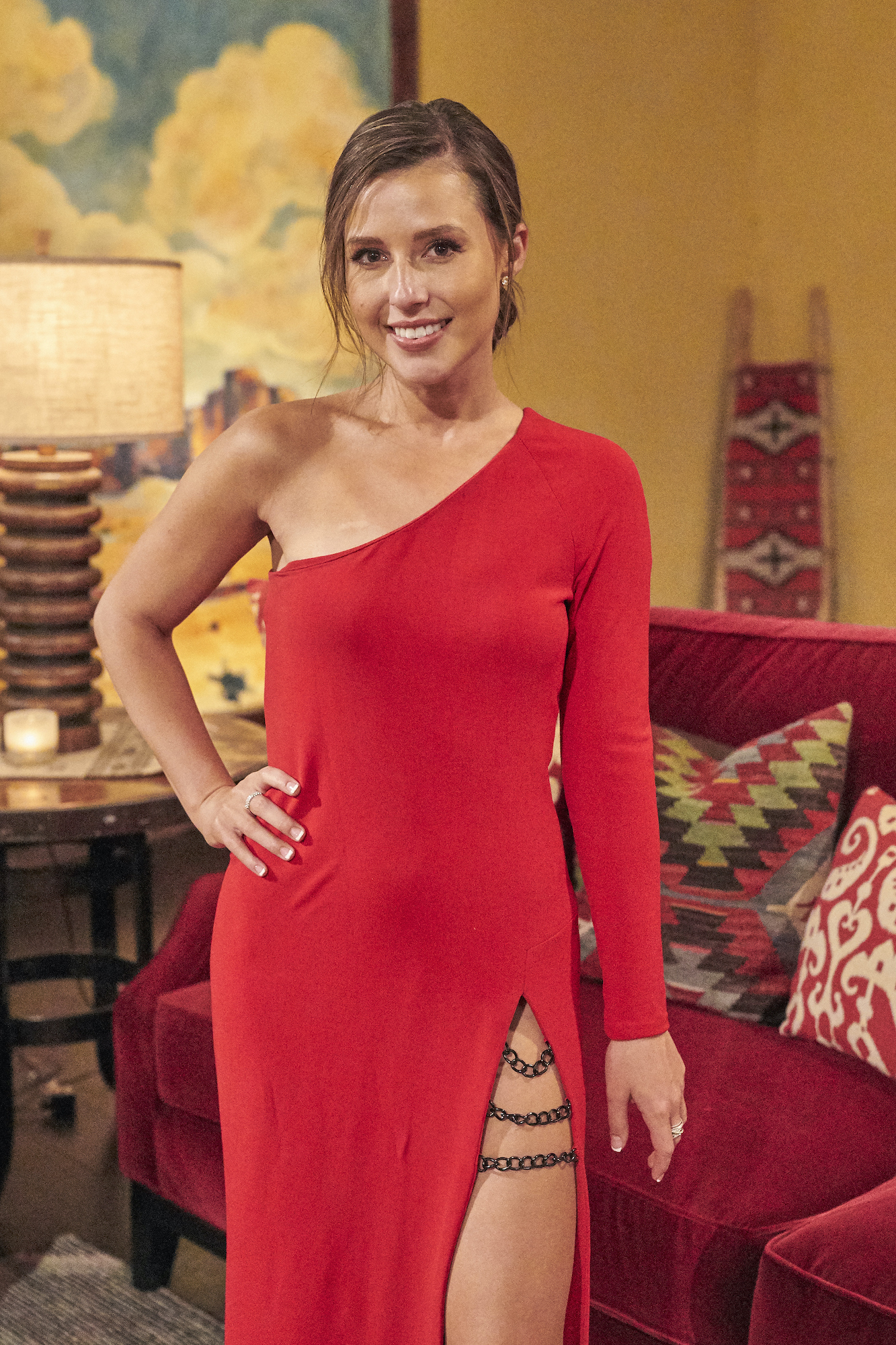 Katie Thurston's season of The Bachelorette hasn't concluded yet, but that hasn't stopped Katie from serving some great looks. Her one-shoulder Randi Rahm red dress with a high slit and chain detailing was a stunner, and complete with a sweet and simple updo, it's one of Katie's best looks, and one of the greatest we've seen in Bachelorette history.
Not many of the relationships formed on The Bachelorette last in the long run. But although love remains elusive for many of the Bachelorettes, their style manages to stay on point. And for viewers, that's always reason enough to tune in and see the looks they're serving up.
RELATED: 'The Bachelorette': When Does Season 17 Premiere? Filming Starts Shortly