'Better Call Saul': Kim Wexler Could Be the Reason She and Jimmy McGill Aren't Endgame
Jimmy McGill (Bob Odenkirk) and Kim Wexler (Rhea Seehorn) demonstrate one of the most authentic on-screen couples in AMC's Better Call Saul. Thanks to Breaking Bad, many fans are rooting for their relationship to survive the spinoff series, but we know that's not their reality. Regardless, that doesn't mean what Kim and Jimmy have wasn't real, at least for a little bit.
With the sixth and final season approaching, it's looking like Kim may not be such a perfect match for Jimmy. Could she be the reason their love fails in the end?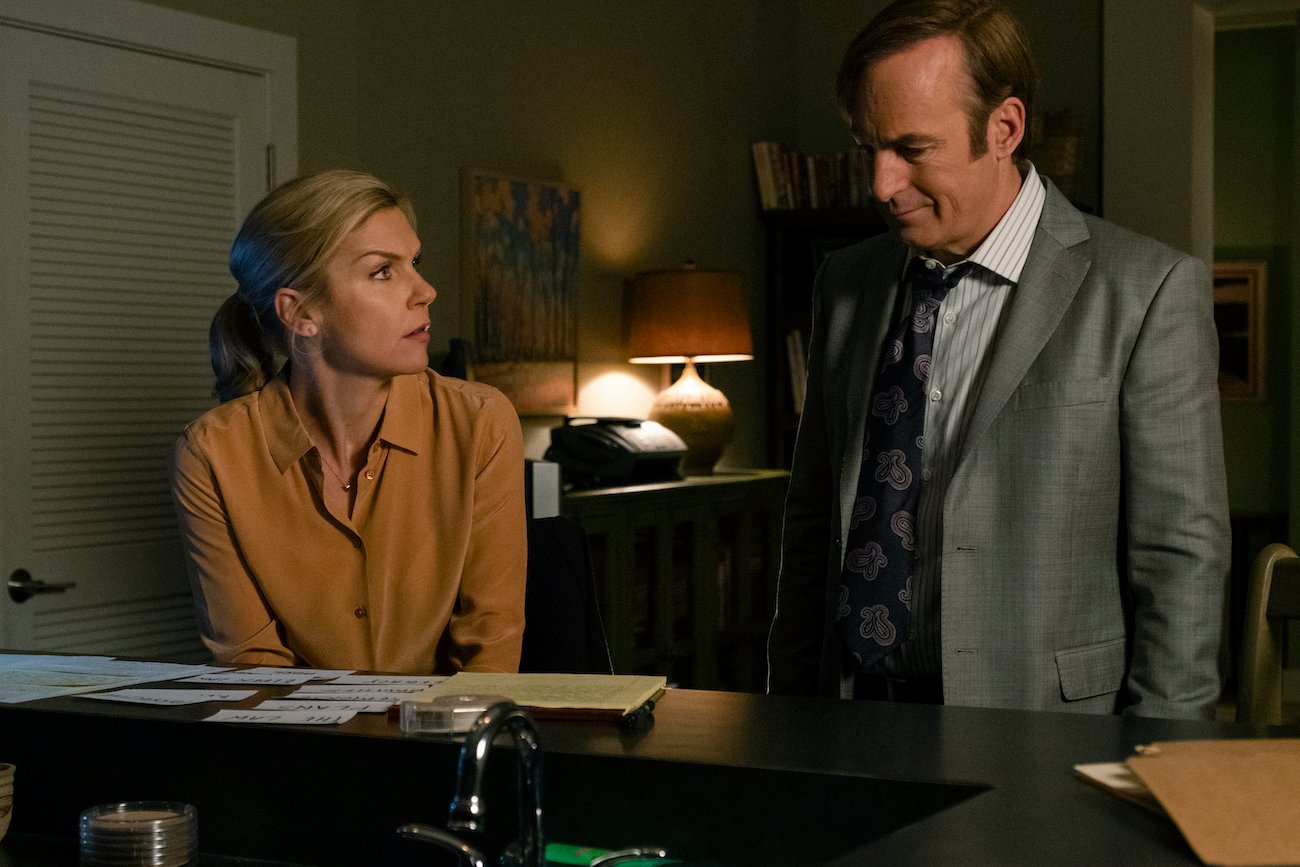 Bob Odenkirk thinks Kim and Jimmy have a 'relationship that can last'
Breaking Bad fans know Kim and Jimmy's relationship from Better Call Saul doesn't last. But that didn't stop Odenkirk from hinting at the couple being "endgame" to The Los Angeles Times. 
"Kim once asked Jimmy to go to a therapist, and he said he would," Odenkirk recalled. "Then later, he just looks at her and says, 'I don't think this is what will work for me.' She says, 'I understand.' I said to [co-showrunner] Peter [Gould], 'Holy …! That's a relationship that can last.'
Kim Wexler might be what turns Jimmy McGill into Saul Goodman forever
Everything Gould and Vince Gilligan do is intentional, down to the colors in their characters' wardrobes. From the beginning of Breaking Bad, color theory inspired the story. It could be doing the same thing in Better Call Saul — fans just haven't noticed yet. 
Kim is often wearing the color blue in Better Call Saul — a color that typically spelled out death and destruction for characters in Breaking Bad. But blue also symbolized purity in the original AMC series, or at least tried to allude to it. 
For example, Aaron Paul's Jesse Pinkman wore blue when he met Jane's father as if to say, "I'm a good guy — you can trust me." He wore the same color when he was interrogated by Hank Schrader (Dean Norris).
With Kim wearing so much blue throughout six seasons of Better Call Saul, could she be trying to convince Jimmy she's more of a good person than she actually is? The blue could be a cover for Kim's inner deceit, a side of her Jimmy realized was taking over at the end of Better Call Saul Season 5.
Jimmy McGill and Kim Wexler's relationship has a 'realness' to it
From the beginning of Better Call Saul, it seems like Kim is what is keeping Jimmy from fully giving in to his inner "criminal lawyer" Saul Goodman. Their relationship isn't stereotypical or full of sex, and yet it draws fans in and has them rooting for the fictional couple. 
As Odenkirk explained to the LA Times, Better Call Saul isn't about "how much sex" Kim and Jimmy have. "It's about other aspects of their personality," he elaborated. "But I'll grant you that they do seem like colleagues more than anything."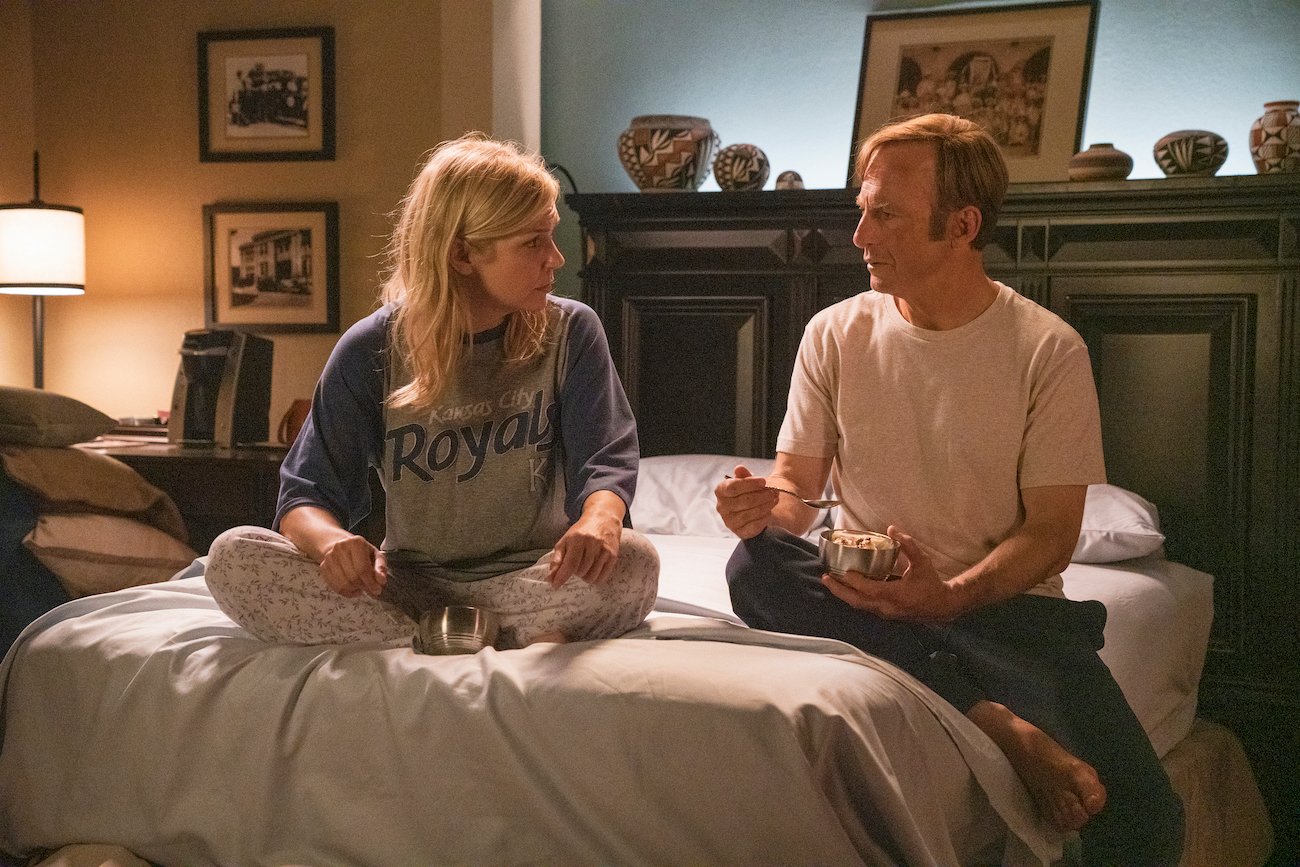 Seehorn added: "I'm incredibly thankful … that this relationship is about so many more interesting things than [physicality]. There's an episode where you see partial nudity, and [Jimmy] says, 'I have to tell you something.' The intimacy of that scene has nothing to do with how many clothes they finally took off. That resonates with people."
Seehorn says fans often tell her how "real" Jimmy and Kim's relationship looks on screen. "That has to do with being able to sit silently while they eat takeout food or watch TV," said Seehorn. "There is a realness to them." 
See how Jimmy and Kim's story ends. Watch Better Call Saul Season 6 beginning April 18 on AMC. 
RELATED: 'Better Call Saul' Season 6 Trailer Clarifies Walter White Mystery From 'Breaking Bad'