BFFs Machine Gun Kelly and Travis Barker Made a Major Matching Tattoo Mistake
Machine Gun Kelly and Travis Barker got matching tattoos like any close friends and collaborators would — but they made a major mistake getting these tattoos.
A lot has been said about the friendship between Machine Gun Kelly and Travis Barker. The musical collaborators have been close for a while and share many interests beyond making music. One of these happens to be tattoos, which should be pretty obvious by just looking at the two of them. However, while many of their ink stories might be entertaining, there was one occasion when the two of them made a major mistake with what they put on their skin.
MGK and Barker have been BFFs for years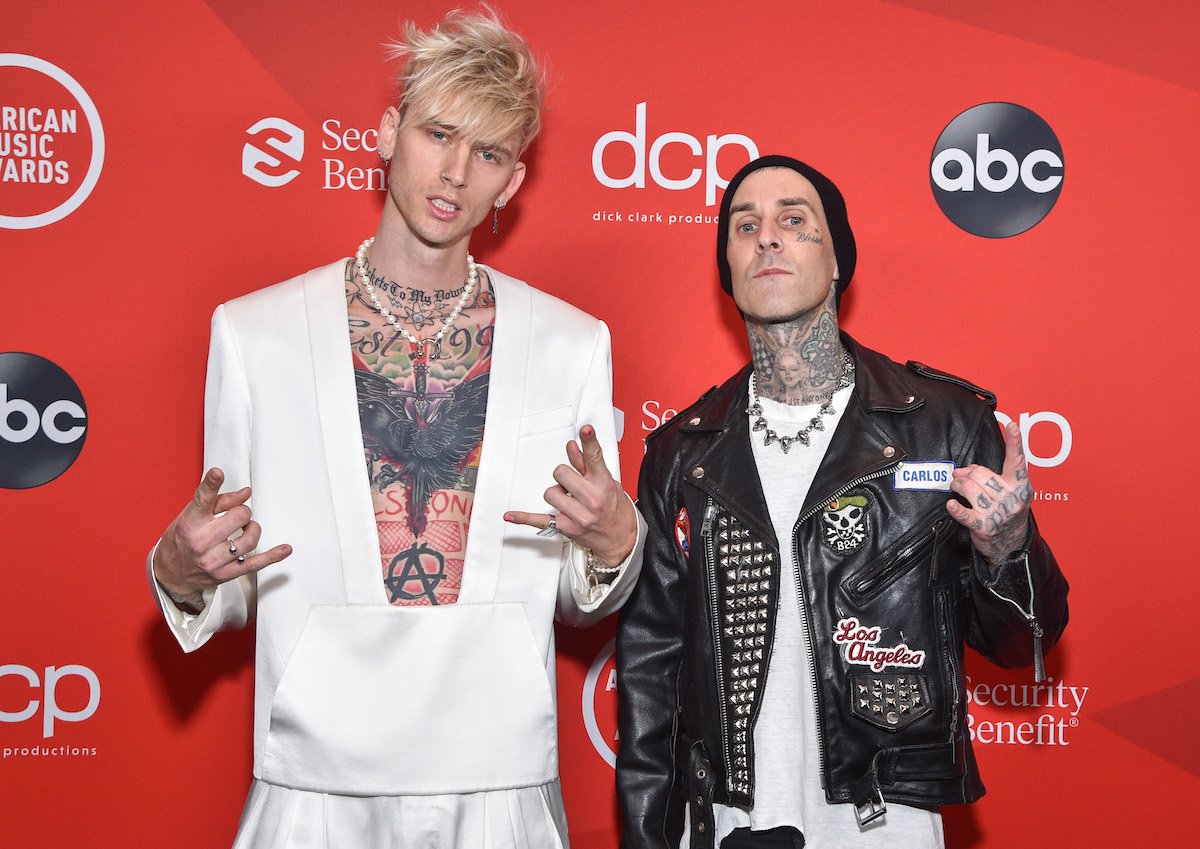 Unlike many celebrity friendships, MGK and Barker's love for each other seems extremely genuine. The two have been friends since 2011, growing so close that some people started to believe they were brothers. In 2020, the two officially collaborated on the album Tickets to My Downfall, marking MGK's transition into pop-punk and rock. It was met with critical acclaim, both being happy with the end result, which spurred them on to go again with their newest album.
They recently jumped the gun when they got a set of matching tattoos
While they might not be blood-related, the two artists do famously share ink in the form of matching tattoos. To commemorate Mainstream Sellout, they decided to head out to get the album's name printed on their forearms. Considering the two met outside of a tattoo parlor all those years ago, it seemed like the perfect way to celebrate.
There was just one problem: the album's name. While it might be called Mainstream Sellout today, that wasn't always the plan. In fact, the change happened so late in production, that the duo already had "Born with Horns" inked onto them.
Both title options were the names of tracks on the album, "Born with Horns" being the first in order. As he told Ellen, though, that spur-of-the-moment decision backfired a few months later. "That's definitely not the name of the album anymore," he realized.
He went on to say how reluctant he was to tell Barker about the switch. He described himself as "on the edge of my seat, all stiff," as he tried to find the right time to break the news. Eventually, he worked up the courage to do it, recording the reaction for posterity.
Unsurprisingly, this didn't put a damper on their relationship. Even before he gets the chance to say it, Barker already guesses that the album's title was changed. They both burst out laughing at what was, admittedly, a pretty funny mixup.
Ellen asked if they'd try a do-over on this and get the new title as tattoos, but MGK was a bit more hesitant. While he didn't rule it out, he decided to at least wait until release day this time around.
The album in question was met with mixed reviews
To add insult to injury, critical and fan reviews of the new album haven't even been that great. In what has to sting more than any tattoo, most who have listened to Mainstream Sellout don't seem overly impressed. At the time of this writing, the critic and audience Metacritic scores for the album are at 55/100 and 5.5/10, respectively. In other words, almost 100% average, and that's without accounting for the cover art controversy.
Pitchfork described it as "a concept album about rock," which seems to be a major throughline for most reviews. Clash Music sums it up as MGK being more interested in commenting on his mainstream notoriety than saying anything authentic.
Lukewarm reception or not, MGK is standing by his new songs. They're set to be featured during his Mainstream Sellout Tour, so perhaps hearing the tracks live might sway opinions.