'Big Brother 22': Did an Accidental Reveal of the Triple Eviction Save a Houseguest?
The flashing 'triple eviction' sign behind Julie Chen Moonves tipped the houseguests off ahead of time. Fans think it might have saved Nicole Franzel.
A few days before the Big Brother 22 competitors voted to eliminate Kevin Campbell or David Alexander, the houseguests believed they would take part in a double eviction with a fast-forward week. However, due to an accidental reveal during the live show, the players learned they would compete in an unprecedented triple eviction. Many fans believe the competitors knowing that another elimination would happen that night ultimately saved one houseguest.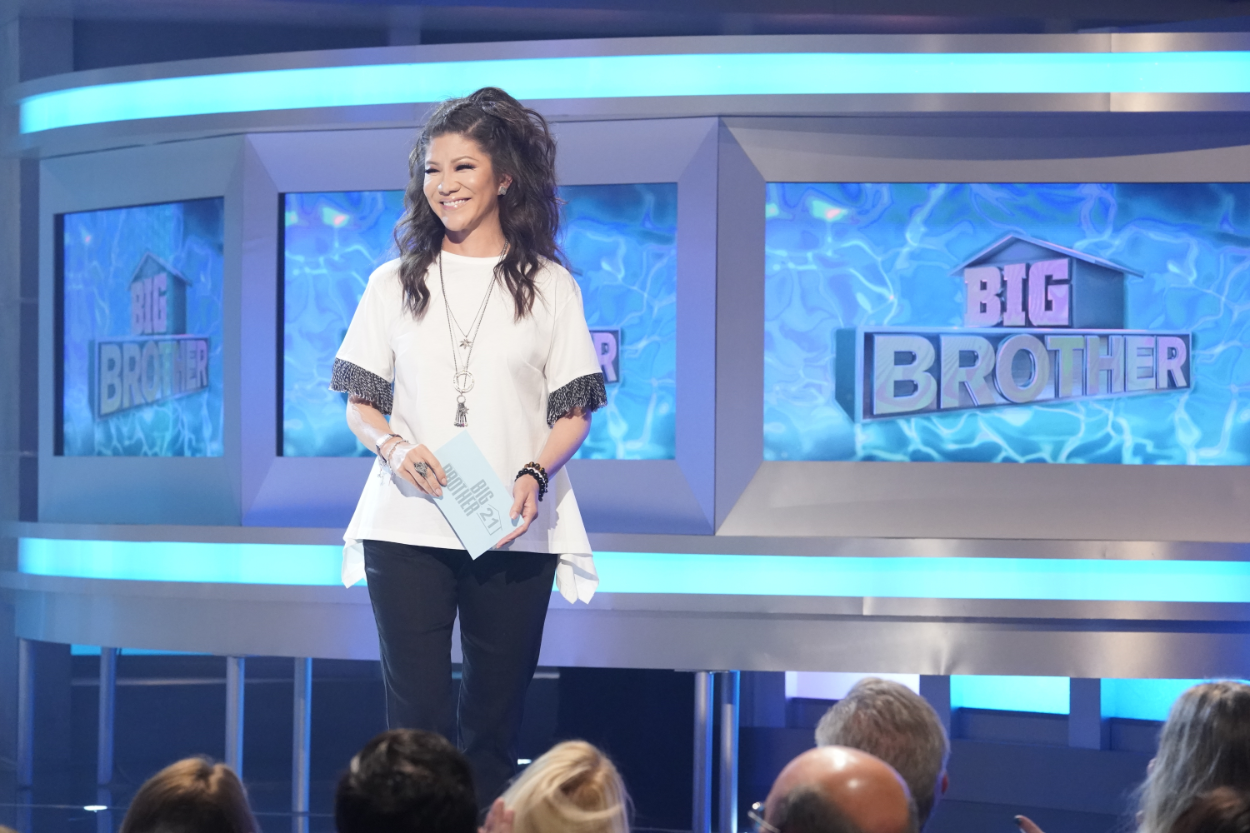 'Big Brother 22' houseguests underwent first-ever triple eviction
After the all-stars competed in OTEV and held the Power of Veto ceremony, their "neighbor," BB2 champ Dr. Will Kirby appeared on the television and warned the houseguests to think "three steps ahead." Therefore, they correctly guessed that three players would get evicted that week.
However, they didn't realize it would happen in one night. The houseguests ended up battling it out in two Head of Household and Power of Veto competitions, resulting in three people joining the jury directly after each other.
Enzo Palumbo eliminated David over Nicole
After unanimously voting to evict Kevin Campbell, the remaining houseguests faced off in an HOH competition where they had to answer questions based on Dr. Will's video.
Memphis Garrett walked away with the win and nominated the only non-Committee member left, David Alexander, alongside Nicole Franzel.
They then immediately competed for the POV, and Christmas Abbott snagged the win. Following Memphis' request, the BB19 finalist chose not to save a nominee.
However, she went against his wishes to evict David and voted out Nicole, the only former winner remaining in the game. After Christmas cast her vote, she encouraged her final two ally, Tyler Crispen, to follow her lead, who did.
Tyler then asked Enzo Palumbo also to vote out Nicole, which would evict the winner 3-2. However, he decided not to turn on his Core Four ally and eliminated David instead.
Fans, including former BB22 houseguest and legendary player Janelle Pierzina, were annoyed with the Meow Meow and claimed he always "talks a big game" in the Diary Room but refuses to actually make a move.
Accidental triple eviction reveal might have saved Nicole
When Julie Chen Moonves summoned the houseguests to the living room to vote for Nicole or David to join the jury, they noticed the flashing "triple eviction" sign behind her and stared at the screen in disbelief.
The host initially stated she would reveal the first-ever event later in the night, likely after the upcoming eviction. Several fans, who were already irritated by Dr. Will warning them a few days earlier, became even more annoyed at the mishap, especially since they believe it directly affected the impending vote.
Some viewers think Enzo didn't pull the trigger on Nicole due to the accidental reveal of the triple eviction. He likely figured that Dani Briones, Cody, Memphis, and Tyler had the best chance of winning the next HOH and would all probably nominate him.
Even if they only nominated him as a pawn, it's very easy to flip a vote during the chaos, and Enzo wouldn't want to take that chance. Therefore, keeping Nicole served best for his game, as she's someone the remaining players would nominate before him.
However, if Enzo didn't know another eviction would happen that night, he might have made a different move in the heat of the moment. Big Brother 22: All-Stars airs Mondays, Wednesdays, and Thursdays at 8/7c on CBS.
Follow Tamara Grant on Twitter.