'Big Brother 22': Christmas Abbott Says She's Scared Bayleigh Dayton Will 'Cut' Her, Infuriating Fans
[SPOILER ALERT: Spoilers ahead for 'Big Brother 22.'
After Christmas Abbott won her first Head of Household competition of Big Brother 22, she thought about nominating Bayleigh Dayton and Da'Vonne Rogers. However, she claimed she was "scared" of how the ladies would react as she assumed they would attempt to hurt her in response. Many fans found Christmas' comment hypocritical and racially insensitive, infuriating them.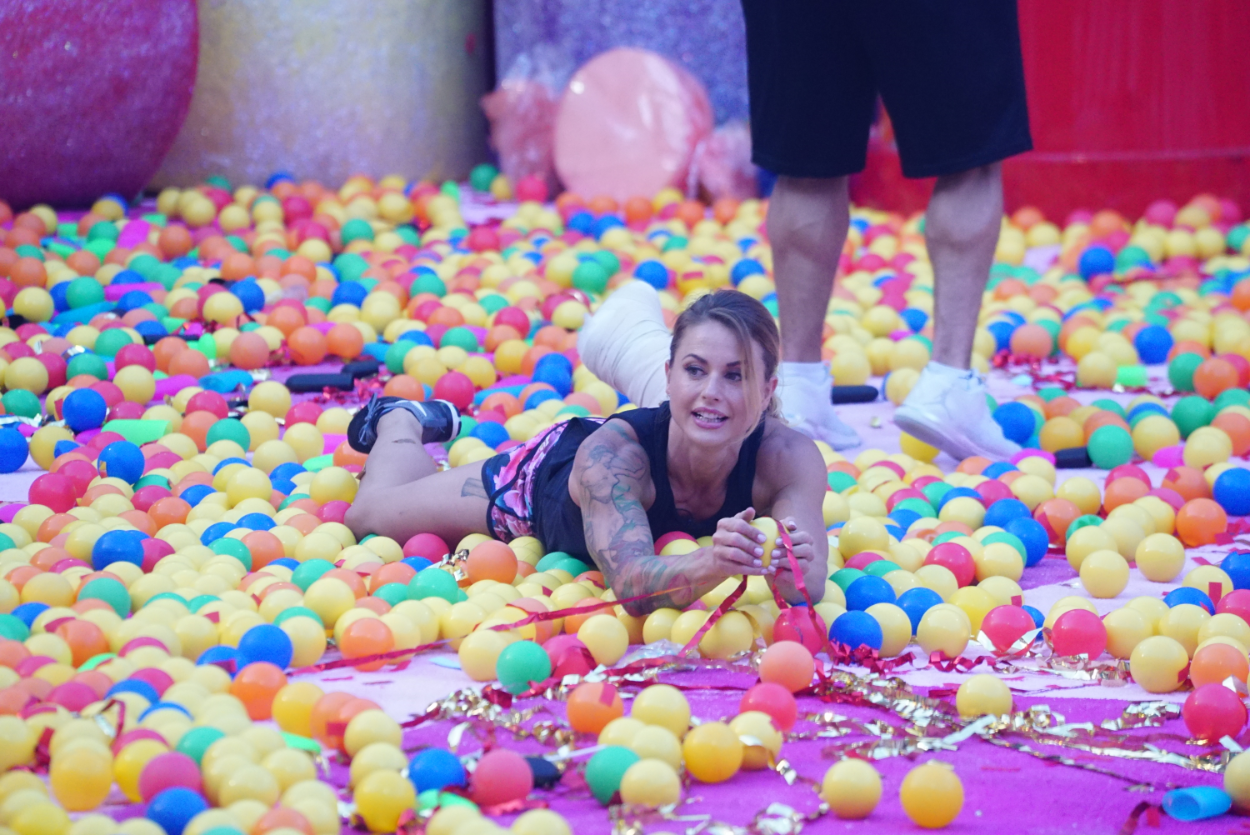 Christmas Abbott became Head of Household for Week 5 of 'Big Brother 22'
Shortly before Kaysar Ridha's eviction, the BB6 star blew up the alliances that he warned others about since the first week. In his final speech, he exposed secret allies Cody Calafiore and Nicole Franzel, and claimed they had a final two deal.
Additionally, Kaysar named a guy's agreement involving David Alexander and Tyler Crispen and then pointed out that Dani Donato Briones, Cody, and Nicole were also closely aligned and running the house.
The BB6 star closed by noting that Cody has found himself in a "love triangle" between the alliances, a remark Dani called "disrespectful and tasteless."
RELATED: 'Big Brother 22': Where All the Alliances Stand Going Into Week 3
Even though the houseguests unanimously evicted the fan-favorite, his spontaneous speech lit a fire under everyone. Therefore, they all went out for the upcoming Head of Household title.
The competition was intended to draw lines, so Bayleigh Dayton and Da'Vonne Rogers immediately sensed they were in trouble.
Christmas Abbott, who seemingly skated to the end of the competition, barely beat Da'Vonne for the crucial title.
Christmas Abbott afraid Bayleigh Dayton will 'cut' her
As a member of The Commission, Christmas wanted to nominate two people who weren't in their alliance. For the past couple of weeks, Dani and Nicole have planted seeds with Christmas that Bayleigh and Da'Vonne should go up on the block next.
The girls thought Bayleigh should leave first because they perceive her as a more emotional and stronger competitor than Da'Vonne. Therefore, Christmas already knew she planned on nominating the ladies shortly following her win.
RELATED: Bayleigh Dayton Cries Over Tension With Dani Briones, Talks About Race in 'Big Brother'
Before nominations, the new HOH spoke with her ally Tyler about putting Bayleigh up and asked if the BB20 star would react badly and "cut" her.
Later, she talked to Dani and Nicole about the upcoming nominations and claimed she thought she would "get shot" or a "fork" shoved in her face. Christmas also noted she's fearful of the ladies and she's "not easily spooked." 
Fans react to Christmas Abbott's remarks about Bayleigh Dayton
Many viewers didn't appreciate the new HOH's comments, as they don't understand why she's so afraid of Bayleigh. Additionally, Bayleigh and Da'Vonne previously had a decent relationship with Christmas as they all sleep in the Comic Room and attempted to work together at one point.
Fans also think it's hypocritical for the BB19 finalist to assume Bayleigh would act violently toward her because Christmas was arrested for felony assault in 2018. Therefore, many viewers consider her comment a micro-aggression and racially motivated.
RELATED: 'Big Brother 22': Fans Did Not Like Dani Donato's 'Tasteless' Comment About Kaysar Ridha
Bayleigh's husband, whom she met on BB20, Chris "Swaggy C" Williams, also reacted to Christmas' remarks in a few tweets. He first asked one of his followers to search the BB19 star, referring to her past, and retweeted someone wondering why Christmas was afraid of Bayleigh when she allegedly "attacked someone with a car."
Big Brother 22: All-Stars airs Sundays, Wednesdays, and Thursdays at 8 p.m. EST on CBS.
Follow Tamara Grant on Twitter.