'Big Brother 22': Julie Chen Drags Nicole Anthony After Eviction and Fans Praise the 'All-Stars' Host
Julie Chen has been the host of Big Brother since its inception on CBS. The TV personality is a fan just like viewers that watch at home. When Chen gets into analyzing the game she gets passionate and during Thursday's eviction, fans saw her get fiery. After Nicole Anthony was evicted from the house, Chen went in hard on her for messing up her own game by not trusting her allies.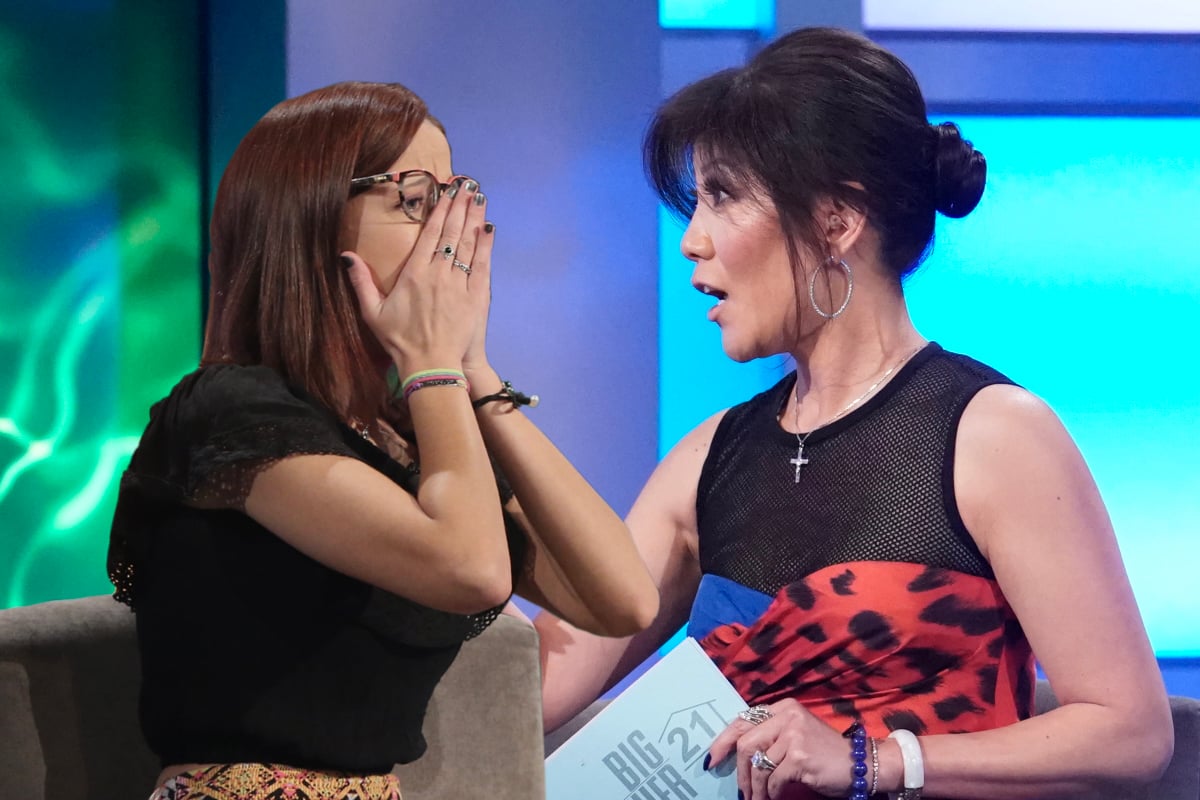 How did Nicole Anthony get evicted?
It was another week of twists and turns inside the Big Brother 22 house. This week, Memphis Garrett was in power and put David Alexander and Anthony on the block. The latter was nominated for eviction after Garrett warned her to play the Safety Suite twist to guarantee her safety.
After Anthony was nominated for eviction, she went off on Janelle Pierzina, who was her closest ally in the house. Anthony believed that Pierzina assured her Garrett was not going to nominate her and blamed the BB vet for not protecting her.
Throughout the week, Anthony went around the house campaigning and trying to rally votes to stay. To do so, she tried to distance herself from Pierzina as she has a huge target on her back.
Despite Anthony trashing Pierzina around the house, the latter kept her cool and assured her she was on her side and was doing the most to keep her safe. Pierzina, along with Kaysar Ridha tried to form an alliance that included Christmas Abbott, Kevin Campbell, Bayleigh Dayton, and Da'Vonne Rogers. Their thought was to tie the eviction votes and have Garrett break up the tie in Anthony's favor.
In the end, they were not able to rally enough votes to keep Anthony and she was sent packing home to talk to Chen.
Julie Chen confused by Nicole Anthony's game
When Anthony came out of the house to be interviewed by Chen, she did not know what she had coming her way. The CBS host straight out told Anthony she was confused by her gameplay.
"I'm a little bit confused by your gameplay, explain to me because Janelle and Kaysar were campaigning for you to stay," Chen said. "You seem to not trust them. Is that correct?"
After Anthony acknowledged that she didn't trust the people in her alliance, Chen asked her why.
"Because I really felt like they were with Memphis," Anthony explained. "They told me they were going to put in a good word with Memphis, so when I was nominated I was shocked."
Chen then confirmed that Pierzina had not lied to her and proceeded to ask what did the latter do to Anthony.
"In all honest, I will admit, like talking to all the people in the house and hearing all of them telling me she was lying and it got in my head. I will admit, I was wrong," Anthony added.
The recently evicted housemate then saw her goodbye messages. While watching, she realized she had it all wrong but it was Chen's last words to Anthony that really stung.
"Janelle had your back and she even cried over it," Chen told Anthony.
"I feel so horrible, so horrible, it's my error," Anthony said as she cried.
"We wish you well Nicole, stay safe," Chen added.
There was an awkward silence as Anthony realized she blew her own game and Chen added, "If I could give you a hug now I would but we cannot cause of these strange times."
Fans react to Julie Chen dragging Nicole Anthony
It was not long before Big Brother fans took to social media to praise Chen. They loved how she kept it real with Anthony and making her see the mistakes she made.
"Julie making Nicole admit that she was wrong and then having her watch Jaysar's video messages so she she cried, stan Julie Chen Moonves," a fan tweeted.
"I cannot believe that Julie spent the entire exit interview with Nicole dragging her for having the absolute wrong read on Janelle. Call her out Julie!" a viewer commented.
"I'm low-key still shaking at how hard the OG Janelle stan Julie Chen came for Nicole in that interview," another fan said.
"We no longer have to drag Nicole A when she gets out, Julie got her for us," another viewer noted.
Big Brother airs Wednesdays, Thursdays, and Sundays at 8 p.m. ET on CBS.